Masia Casanova
RETREAT IN STYLE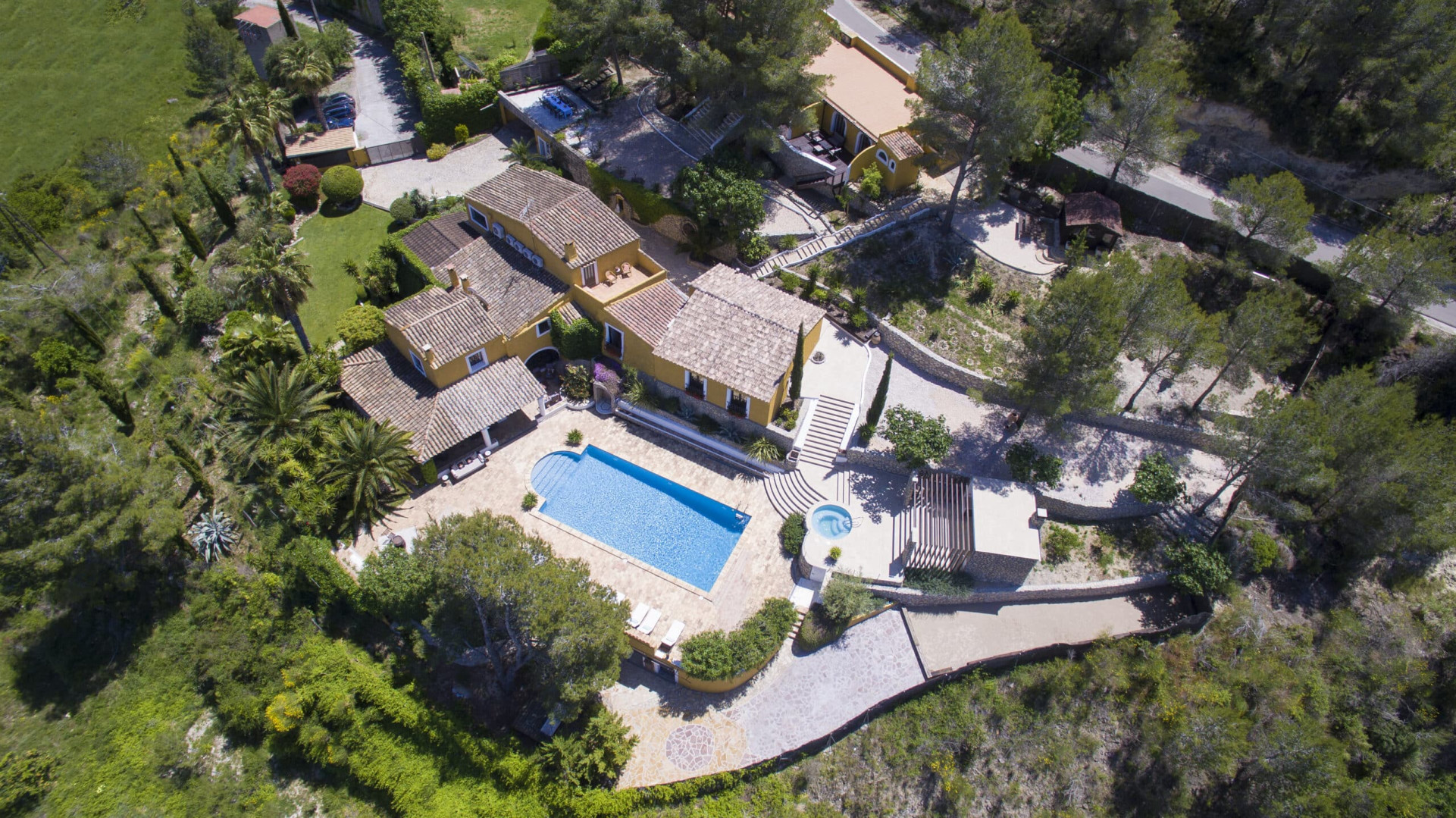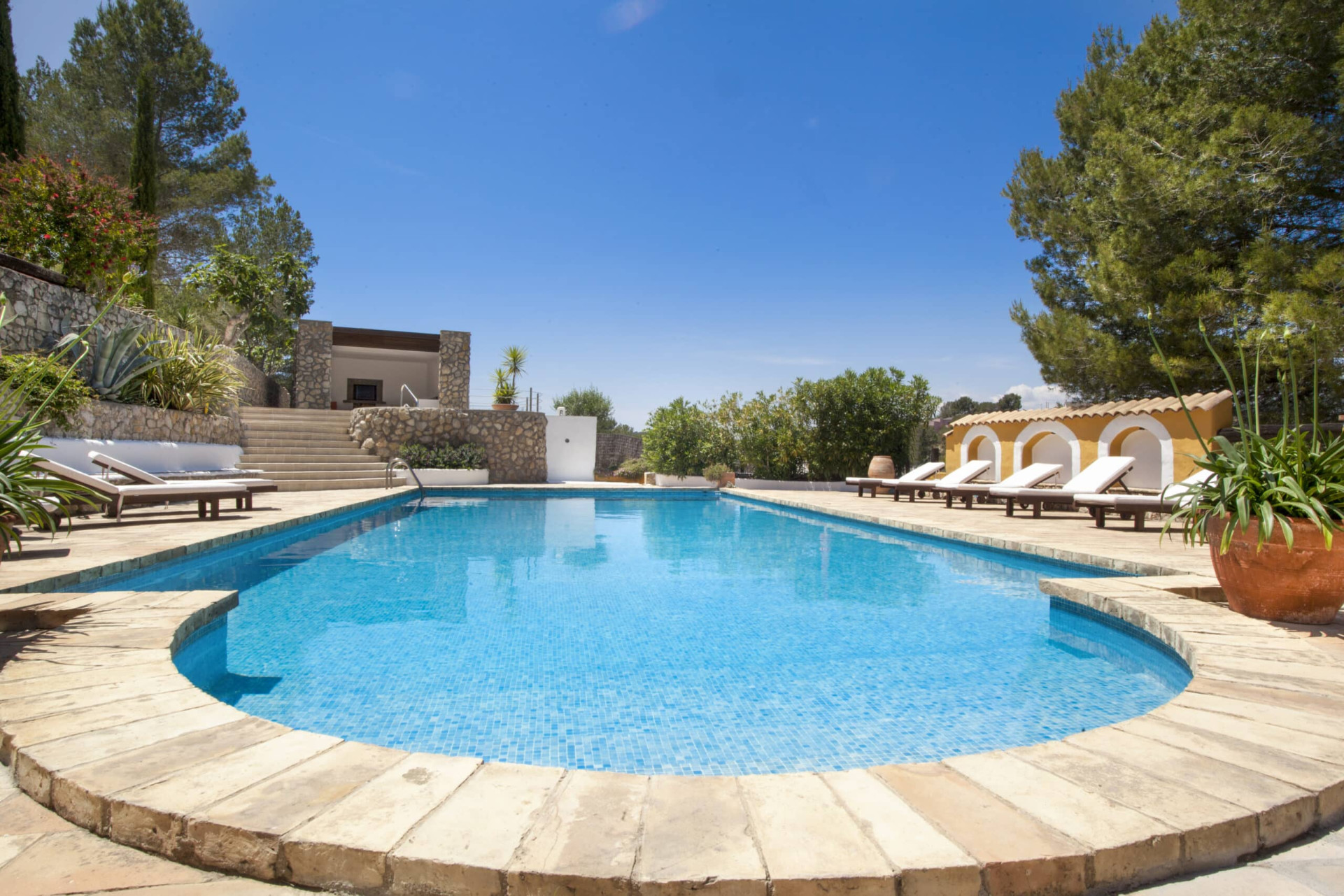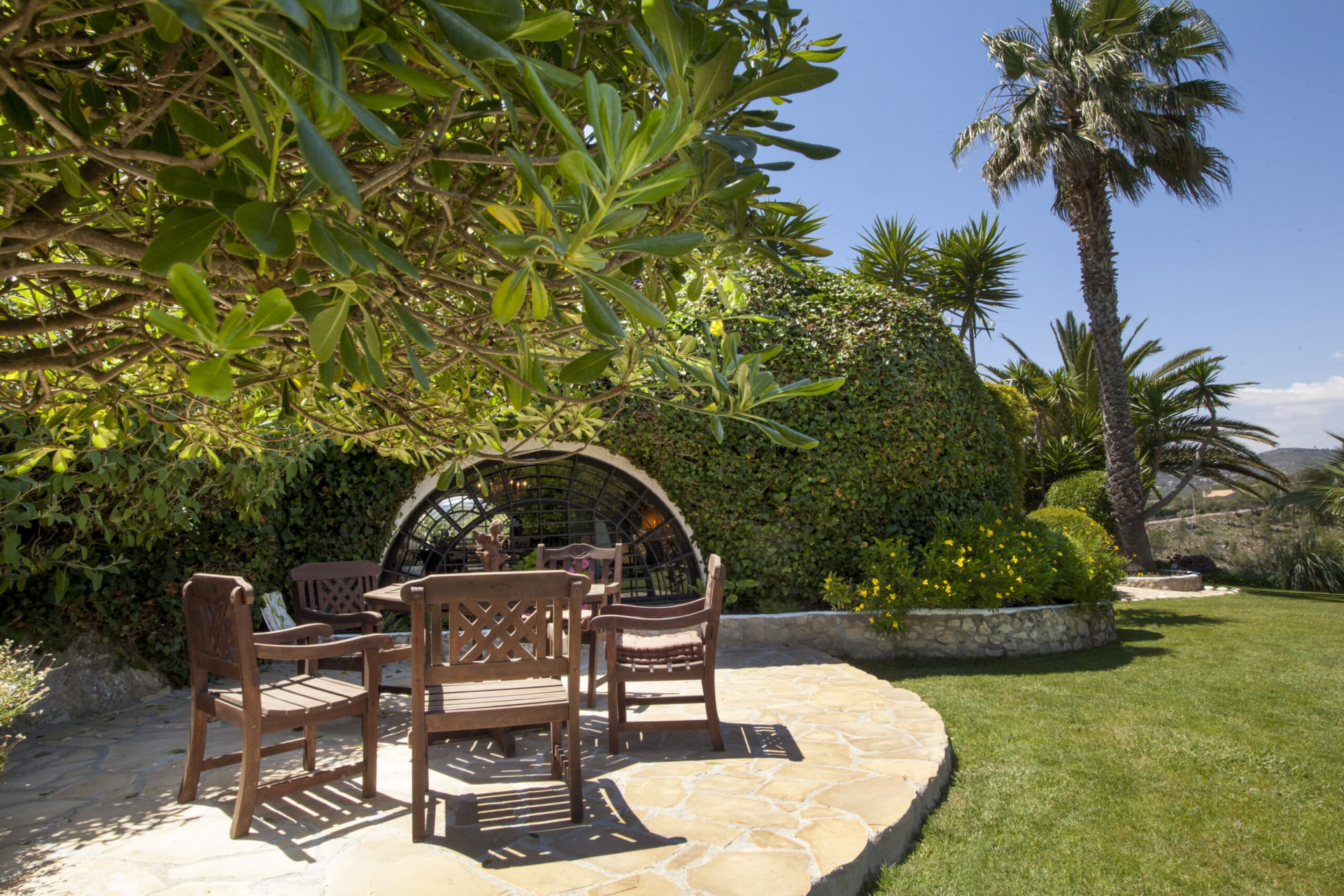 BOOK DIRECT
No credit card fee
No service fee
No cleaning fee
All taxes included
Best price guarantee
Rates
| | | | | | |
| --- | --- | --- | --- | --- | --- |
| Period | From | To | 1 week | Night | Min. stay |
| High Season | 10 Jun 2023 | 01 Sept 2023 | €13500 | €2100 | 3 Nights |
| Mid Season | 02 Sept 2023 | 06 Oct 2023 | €12500 | €2000 | 3 Nights |
| Low Season | 07 Oct 2023 | 15 Dec 2023 | €10500 | €1750 | 3 Nights |
| Mid Season | 16 Dec 2023 | 05 Jan 2024 | €12500 | €2000 | 4 Nights |
| Low Season | 06 Jan 2024 | 29 Mar 2024 | 10500 | 1750 | 3 Nights |
| Mid Season | 30 Mar 2024 | 14 Jun 2024 | 12500 | 2000 | 3 Nights/4 Nights in June |
| High Season | 15 Jun 2024 | 06 Sep 2024 | 14000 | 2200 | 1 Week |
| Mid Season | 07 Sep 2024 | 04 Oct 2024 | 12500 | 2000 | 3 Nights |
| Low Season | 05 Oct 2024 | 13 Dec 2024 | 10500 | 1750 | 3 Nights |
| Mid Season | 14 Dec 2024 | 04 Jan 2025 | 12500 | 2000 | 4 Nights |
| Low Season | 05 Jan 2025 | 11 Apr 2025 | 10500 | 1750 | 3 Nights |
| Mid Season | 12 Apr 2025 | 13 Jun 2025 | 12500 | 2000 | 3 Nights |
| High Season | 14 Jun 2025 | 06 Sep 2025 | 14000 | 2200 | 7 Nights |
| Mid Season | 07 Sep 2025 | 01 Nov 2025 | 12500 | 2000 | 3 Nights |
| Low Season | 02 Nov 2025 | 12 Dec 2025 | 10500 | 1750 | 3 Nights |
| Mid Season | 13 Dec 2025 | 03 Jan 2026 | 12500 | 2000 | 4 Nights |
Prices displayed above are for up to 20 persons. We can add a max. of 4 single beds for Euro 70,–/bed/night.
For the use of the dry sauna a surcharge of Euro 300,–/stay will apply.
From September to May it is possible to rent the main building only for smaller groups (Masia with 5 bedrooms – 10 persons) with 25% discount on the daily rate. To book 5 rooms or more (Euro 150,–/night/suite) please contact us via email casanova@sitgeshillretreats.com.
HOUSERULES
1/ Arrival and Departure.
The Property will be ready for Check-In from 4pm on the day of arrival. You must check out the Property no later than 10am on the last day of the period. You will be liable for any loss, damage, claim, cost, or expense arising from any failure on your part to vacate the property in accordance with this condition. You should also take into account that the suppliers you use are only welcome on the property between check-in and check-out times on the specific reserved days.
2/ The Accommodation.
The Accommodation must only be used by those guests (and, where appropriate, animals) named on the Check-In Form. You are not allowed to share the Accommodation or let anyone else stay there. You will occupy the property for holiday purposes and no other (unless a previously agreed event, such as a wedding, corporate event etc).
 We will have the right to enter the Accommodation at all reasonable times during the day (save in the case of emergency, when we can enter at any time) for the purposes of inspection and repair of the Property and its equipment, fittings, and contents.

3/ Condition of the Accommodation.
You must keep the Property and all furniture, fittings, and effects (also dishes and cutlery), in or on the Property, in the same state of place, repair, and condition as you found them at the commencement of the Period. The Owner will be entitled to deduct monies from the Deposit if extra cleaning is made necessary as a result of the Property being left in a dirty condition upon the Guest's departure.

4/ Your Conduct towards staff.
We reserve the right to refuse to accept you (and your party) as a guest(s) or continue dealing with you (and your party) if behaviour is disruptive, threatening, or abusive towards our staff. In any of these circumstances, you (and your party) may be evicted from the Property and no refund will be paid to you, and we may make a claim against you for any costs and expenses incurred as a result of your behaviour. Criminal proceedings may also be instigated.
5/ Liability & Amenities.
All children under the age of 18 should be supervised at all time by an adult in and around the swimming pool, garden, house and the whole property. The use of the Property and all its amenities offered, such as swimming pool, etc. are entirely at your own risk, and the Owner will not accept any responsibility for loss or damage to the Guest's belongings, personal injury or loss of life. You agree not to cause any damage to the walls, doors, or windows of the Property and not to do anything that may be reasonably considered causing a nuisance or annoyance to us or to any other occupier of adjoining or neighbouring properties.
6/ Music / Noise
Article 19. Civil conduct City Hall Canyelles
6.1. For the purpose of a good quality of life for everyone, the daily life of everyone in their home requires a civil and respectful behavior that takes into account the neighbors and the need not disturb them with unnecessary noise, such as hitting, shouting, loud music, partying, using loud devices, or other similar behavior, especially between 9 p.m. and 8 a.m. the next day. To this end, the use of noisy household appliances, musical instruments, singing, repairs, handling materials or changing furniture or any other activity that may disturb the rest of others is not allowed during the above hours (9:00 PM – 8:00 AM).
6.2. The evaluation of acoustic emitters that can be manipulated in volume or intensity by the source of the noise (voices, impacts, dragging furniture, televisions, audio equipment…) and that cannot be measured with a sound level meter must be carried out by the municipal inspector or local police officer with criteria of willfulness and disproportionateness due to the large volume, in such a way as to be considered excessive. The behavior of citizens that causes noise in their homes may not exceed the limit values for immission set out in Annex 4 of the national ordinance.
6.3. The starting point is that the behavior of citizens in the countryside must remain within the boundaries of peaceful coexistence with respect for the rights of other people.

7/ Pets.
Pets are permitted on the Property/Accommodation only if agreed by the Owner for a surcharge. If a pet is taken to the Property/Accommodation without the Owner's consent, or the stated number/size of pets is exceeded, the Owner is entitled to refuse entry and this will be treated as a cancellation by the Guest.
8/ Smoking.
Please note that smoking is prohibited inside all buildings and rooms by law. When guests smoke inside the Property's buildings or rooms, Masia Nur/Sitges Rustic Property S.L. needs to charge an amount of €250,–. This amount will be used to clean the building or rooms, in order to prevent future guests experiencing inconvenience from the smell. Make sure cigarettes, cigars, pipes, … are properly extinguished in the provided ashtrays when smoking outdoors.
9/ Parking.
Please park your car (campers/caravans are not allowed) outside the property.
Originally 'La Masia Casanova', built in 1842, was a Spanish wine-producing estate. Today it is a luxurious villa with spacious annex 'Casitas' (suites with terrace) beautifully situated on a hillside in the middle of the Penedes wine region.
The authentic and peaceful ambiance of the Masia Casanova Sitges offers privacy and luxury to make your moments unforgettable. With its beautifully landscaped terraces, the Masia offers generous space for 20 to 24 guests in 9 large suites, a private salt-water pool with salt-water jacuzzi and a state-of-the-art shaded pool house, sauna, sunbathing and chill-out areas.
Whilst you stroll in the gardens of the property during sunset, you can peel a fresh orange from the numerous orange trees. Or you pick almonds overlooking the green-covered hills all the way to Montserrat. 'La Masia Casanova Sitges' is just a few minutes' drive from the lively town of Sitges with its vast beaches, historic center, cultural activities and nightlife.
Silence isn't empty, it's full of answers.
Key features
Luxury villa with 9 suites, each about 45m2
For up to 24 persons
Only 10 minutes drive to Sitges
Large salt water swimming pool and jacuzzi
Sauna and steam room
Privacy in a tropical garden with many terraces
Breathtaking views to Montserrat and Castel Olèrdola
Event capacity for up to 50 guests
Stunning rustic Villa set within 400 acrs of private grounds.
Reviews
Sarah Watkins | Tripadvisor
*****
June, 2023
A fantastic gem of a place We have just returned from Maria Casanova for my husband's 50th. We were a group of 17 and we had the most wonderful time. Communication leading up to our stay was excellent as was it throughout our stay. The property is excellent with spacious suites and beautiful gardens and pool area. Everything you can think of is provided including pool towels, hairdryers, shower gel which were all important to us with only having hand luggage. There are plenty of areas to relax with enough tables and chairs to eat outside together. It's in a lovely location up in the mountains about 15 mins from Sitges. We didn't want to hire a car which wasn't a problem with carefully planning of a supermarket delivery and pre-booked taxis to and from the airport and into Sitges. We also had a buffet delivered one evening (Eskisit) and a chef come in and cook us a BBQ (Bruno Bonnier) which were both fantastic. We would highly recommend this property and hope to return in the future.
Neville K | Tripadvisor
*****
May, 2023
The most perfect, magical, serenely beautiful oasis to stay at near Sitges, Spain. Our 7-night stay at Masia Casanova Villa in Canyelles, Spain (just a 10 minutes drive from Sitges) was absolutely exceptional and truly unforgettable! We couldn't have dreamed up a more perfect venue / space, and the attention to detail in the loving/honoring renovations of this 1800s Spanish farmhouse turn luxury villa, makes this our absolute favorite place we've ever stayed at in Spain (and quite possibly, anywhere on planet earth). My fiancee and I live in California and had the idea of possibly getting married in Spain after nearly 12 years of life on earth together. About a year earlier, we met with Remco (the owner of Masia Casanova) and Robert (the on-site manager of the villa), and they gave us a tour of the grounds (which we scheduled in advance when we were in America). They were always super responsive by e-mail, and excellent communicators, which made us always feel like we were in great hands. We wanted a place that was large enough to host our family and closest friends who would be attending our future wedding in Spain, and this home/villa of 9 bedrooms/bathrooms (all suites) was an absolute gem and a real dream to find. Immediately after seeing the property in-person and walking the grounds, we felt like we had just found the most perfect luxurious oasis... where we imagined we could come back to and rest during a busy wedding week that was full of excitement and re-connections with family, old friends. Our stay exceeded all of these expectations and hopes, and then some! Not only was Masia Casanova a dream-of-a-home space to rent out for a week in Spain, but we ended up paying a tiny bit extra for daily cleaning service (which was very reasonable and totally worth it), as well as one day mid-week of our stay where we had all the linen changed, towels changed, and the entire grounds refreshed. It felt marvelous to relax and not have to worry about constantly keeping things tidy with 20+ family/friends staying there, and our guests kept saying over and over again, "I feel like we're royalty... how did you find this place!?" It truly was a royal/regal place, but it also has this rustic charm to it, and still has remnants of what the property used to be over 150+ years ago (which was a Spanish farmhouse, where wine was made the old-fashioned way). Parking is also easily accessible, and we were able to park 2-3 rental cars in the driveway, and 5 cars outside the main gate. If you want an oasis and spectacular retreat just outside of Sitges in Spain, then look no further and book Masia Casanova. We couldn't have imagined a more perfect to spend the week in Spain and are already trying to come up with anniversary plans, as we definitely plan on staying here again in the future. Thank you so much Remco and Robert, for all you did to make our stay restful and enjoyable. There are not enough words in the English language to say 'thank you,' but from the bottom of our hearts, we just wanted to say 'a million thanks and cheers' to you both. All that to say, we give this place 5 out of 5 stars, 10 out of 10, and an absolute perfect A+! Masia Casanova gets our HIGHEST recommendation for any future travelerx looking for a true, one-of-a-kind oasis... to live life (for a short while) in luxury, peace and style in one of the greatest places on earth...Spain! 🙂
Heidrun S | Tripadvisor
*****
May, 2023
A stunning place My favourite spot in Spain!!! It was my fourth time at Masia Casanova and definitely not my last time. Whenever i arrive, i feel instantly relaxed. Check in is easy and the owners are fabulous and helpful. This year in May, i was so happy to swim in the large pool and the whirlpool was a big bonus ( the sea in Sitges was too cold). Everything is well serviced. New are the solar panels on the rooftop of the bungalows. I love that innovation. I can really recommend to everyone this fabulous Place.
Cabin Service Design | Google
*****
October, 2022
Amazing and luxurious property close to Sitges. Every Suite offers a unique Design with very comfortable beds. The huge exotic garden, with several chill out areas. Can't wait to be back!
October, 2022
A great event venue! We stayed for a week to celebrate the 60th birthday of a friend and had a great time. For some of us it was not the first visit and we noticed many improvements: a new pool house, the pool bar, the main house furniture upgrade... Robert and Remco are constantly working to improve the place, adding more style and function. Masia has seen lots of personality and love invested in it, and it pays off. What we loved most is that it is so close to Sitges, St Pere de Ribes and the sea, but yet totally secluded and private. And then, of course, the service: Robert was always only a phone call away when we needed help. Ten out of ten, thank you for the great holidays!
August, 2022
We stayed at Masia Casanova in July for our wedding blessing. It was a fantastic stay. All rooms were of the highest quality and the entire villa was beautifully decorated with all the amenities you need on your holiday. Robert and Remco were helpful from beginning to end which was over a 2 year period due to Covid. The caterer they recommended, Siberum Catering were perfect. I can not recommend this villa enough. It's beautiful views and perfect distance from Sitges allowsed for the choice between the town or a quiet evening in the mountains which was the perfect balance. All of our guests could not believe we had found such a gem. When we return however we would opt for hiring a car as it would make life easier. Sitges is a great town and if visiting there again we would not stay anywhere else. Thank you Robert and Remco.
George Ritchie | Google
*****
August, 2022
Amazing place, great location, five stars!!!
August, 2022
Perfect country retreat and very close to Sitges. Great rooms and fantastic pool. The views are just incredible. We didn't want to leave.
Mark Dijkstra | Google
*****
July, 2022
The perfect place - All the suites are spacious and are equipped with very comfortable beds. The garden is very beautiful and very well maintained and has many terraces and chill out areas 🙂 The design and decoration of the house is so unique and we really appreciated every single detail. Robert, the owner made our stay unforgettable and we booked already for September this year.
Bruno Schiavi | Google
*****
July, 2022
This is a spectacular spot - everything is very well put together! Great service from Remco and Robert, great attention to detail, comfortable and easily accessible from BCN and Sitges. We will recommend it to all of our friends and family.
July, 2022
Absolutely beautiful home with some unique and amazing rooms. It was a perfect place for our work retreat and everyone had a great time.
Lori S | Tripadvisor
*****
June, 2022
Wedding Weekend Masia Casanova was a wonderful experience all around! Better than the pictures! The space was beautiful and perfect for a large group, with many different areas to accommodate our event: ceremony, cocktails, dinner & dance. The owners were helpful & friendly. We would highly recommend this location for an event or for a relaxing group vacation!
Joachim H | Tripadvisor
*****
June, 2022
Business meetings at a cozy place Hosting a company retreat, the whole international team from Japan, the US, France, Germany and the UK loved this place! Robert is an awesome host, quick to respond to any questions that arose during our stay. No need to repeat the other reviews, everything stated is exactly as described. Thanks, Robert, we´ll definetely be back soon!
Maximilian | Airbnb Luxe
*****
May, 2022
To sum up the stay in this wonderful accommodation in one sentence: perfect in every respect. Robert is an all-around nice guy, a great host and has created a true oasis not far from Barcelona with his accommodation. We were able to unwind here and celebrate my birthday. At any time of the day, the accommodation presented itself from a new side and was always breathtaking! No matter what we needed, Robert was always available and able to help. You always had the feeling that he was happy to be able to help and to give his guests a great time. I can only warmly recommend this offer to every guest!
Daniela Haindl | Google
*****
November, 2021
Eine großartige Villa, liebevoll bis in kleinste Details eingerichtet. Der perfekte Ort, um sich rundum wohl zu fühlen. Sowie ein wundervoller & überaus bemühter Gastgeber. Google Translate: A magnificent villa, lovingly furnished down to the smallest detail. The perfect place to feel completely at ease. As well as a wonderful & extremely hard-working host.
October, 2019
Masia Casanova is a gorgeous villa with beautiful landscaping and all the amenities. It's a place to truly relax. The comfortable beds make you want to sleep in, the poolside lounge chairs are ideal to soak up the Mediterranean sun, the hot tub and saunas melt your tension away and a glass of local wine watching the fire in the outside lounge area is a perfect way to end your day. The owners couldn't be more accommodating. They are quick to respond to questions and/or concerns and go above and beyond. Thank you Remco and Robert for sharing your lovely home with us! We look forward to next year.
August, 2019
We were a group of 22 people, ranging in age from 2 to 78. We loved staying at the villa. The pool was fantastic, and we all used it. Had a private chef (Bruno Bonnier) prepare dinners, and he is amazing! The rooms are large and very comfortable. I highly recommend!
April, 2019
Absolutely stunning property! The pictures look amazing, however, it's even better in person. We had a group of three families with children ranging in age from 7-15. The grounds were spacious, with multiple garden and sitting areas to enjoy. The children loved the pool and were in it round the clock, while the adults sipped cava in the hot tub. The villa was gated, which enabled us to relax and not worry about children running off! There was also a sport court and cute little playground just a short walk from the villa. All of the bedrooms were HUGE, beautifully appointed, and en suite. The owners and Ana were wonderful and answered all questions promptly. We hired a private chef, Bruno Bonnier, for the week, and he was amazing! Reasonably priced and worth more than gold! The villa's location was perfectly placed within easy access to Barcelona, Sitges (wonderful beaches!), and the priorat wine region. We've rented villas all over the World, and this one is by far a favorite! Thank you for sharing such a special place!
September, 2018
Staying at Masia Casanova with family and friends for a couple of days, this was an absolutly amazing holiday. We enjoyed every minute of the sunny days at the pool and jacuzzi as well as peacefull evenings under the porch or at the lovely poolhouse with its fire place. Views offered by the estate located on a hill are stunning. Walking around the site and discovering the beautifull garden with its numerous peacefull hidden places is absolutely worthwile. So, when travelling with a group you will always find generous space to stay together, as well as your own private chill-out areas if you like to be for a while in a smaller group or even alone. Regarding the bedrooms/suites... all of them were amazing, individually furnished combining an adorable mixture of vintage style and modern design. They are airconditioned and have their own large private bath room; most of them offer both bath and shower. About 5 bedrooms ('Casitas') even have there own terrace or balcony. Living and dining room in the central building of the Masia are furnished colorful with loving attention to detail, and the beautiful kitchen offers all modern conveniences as well as a tremendous amount of equipment. The owners of the Masia were always available in case of any question and also provided great advises on bars and restaurants nearby in Sitges. Even a guided tour on a lovely vineyard near to the site has been arranged for us. We would like to thank the owners for making this holiday unforgettable for us. We would recommend this place very much and are definitely looking forward to a next stay.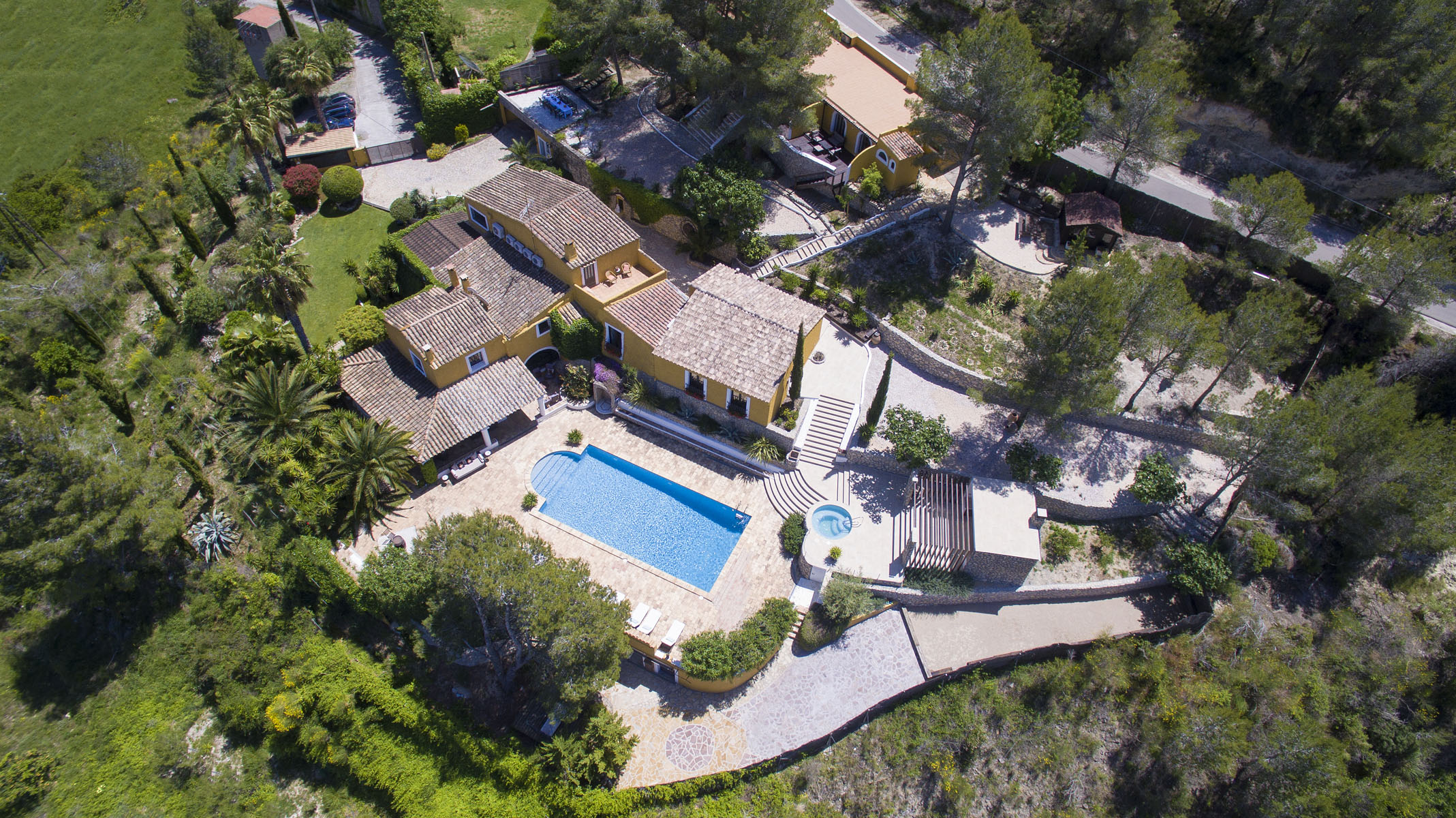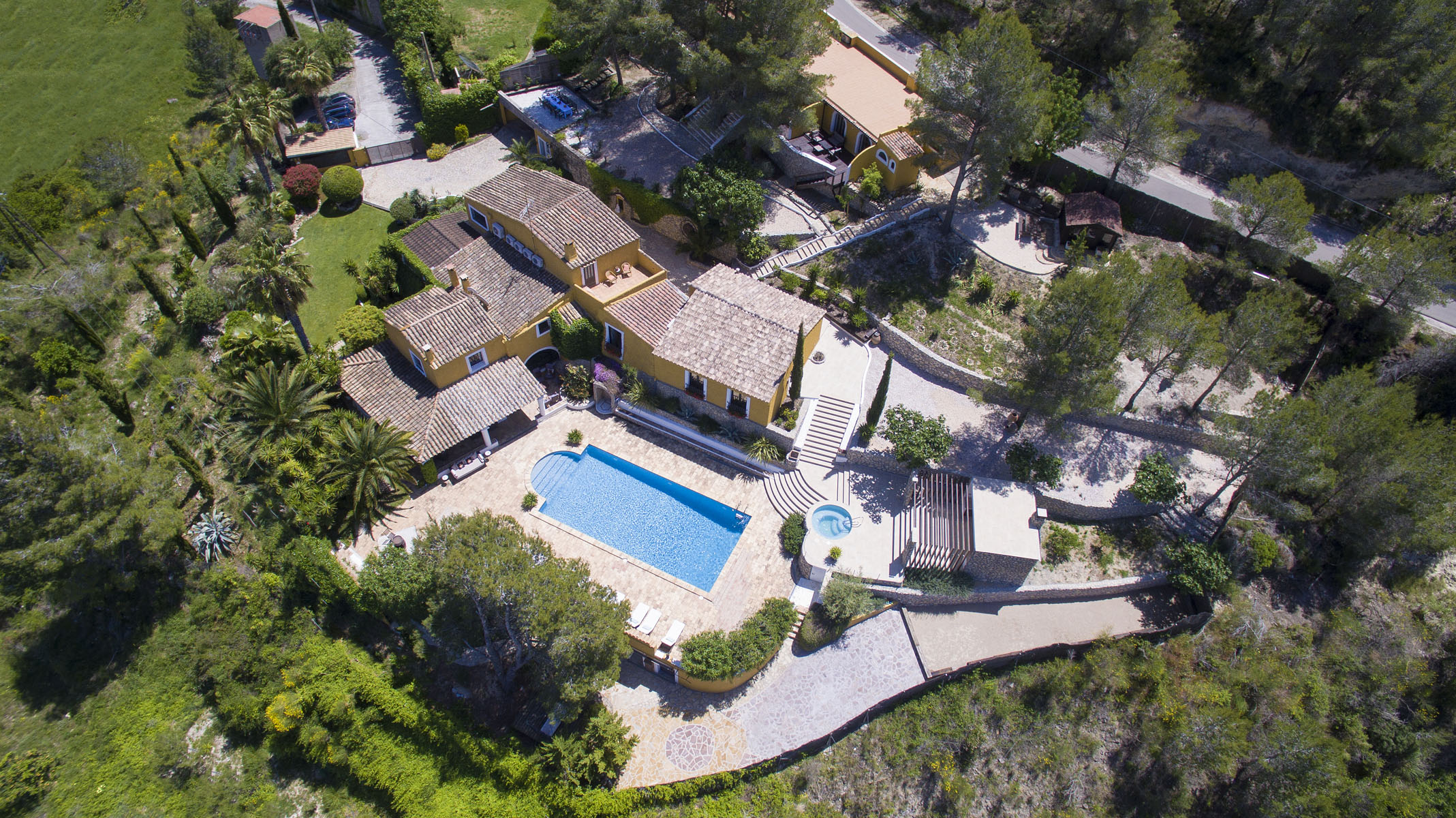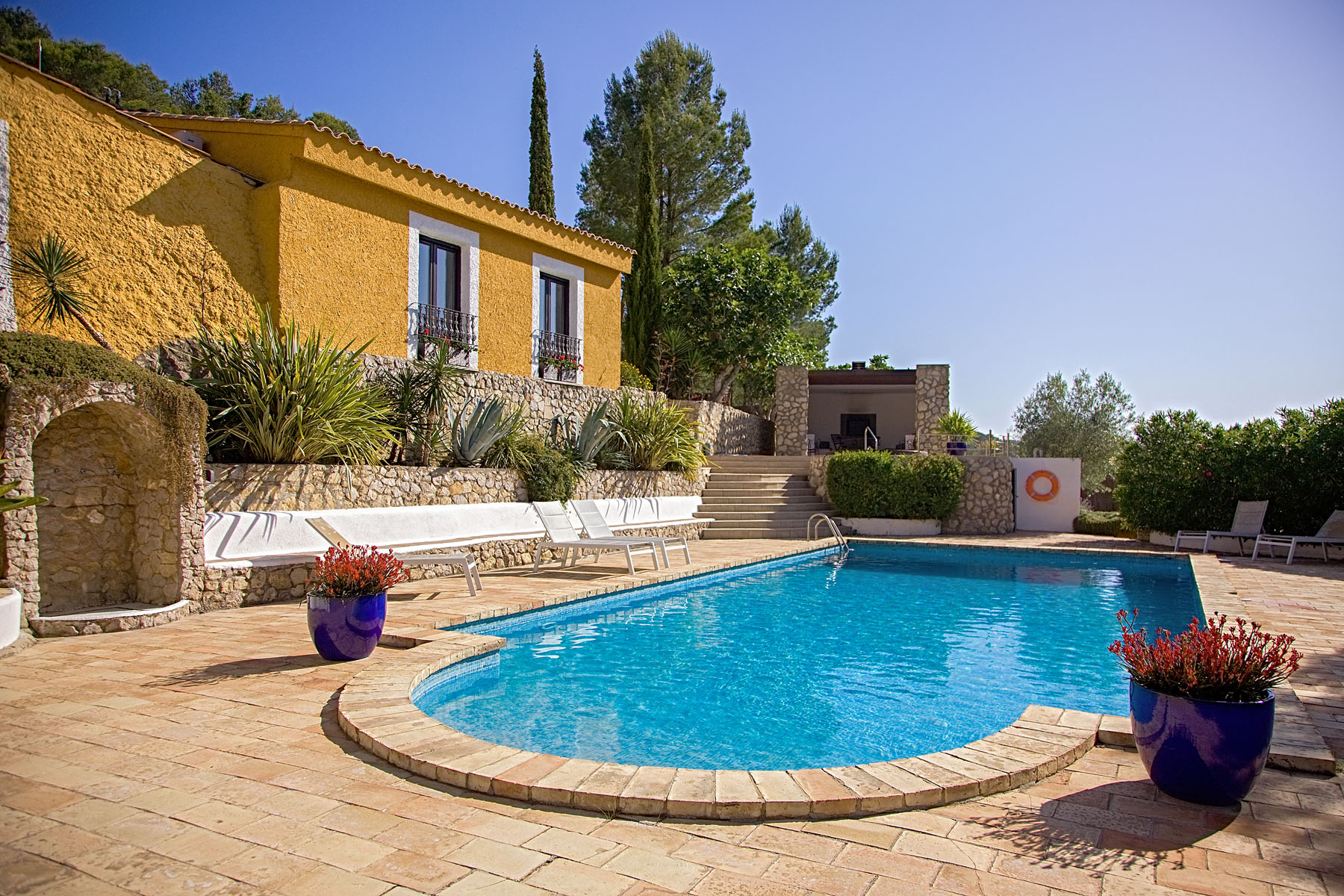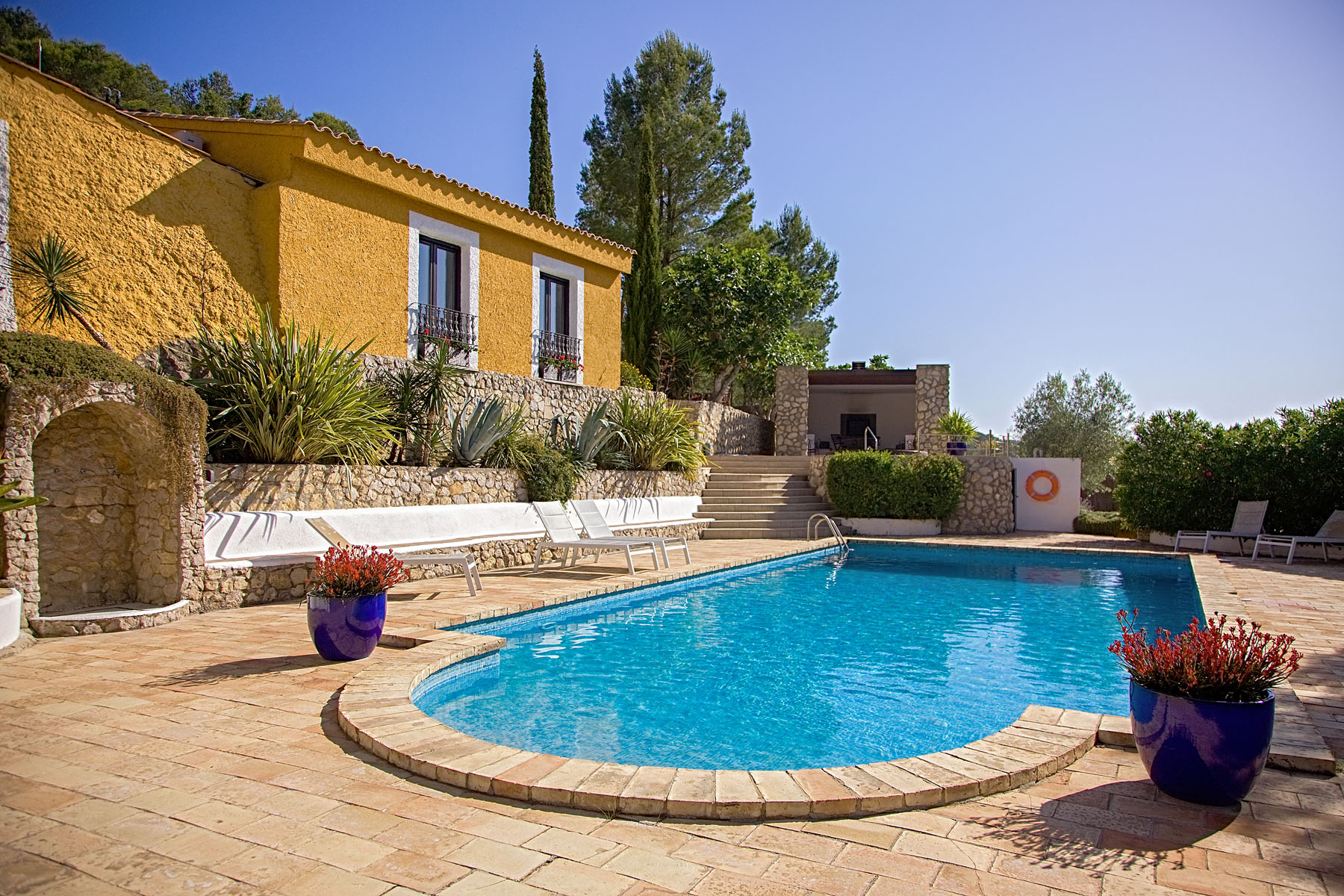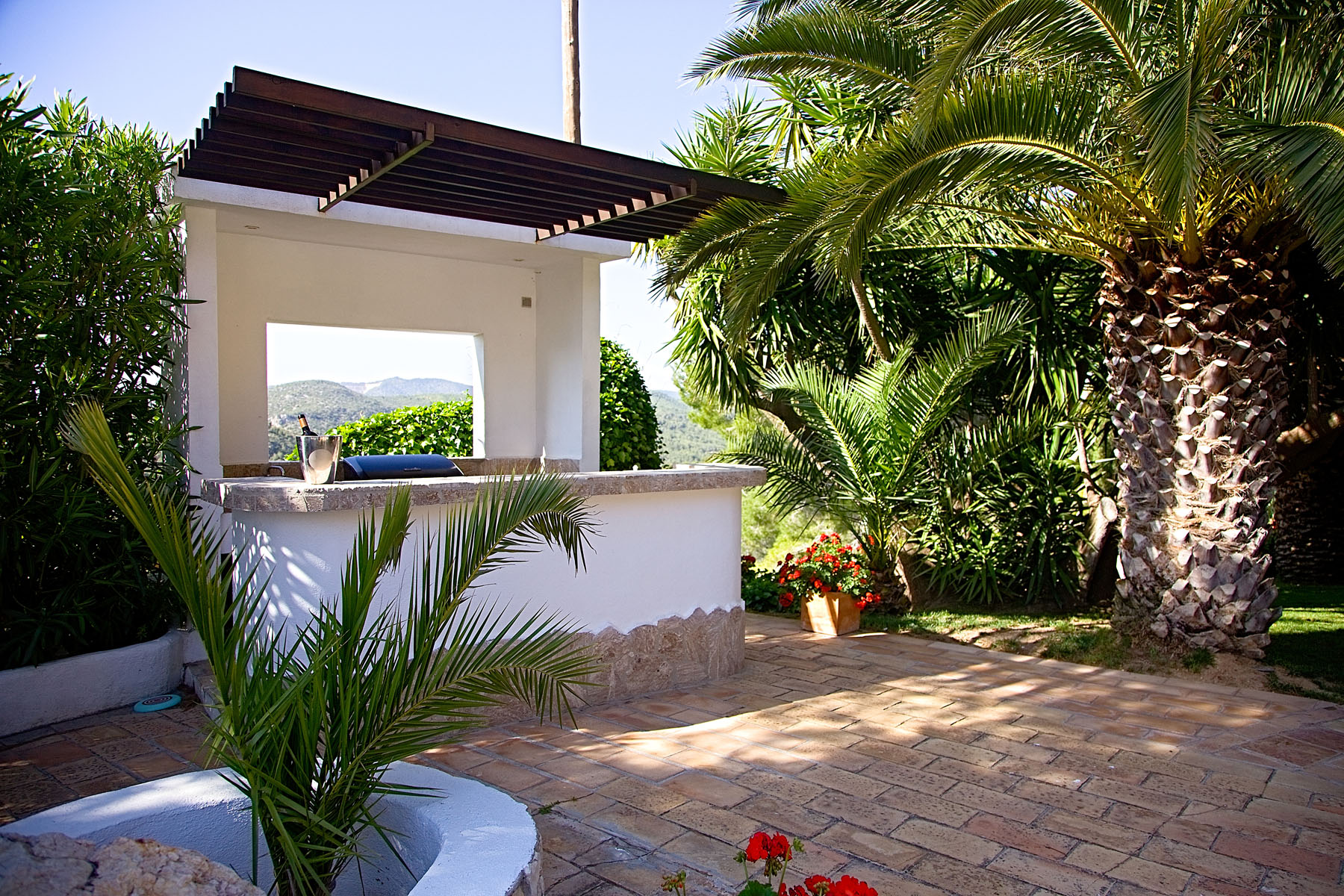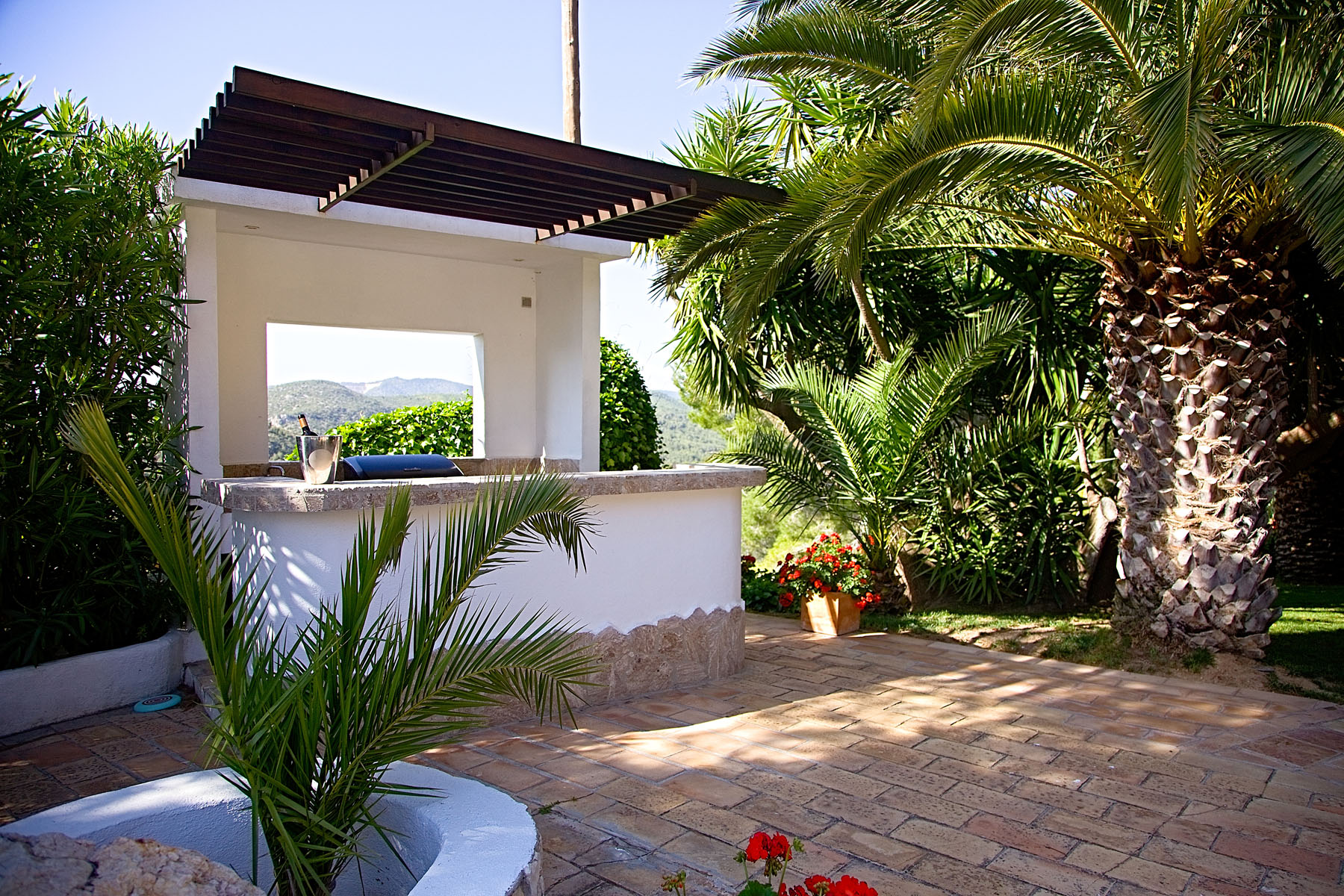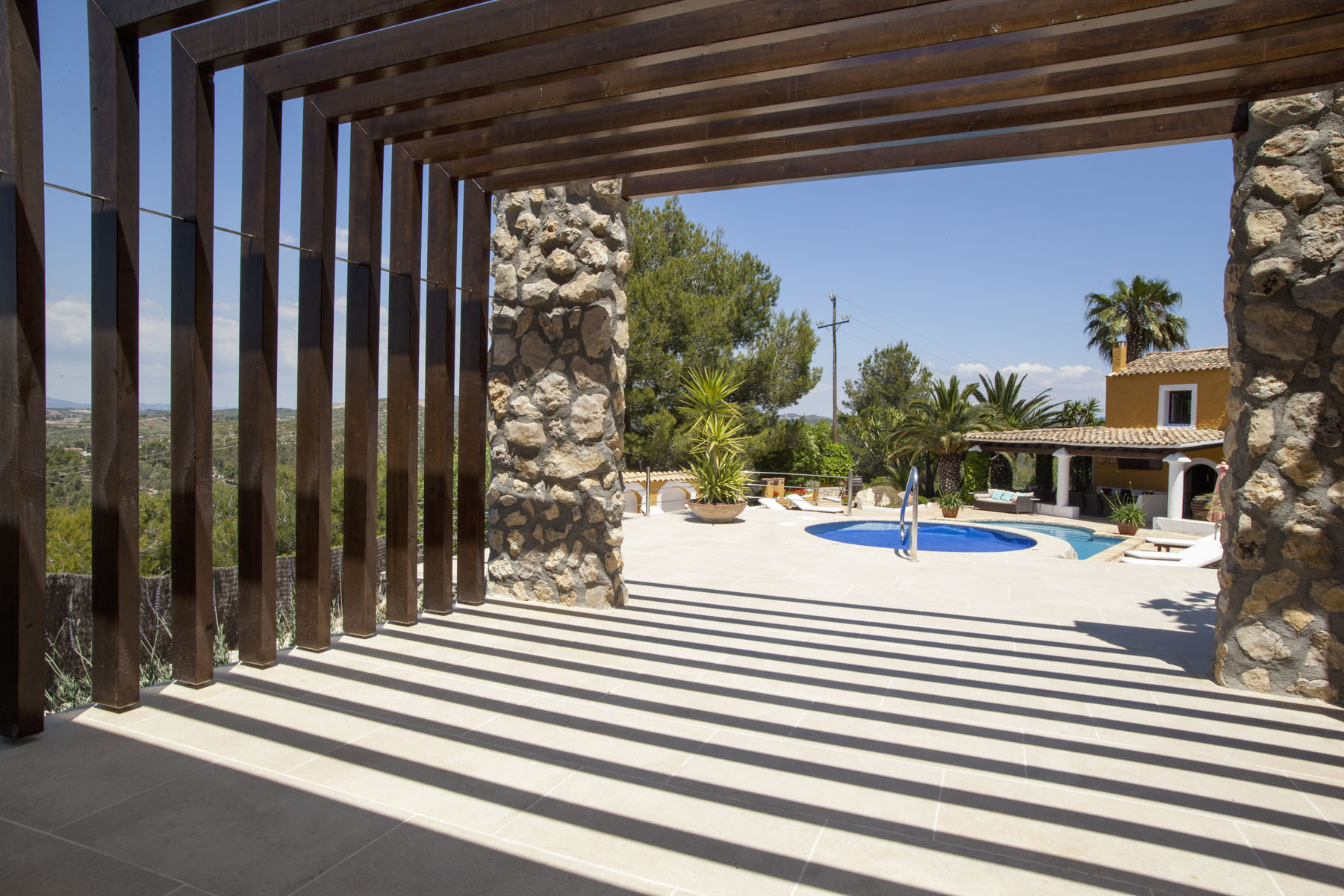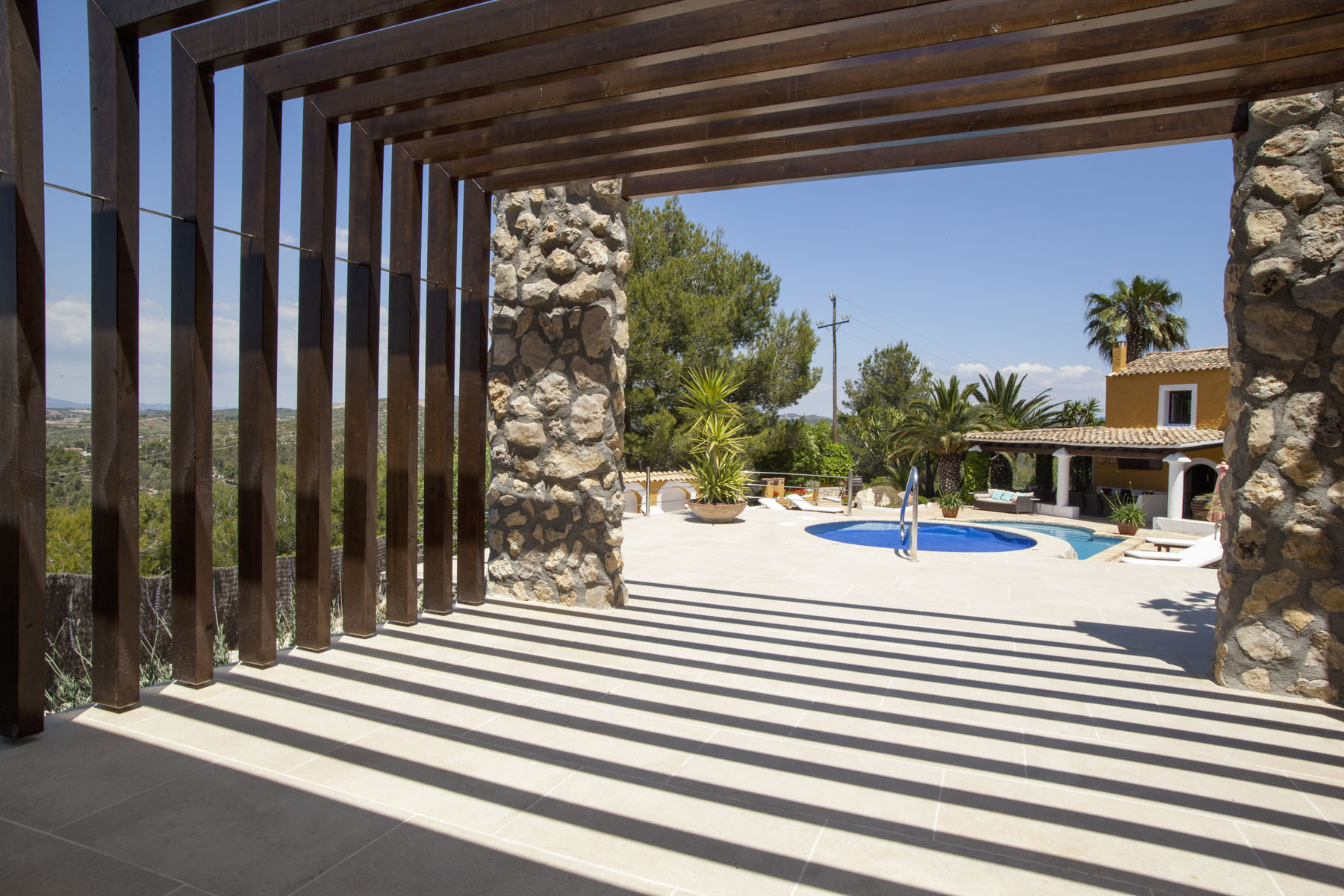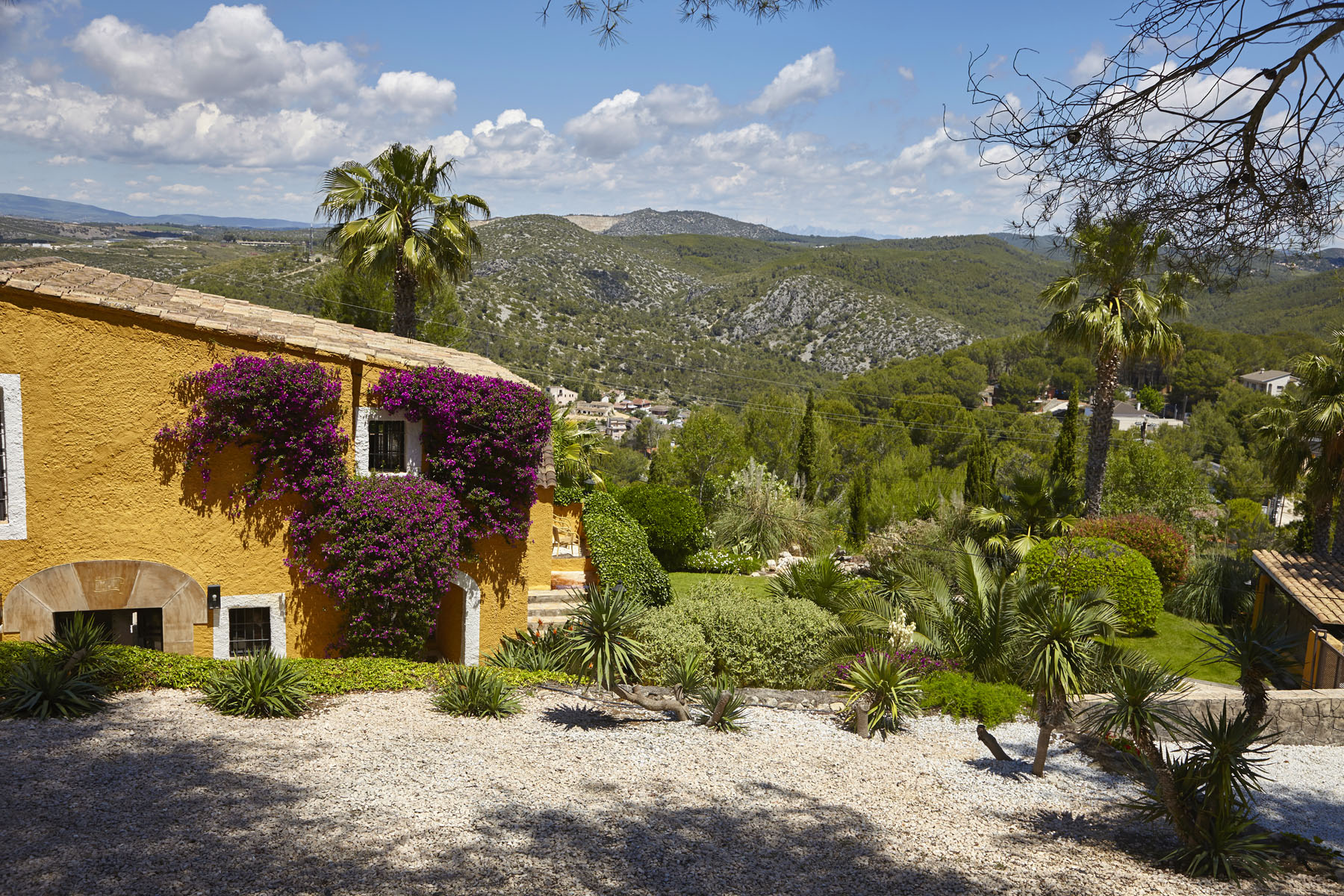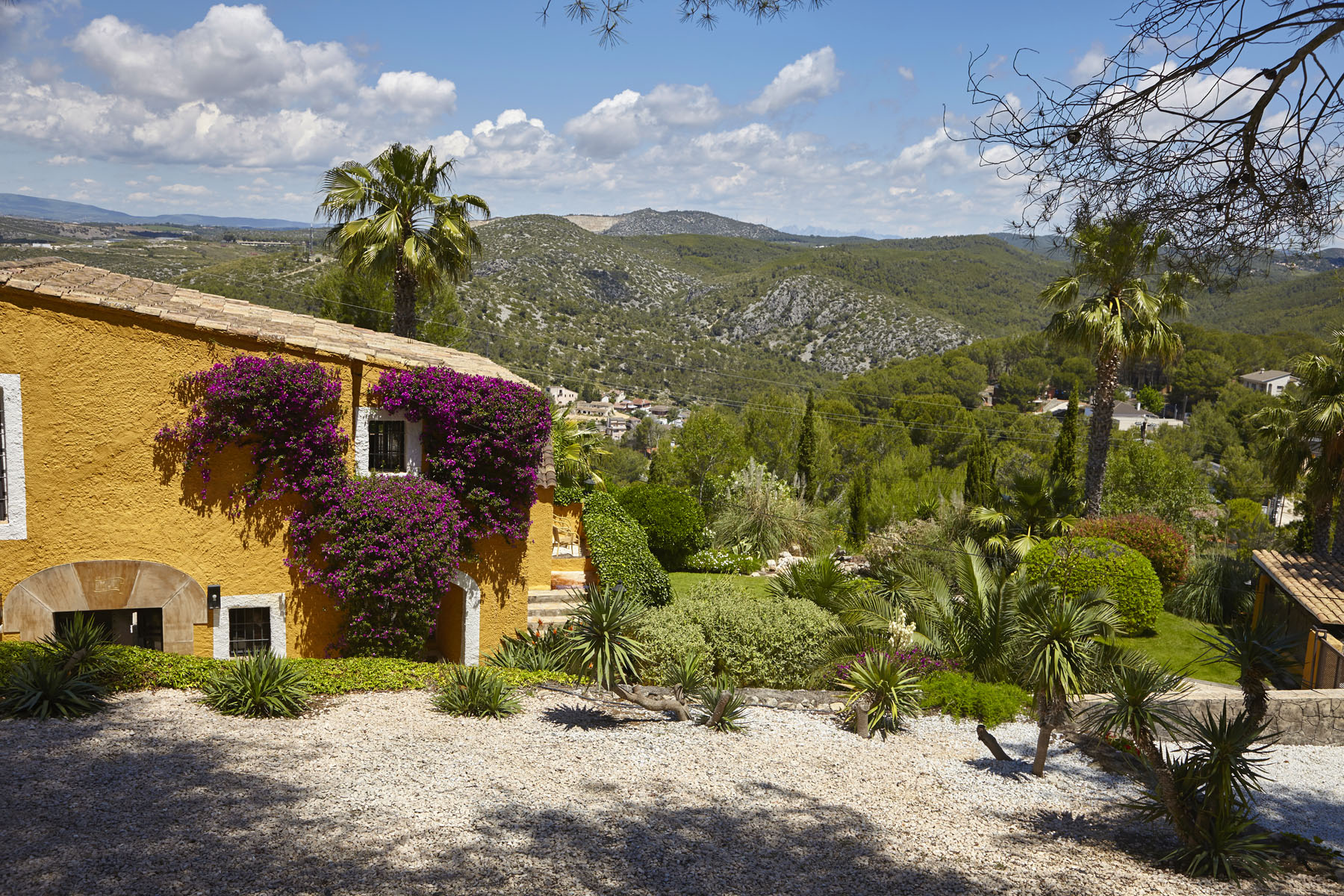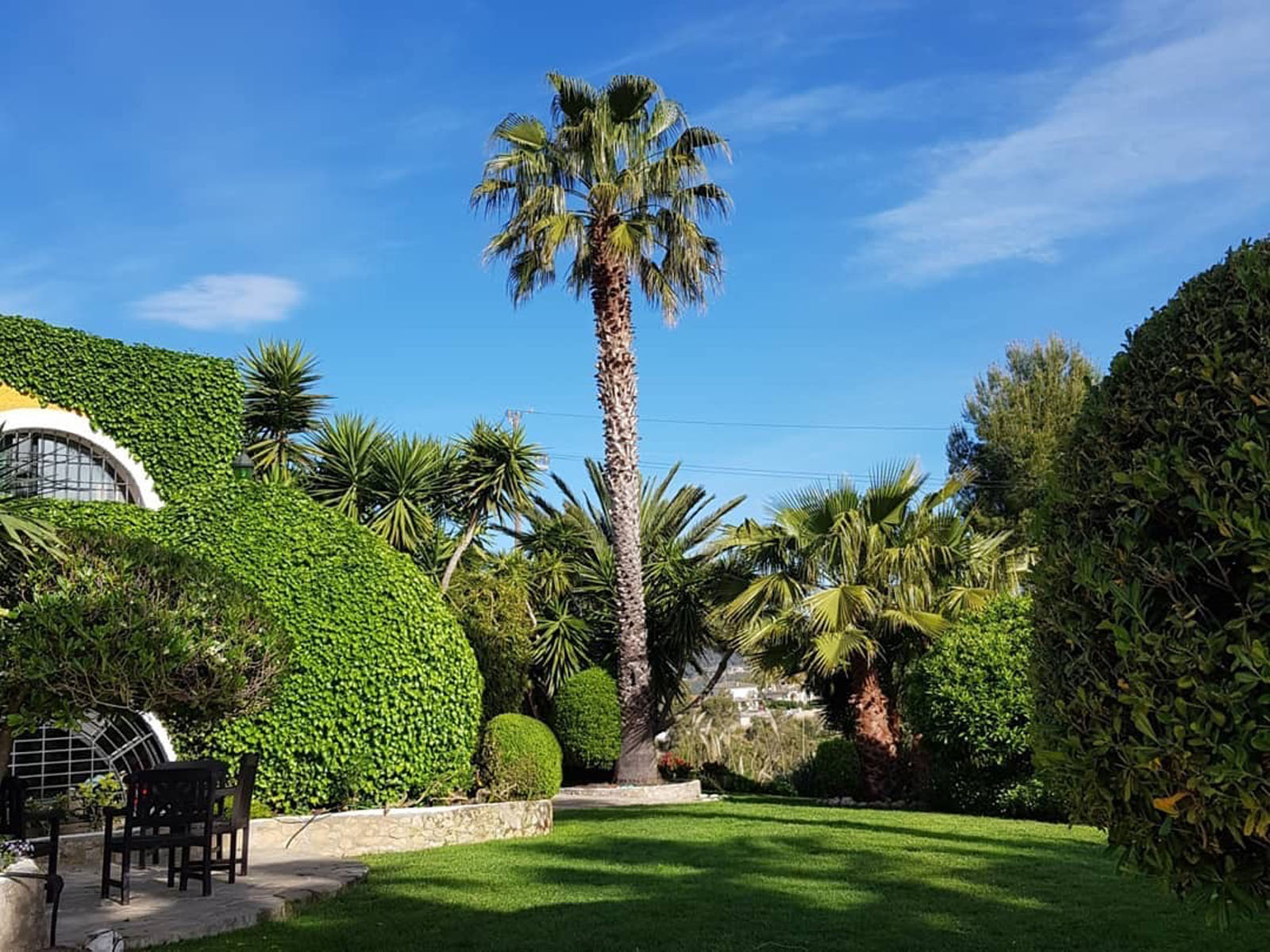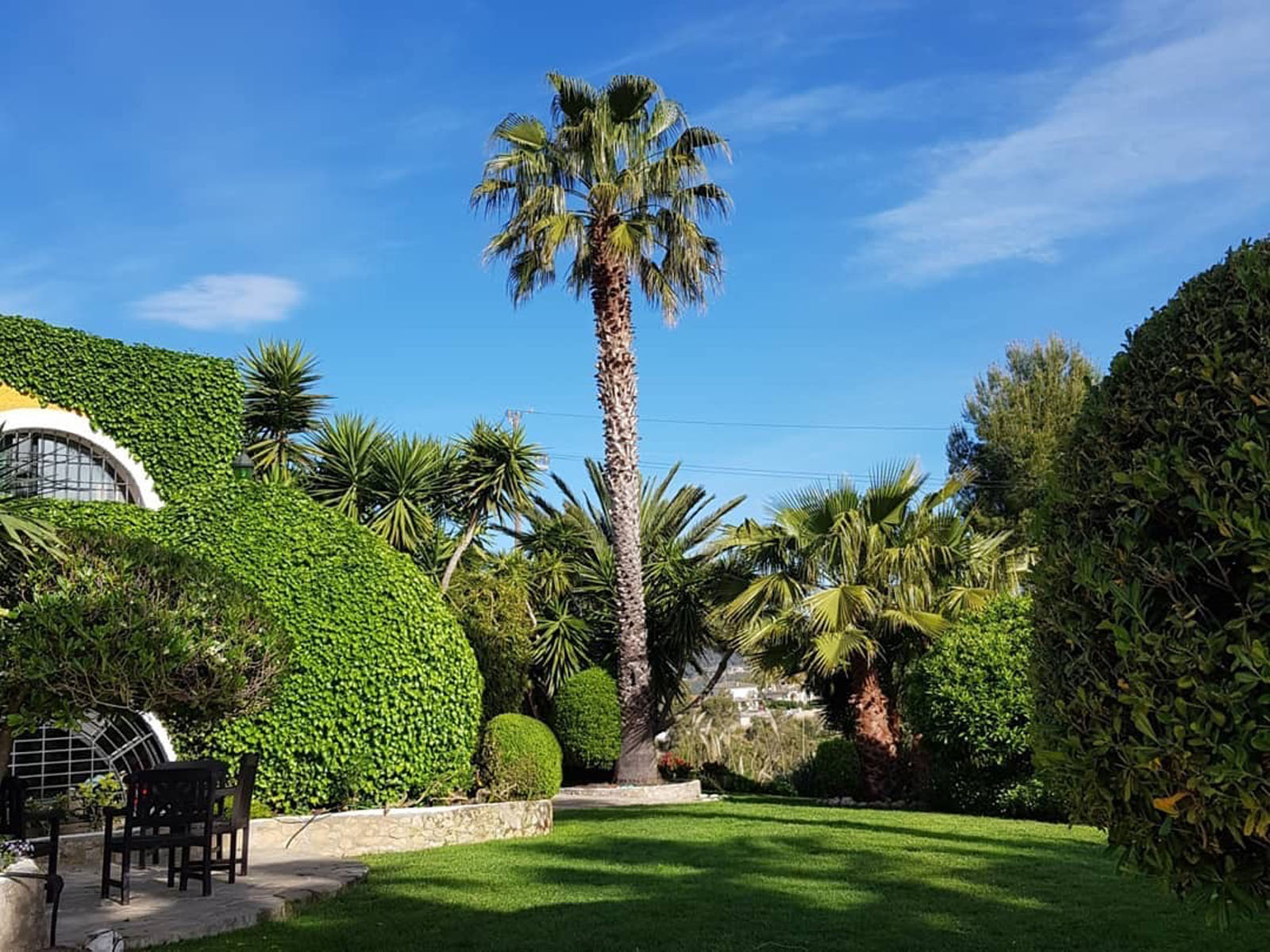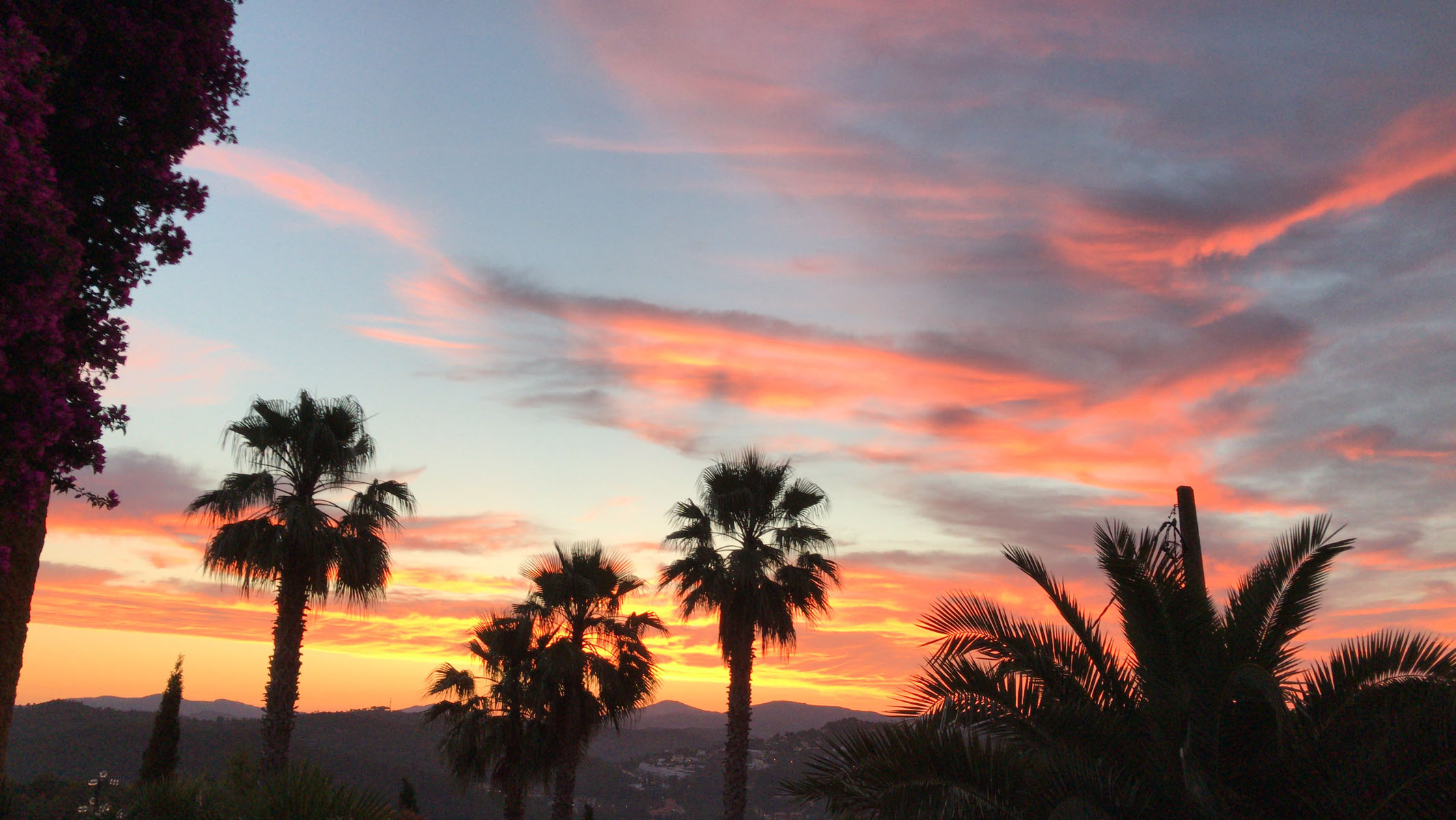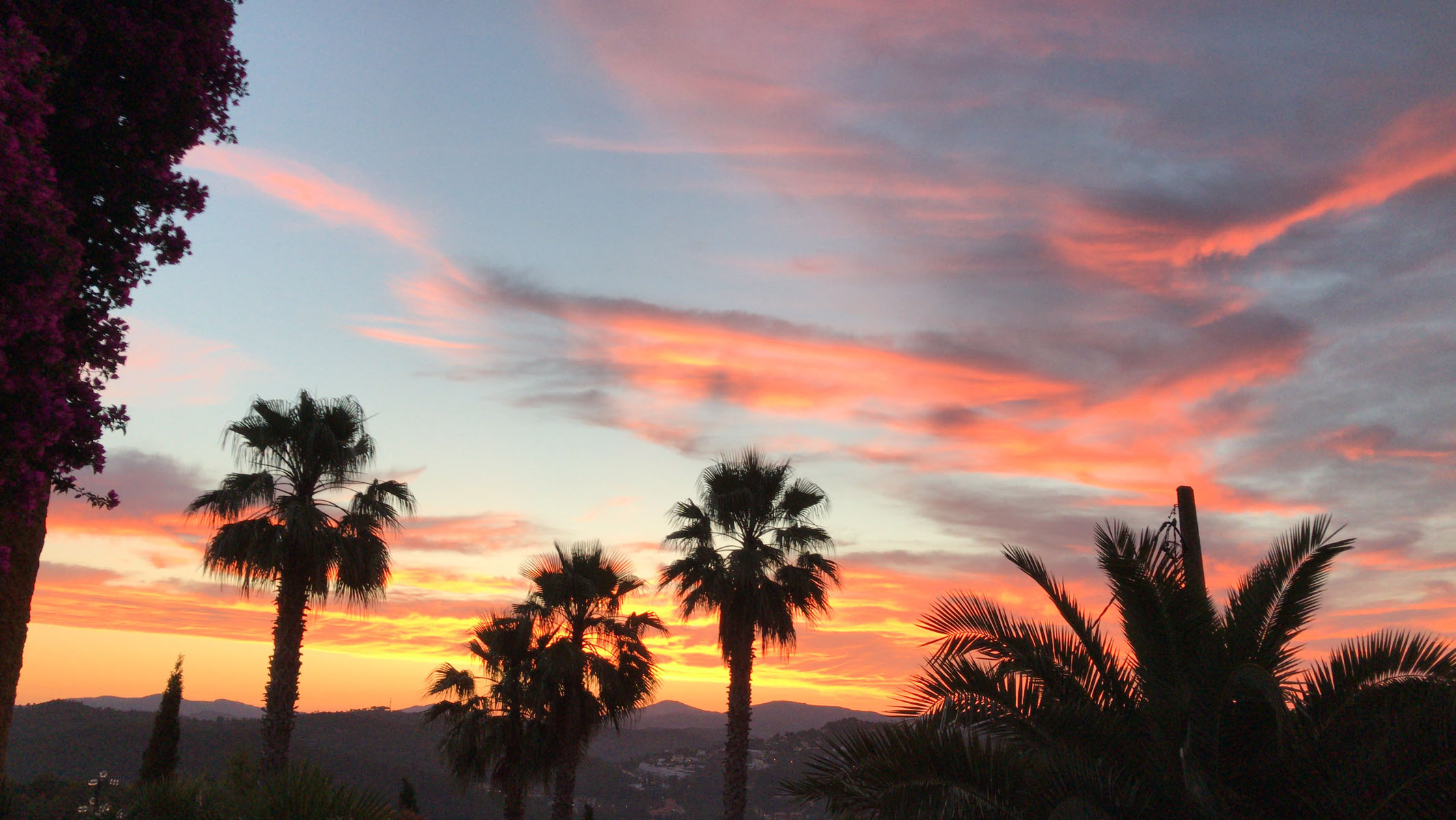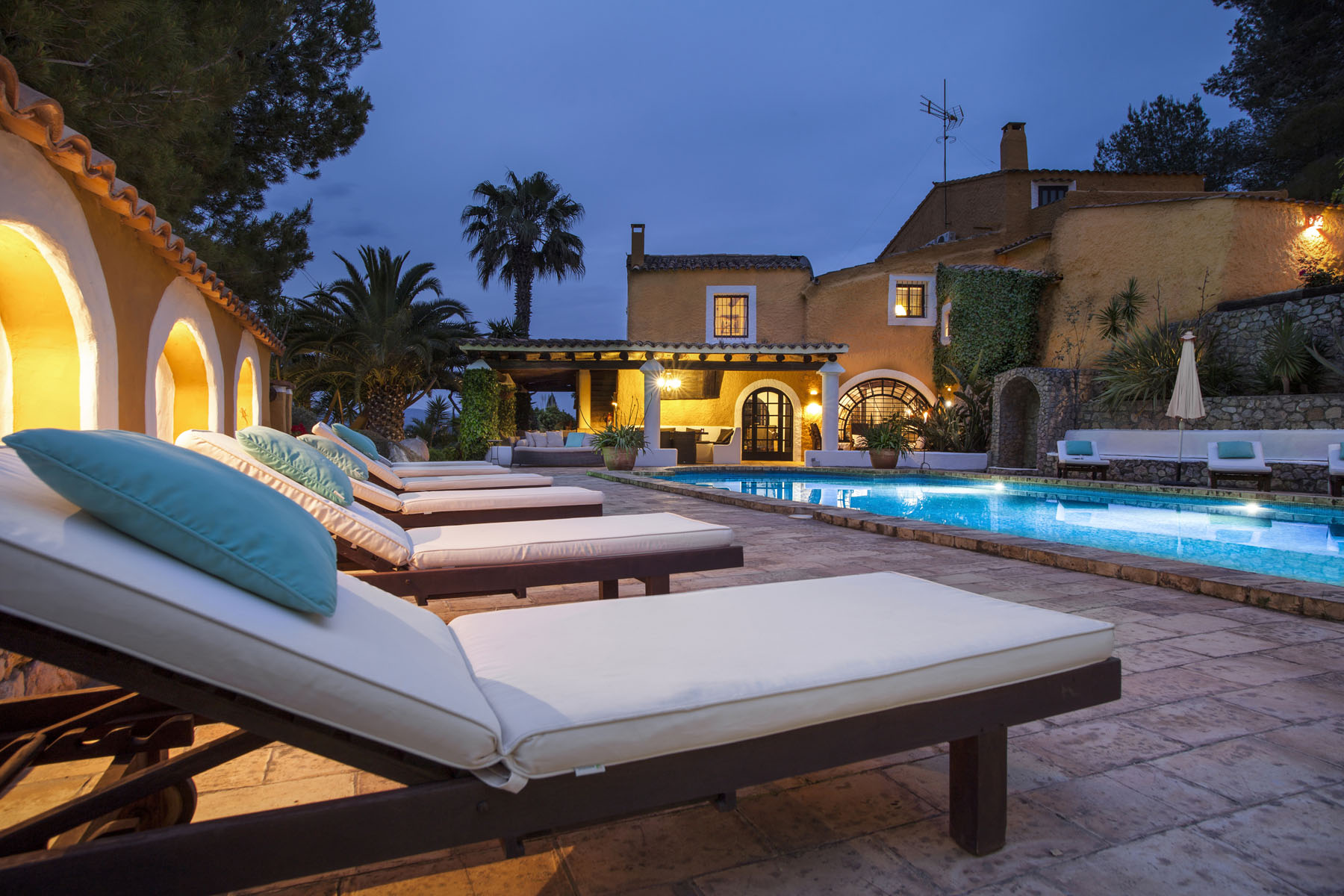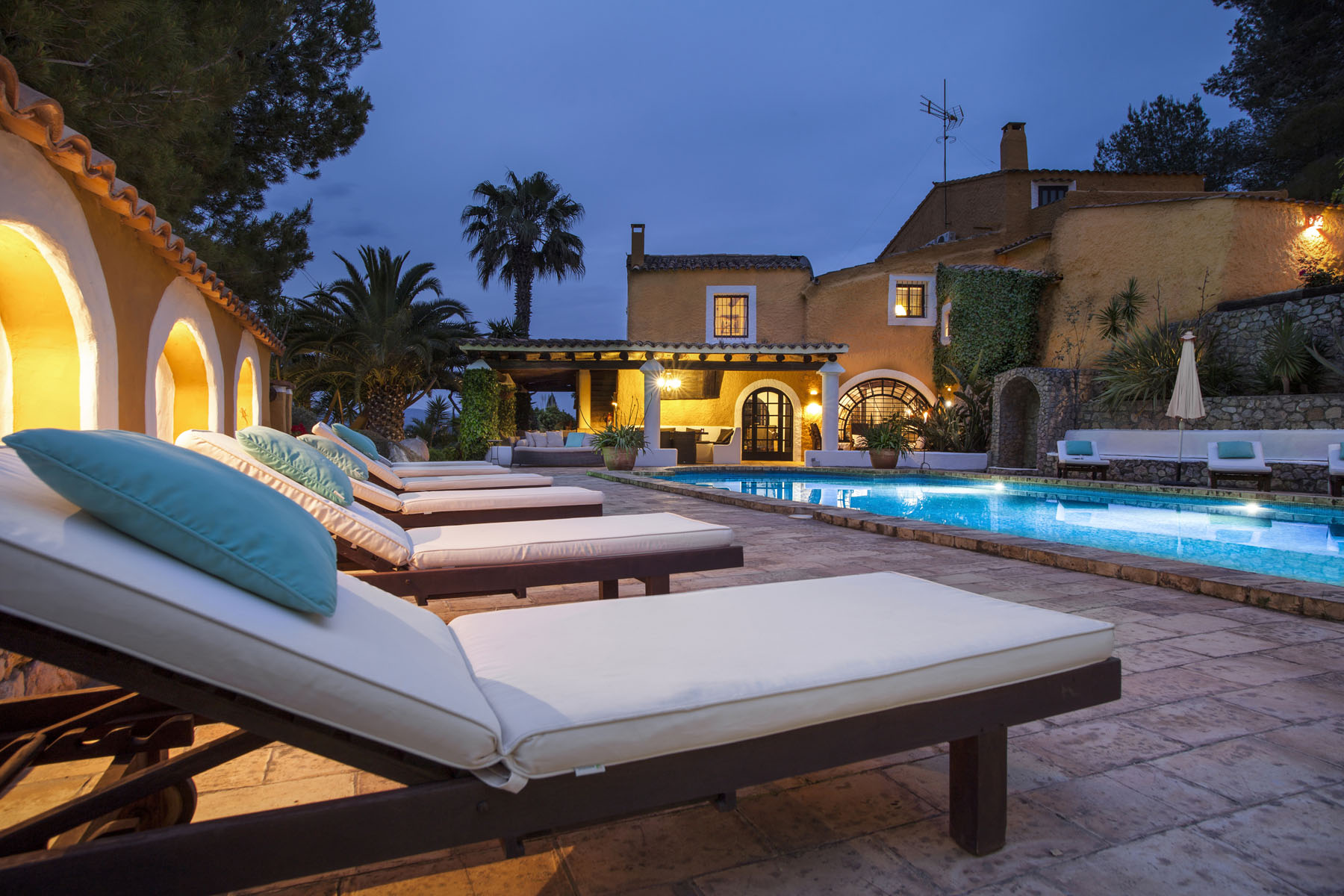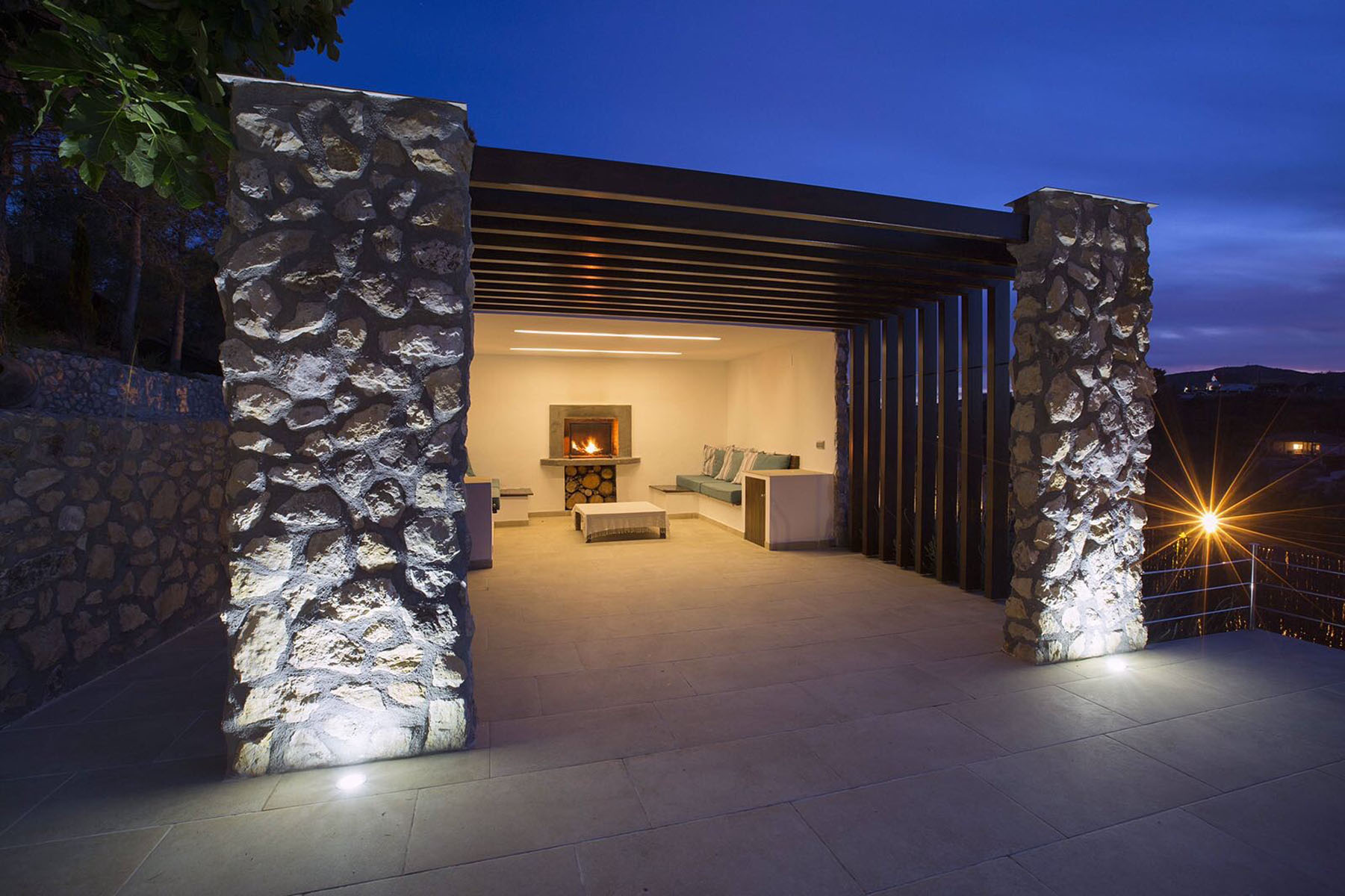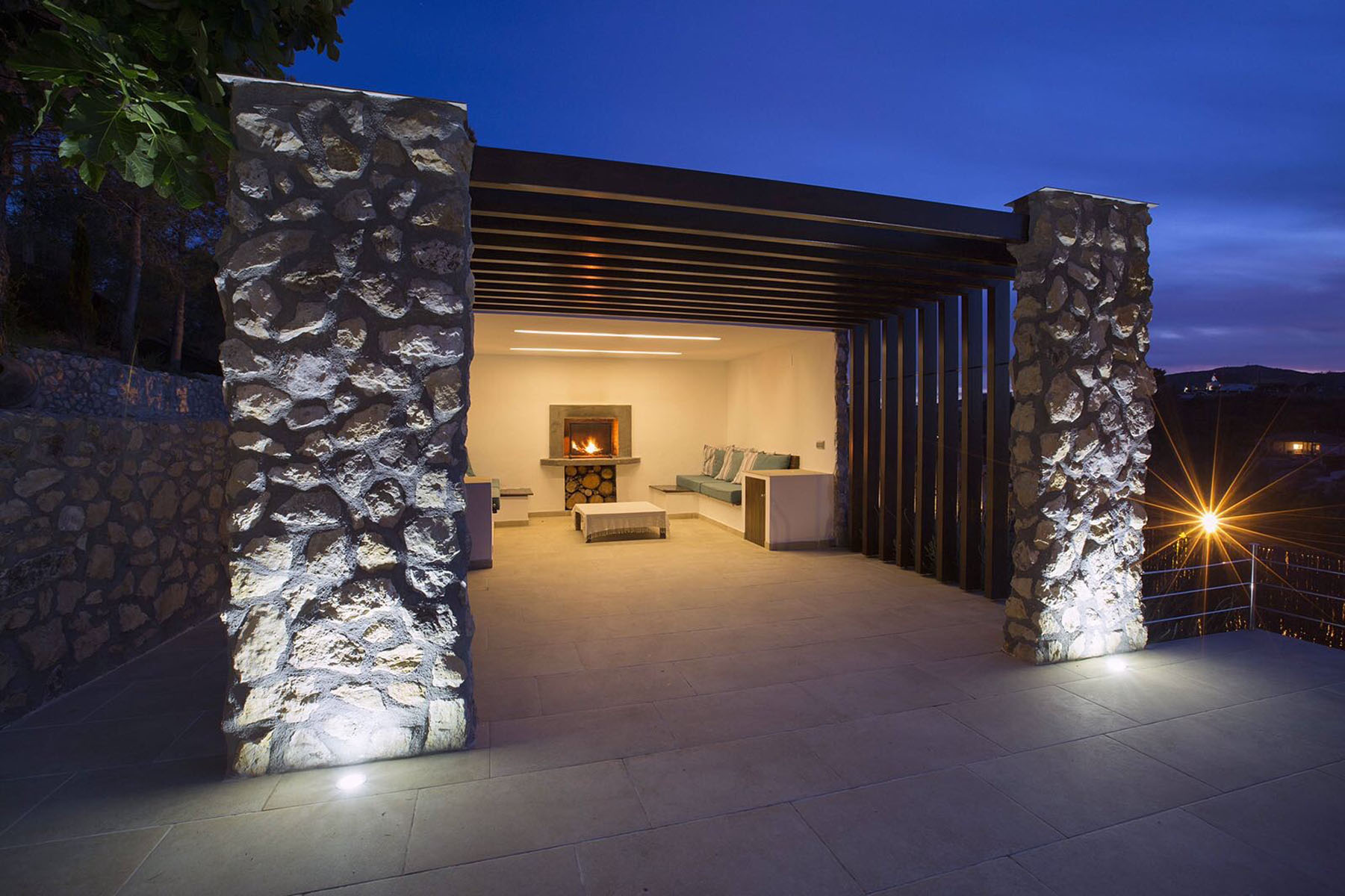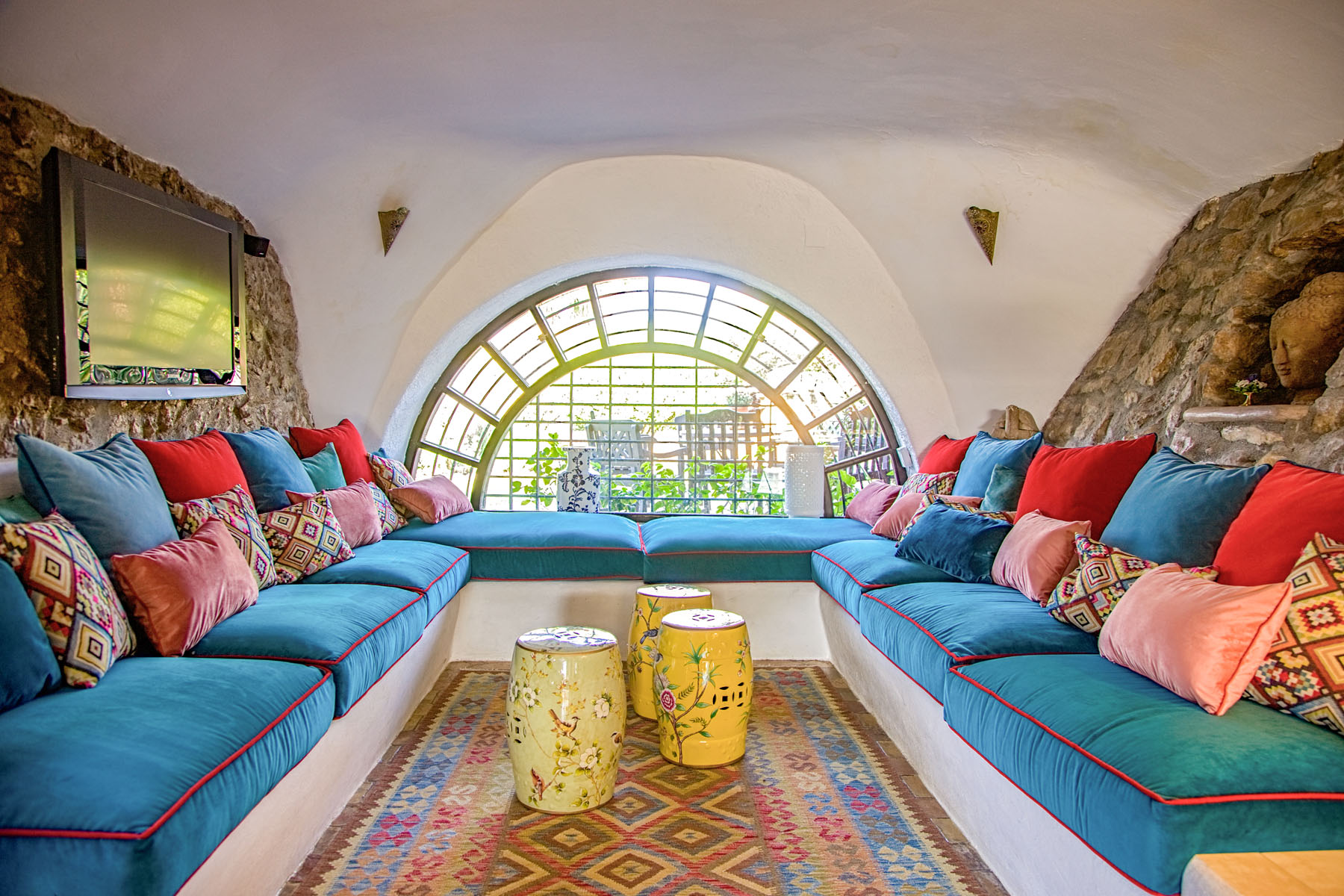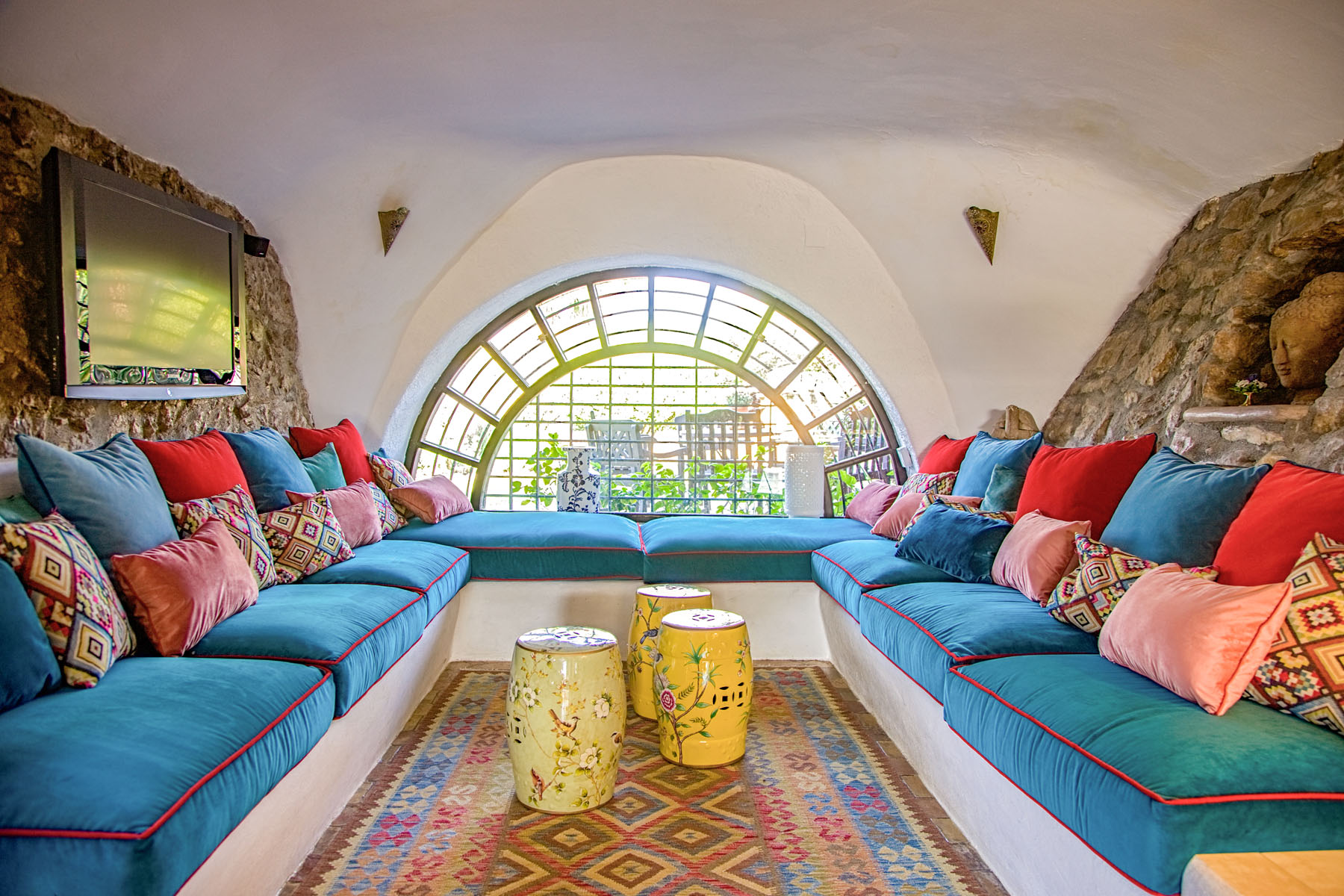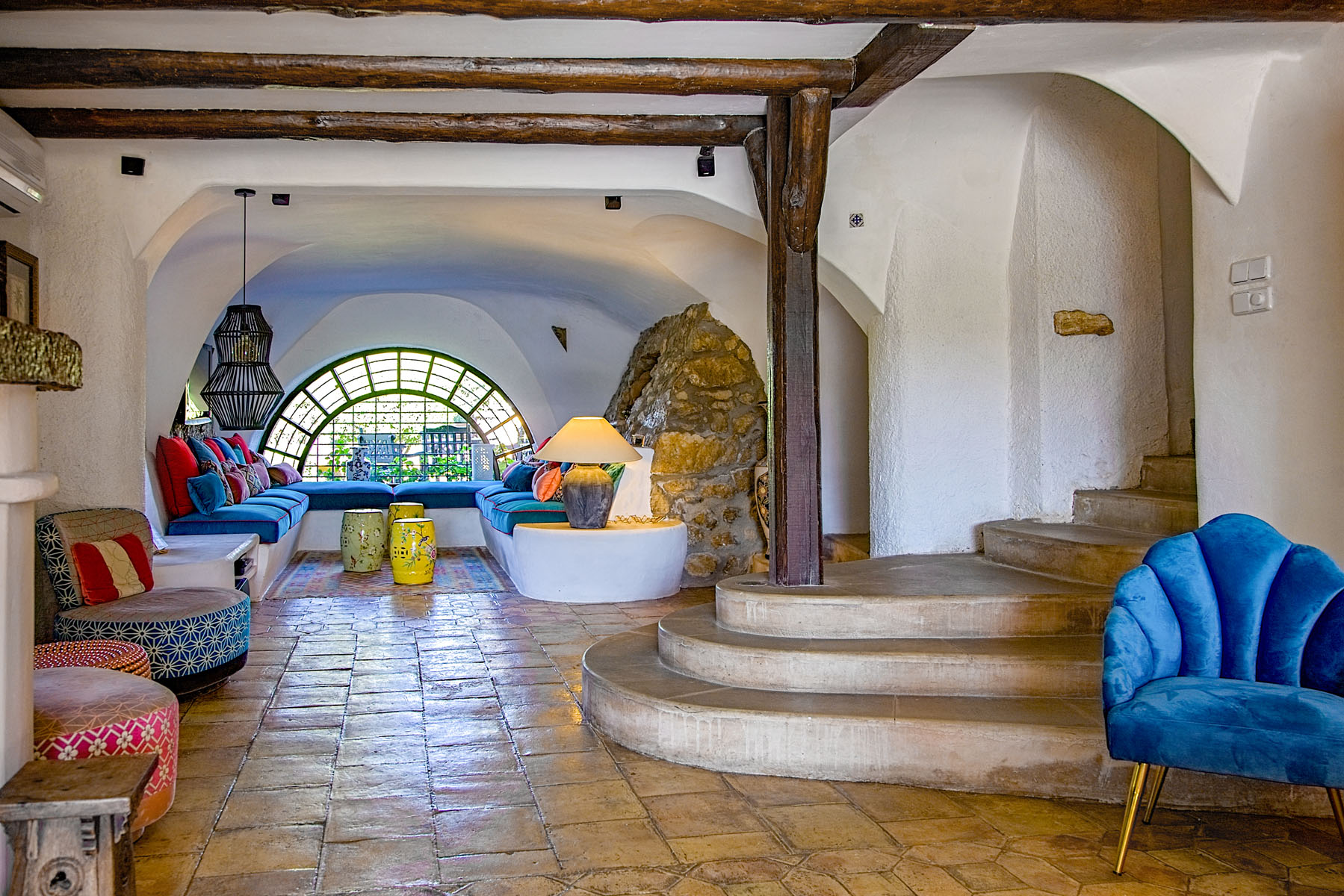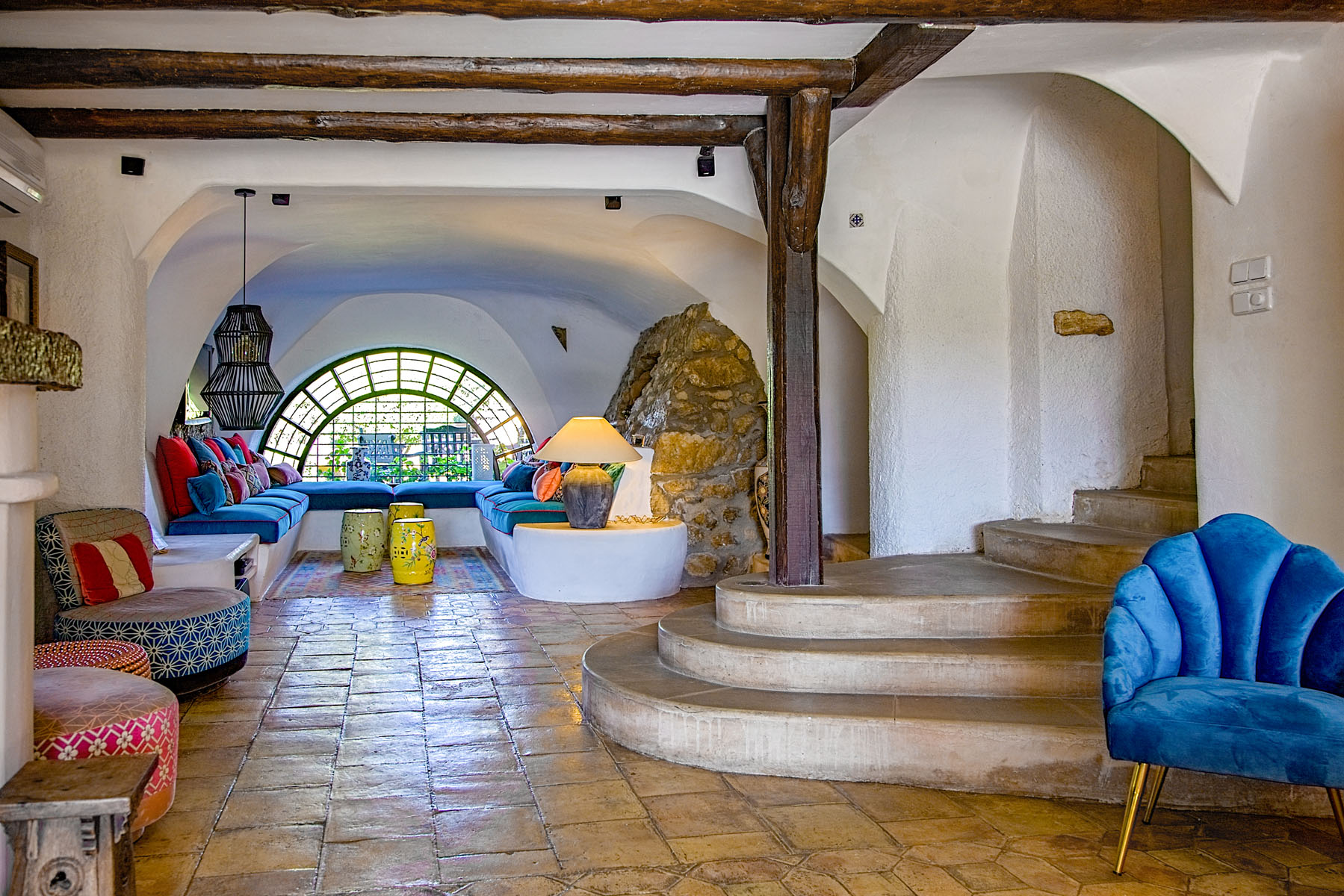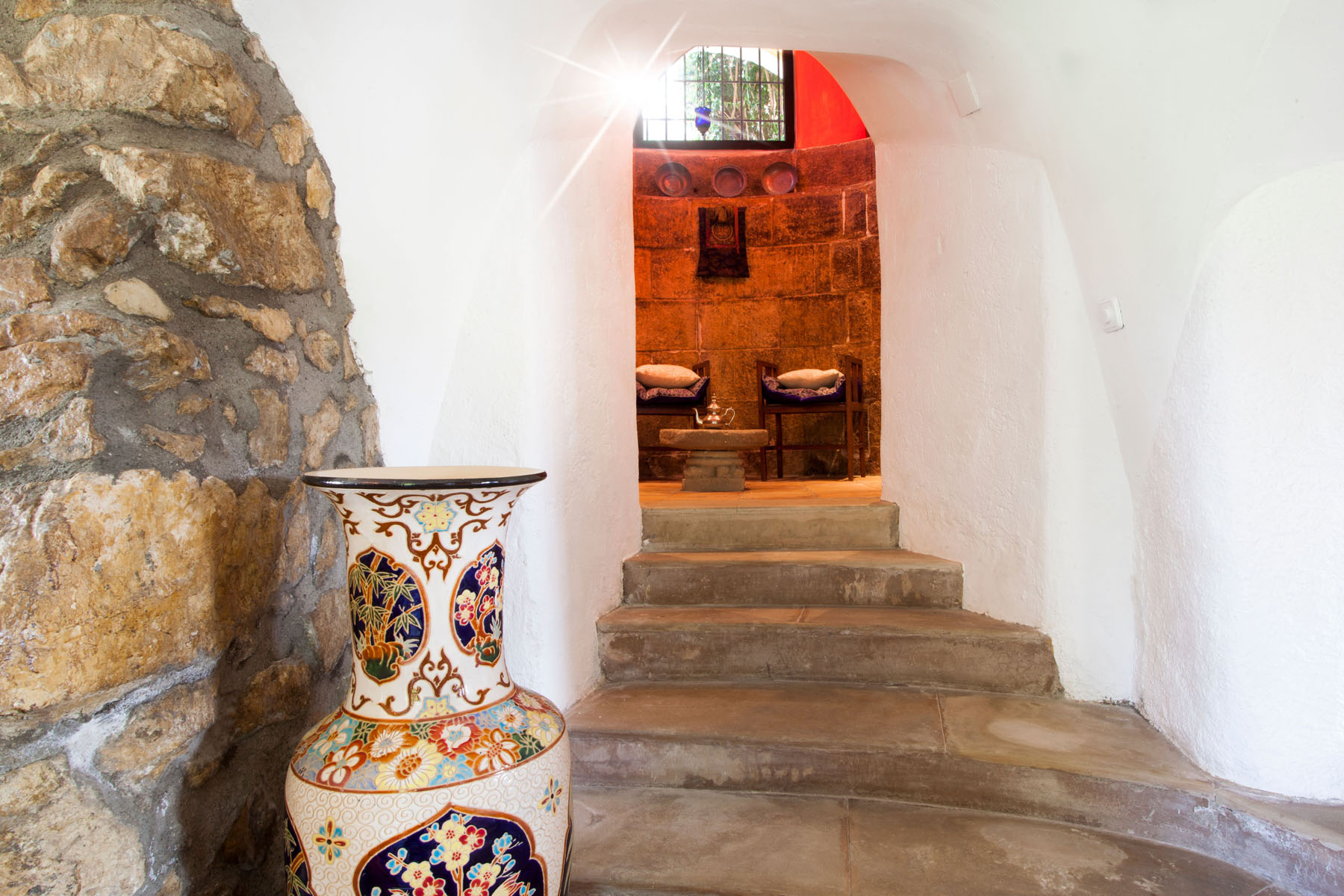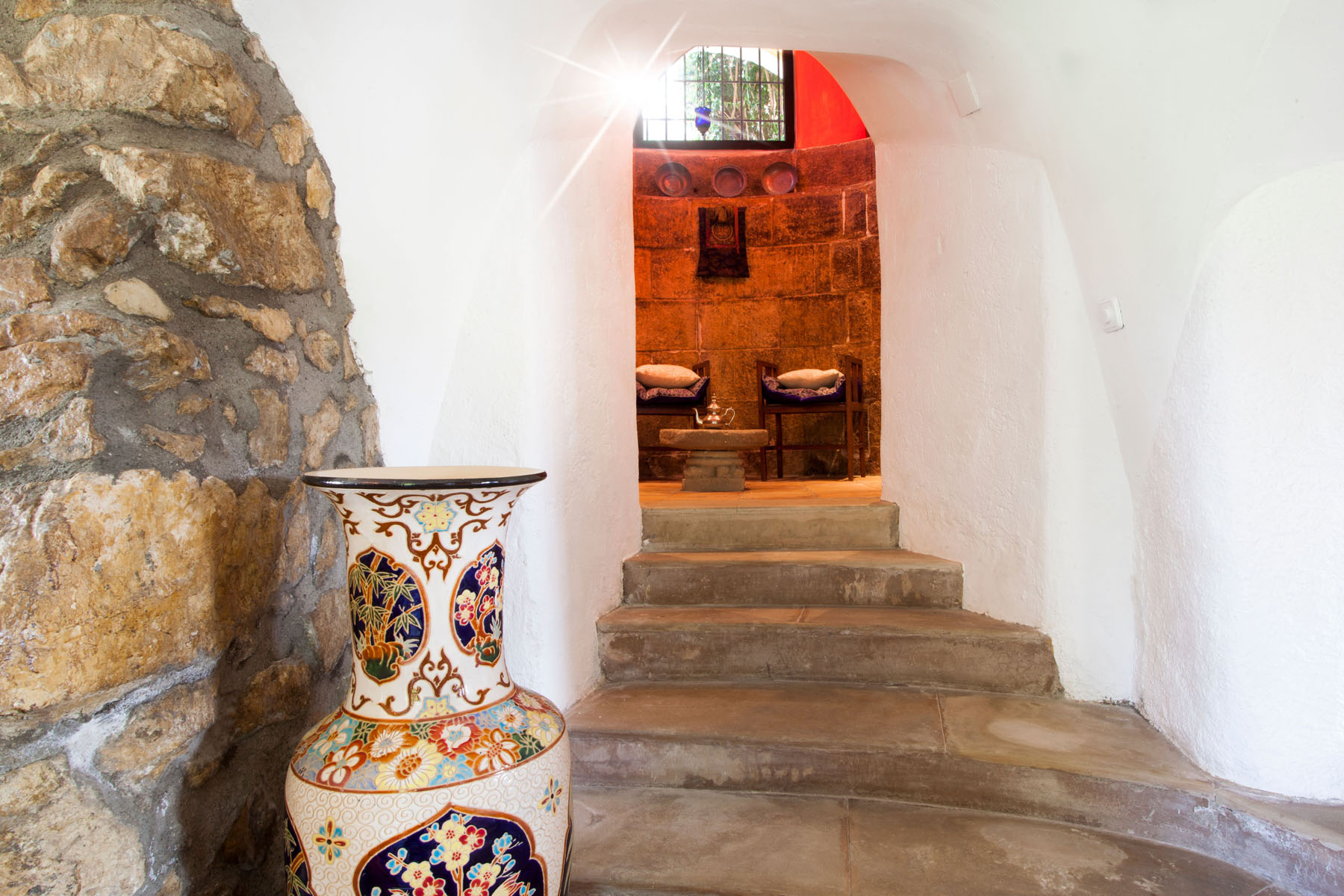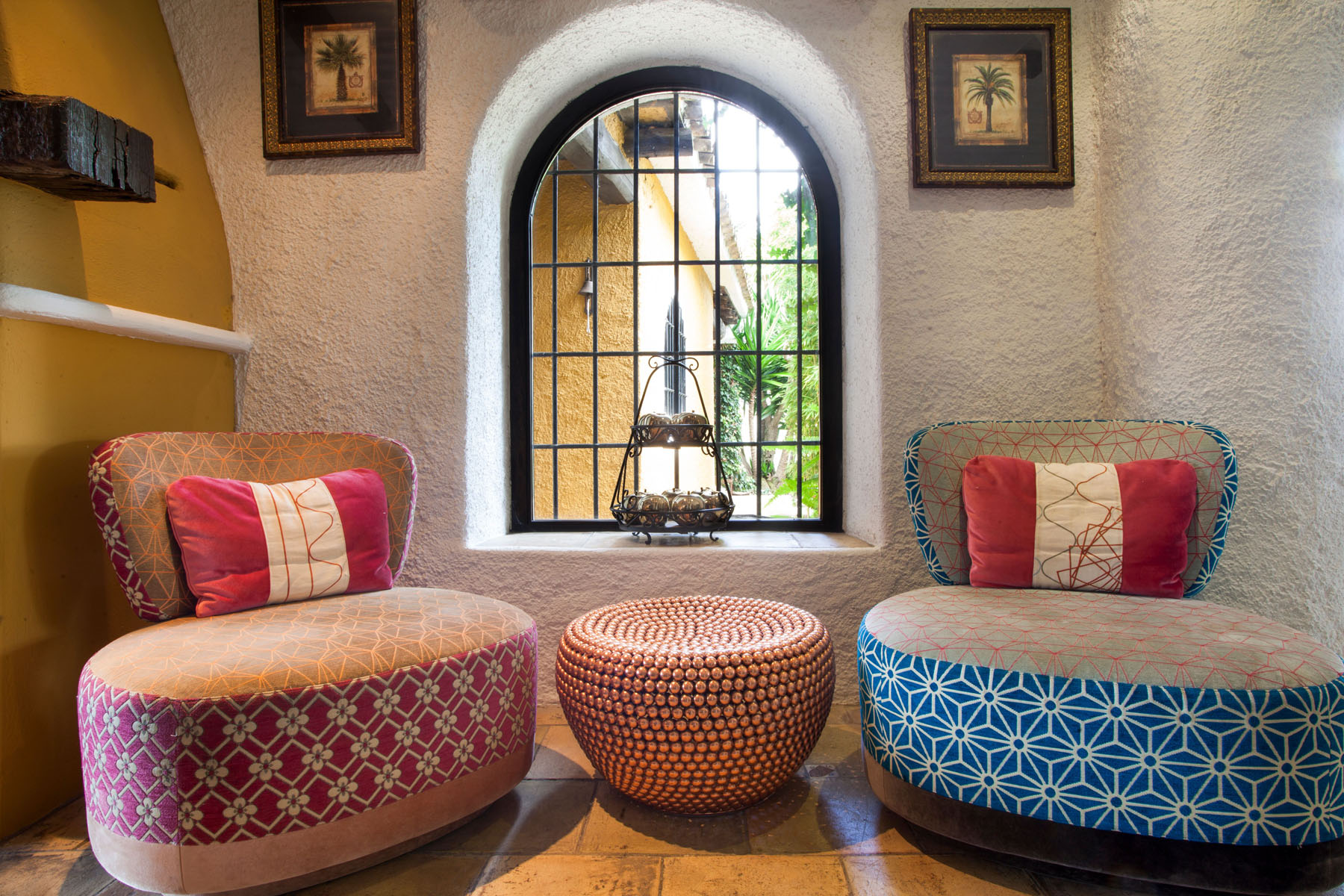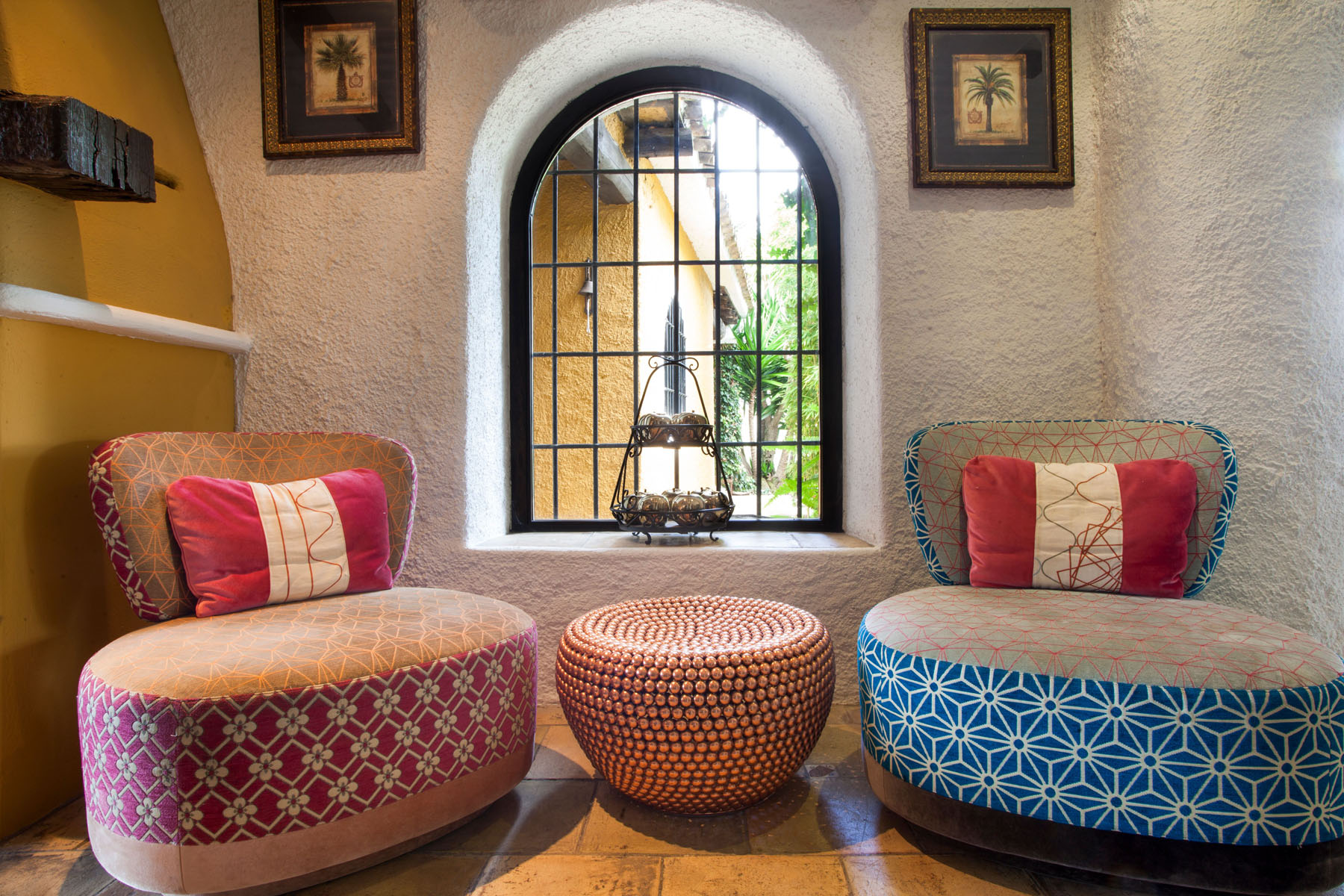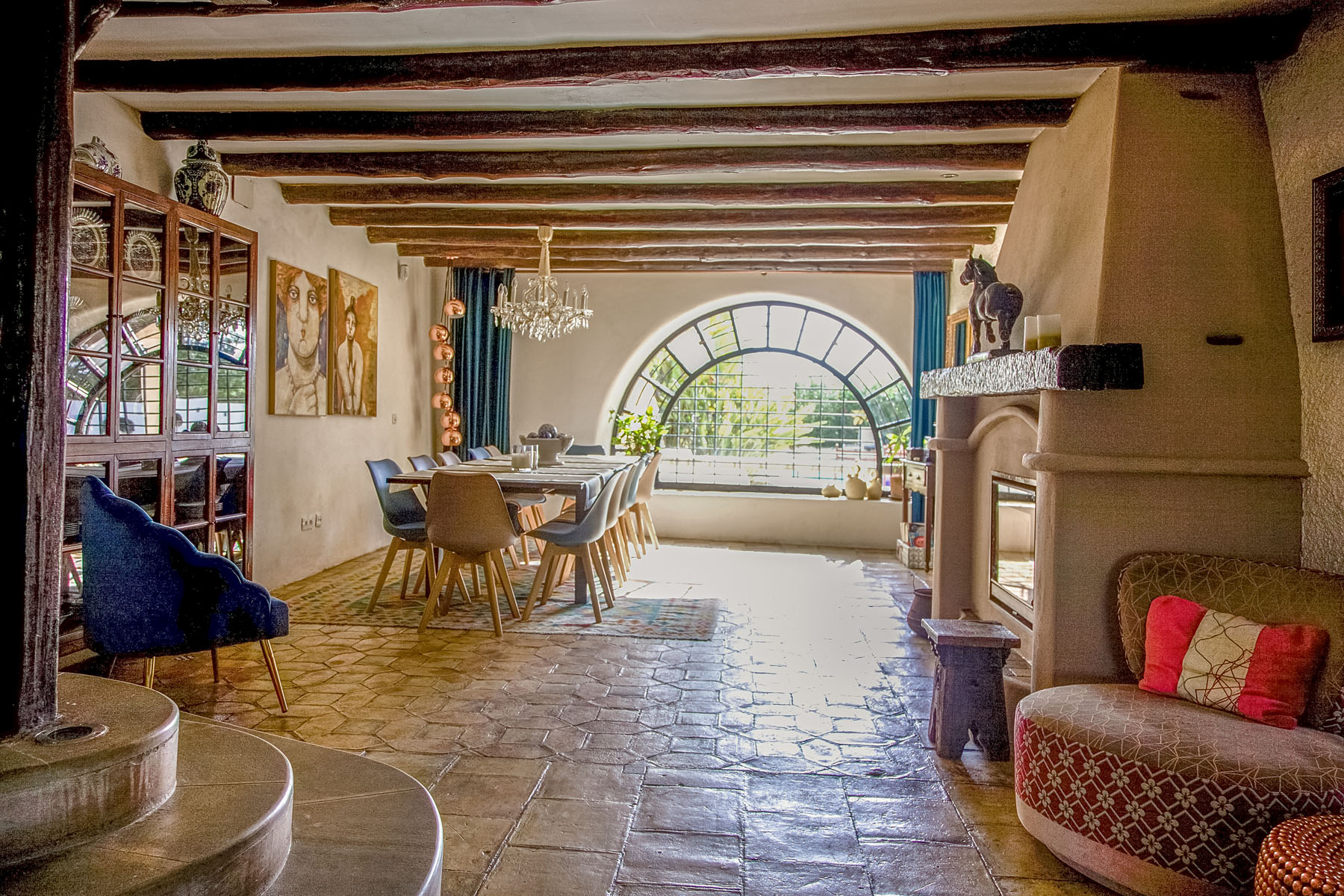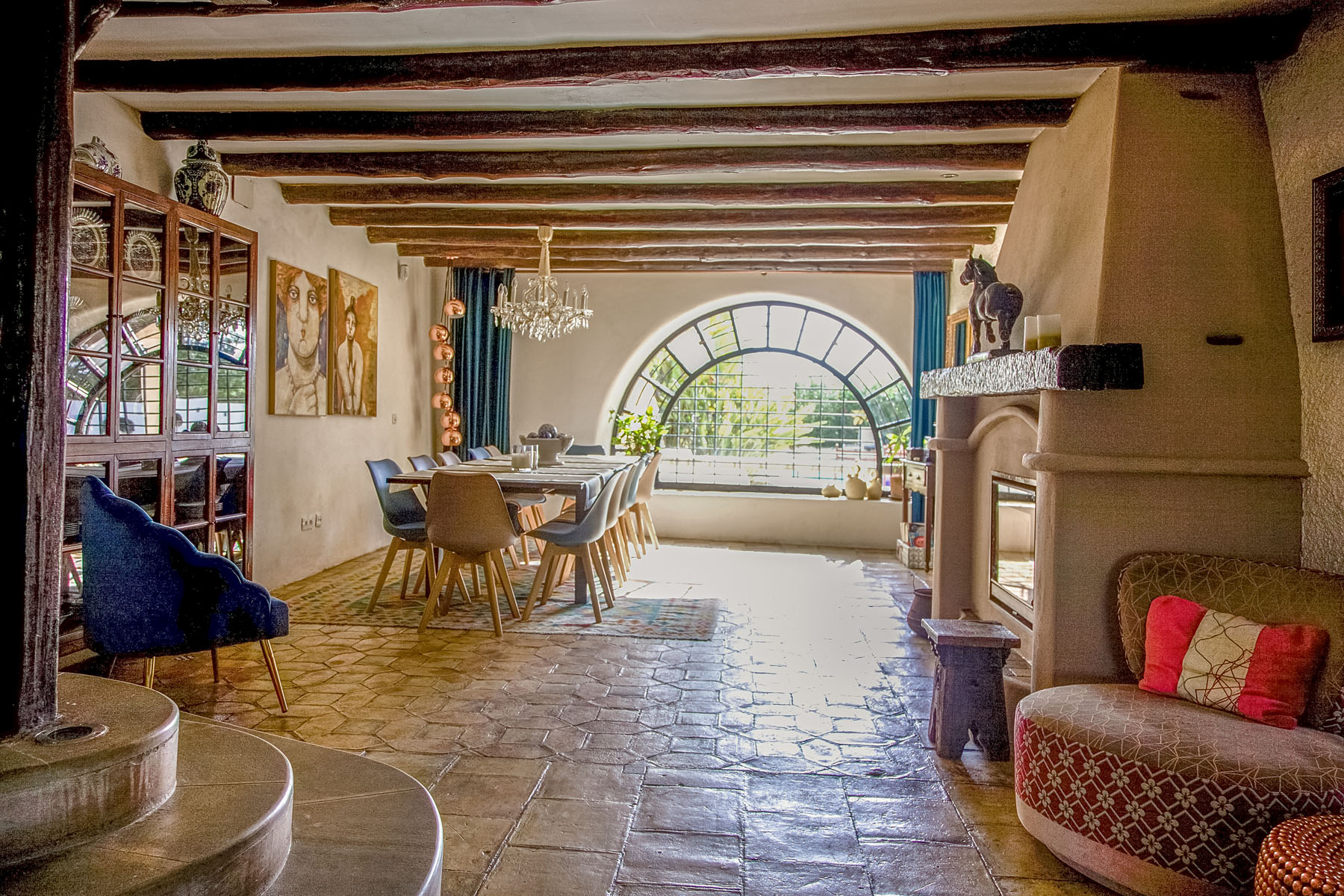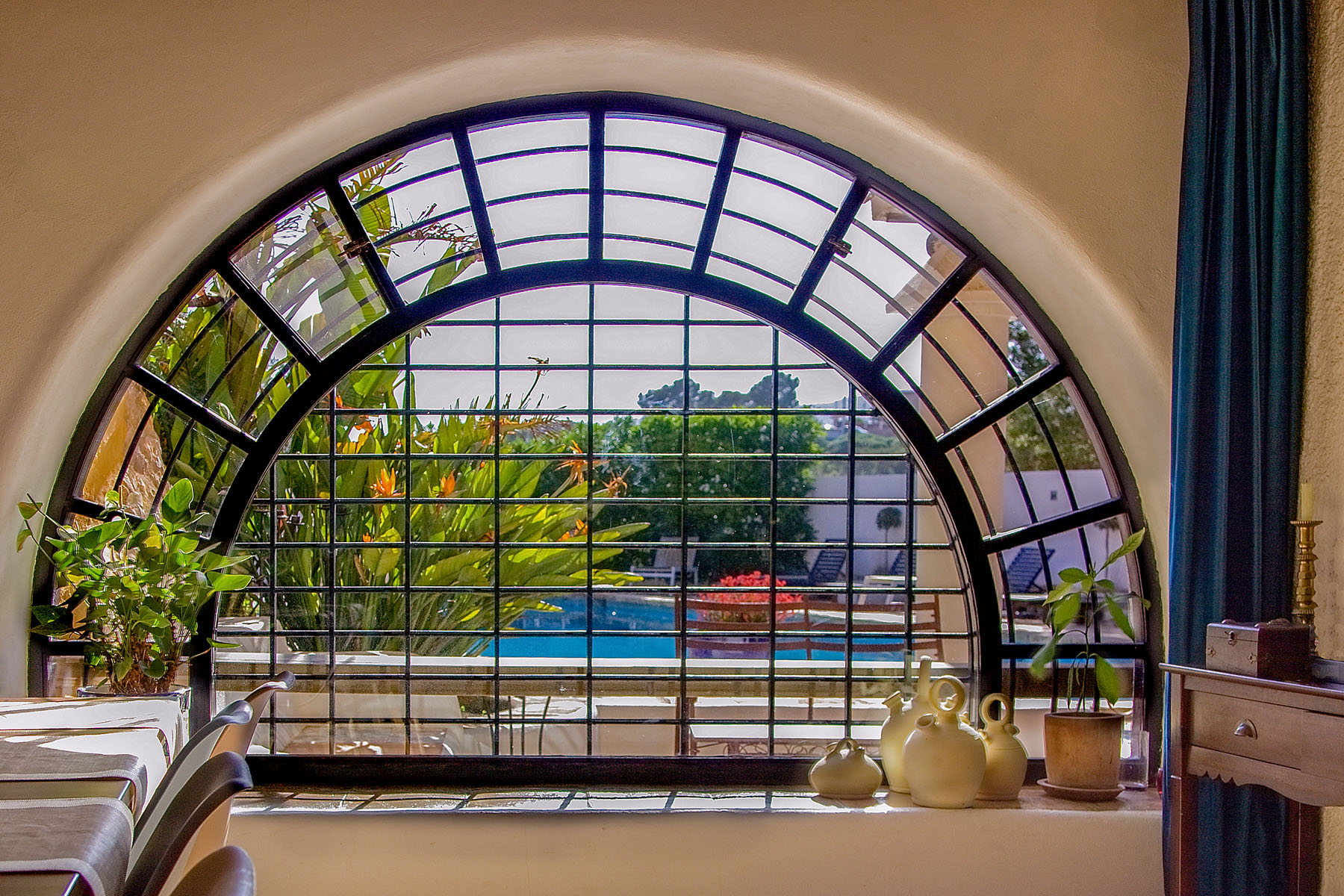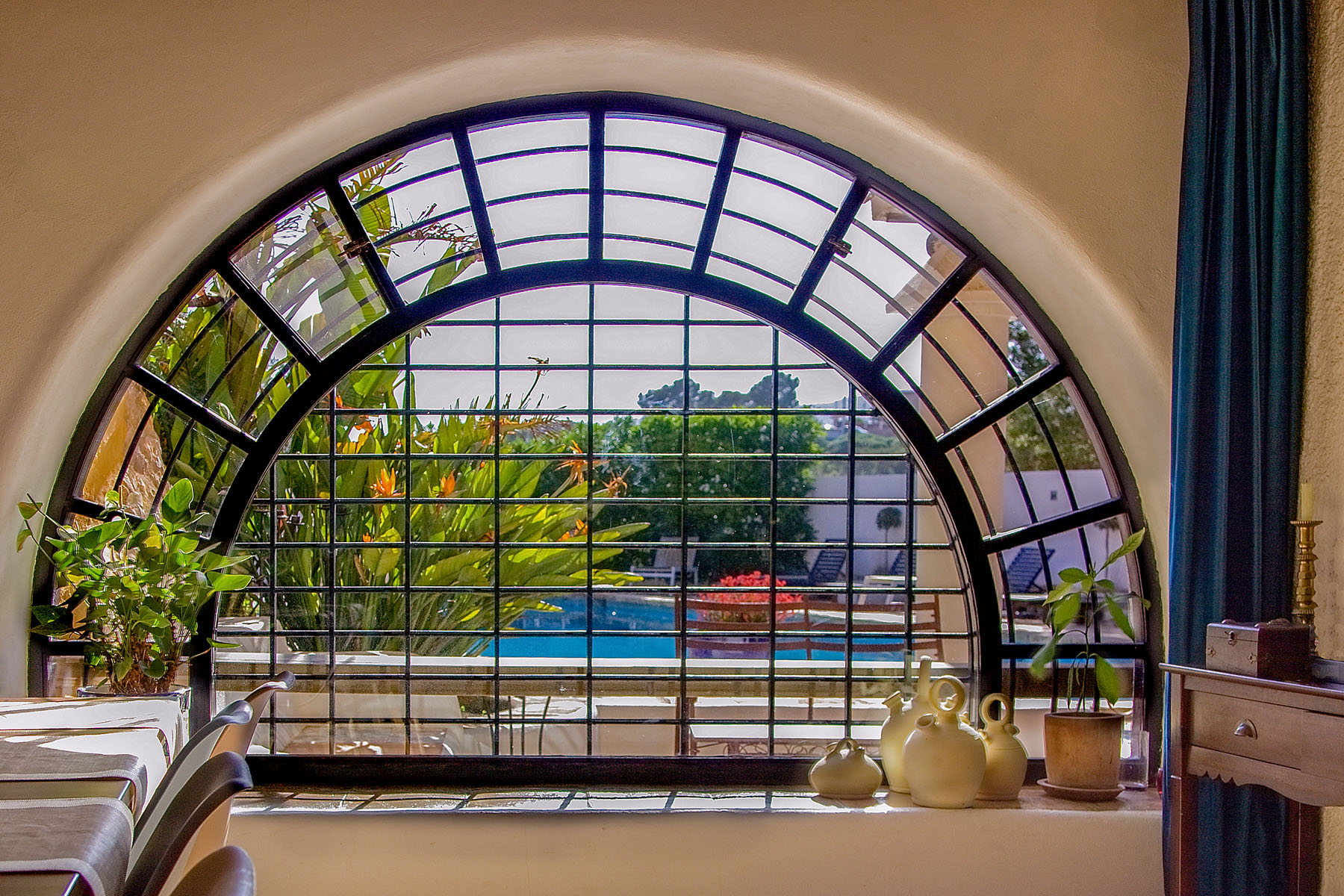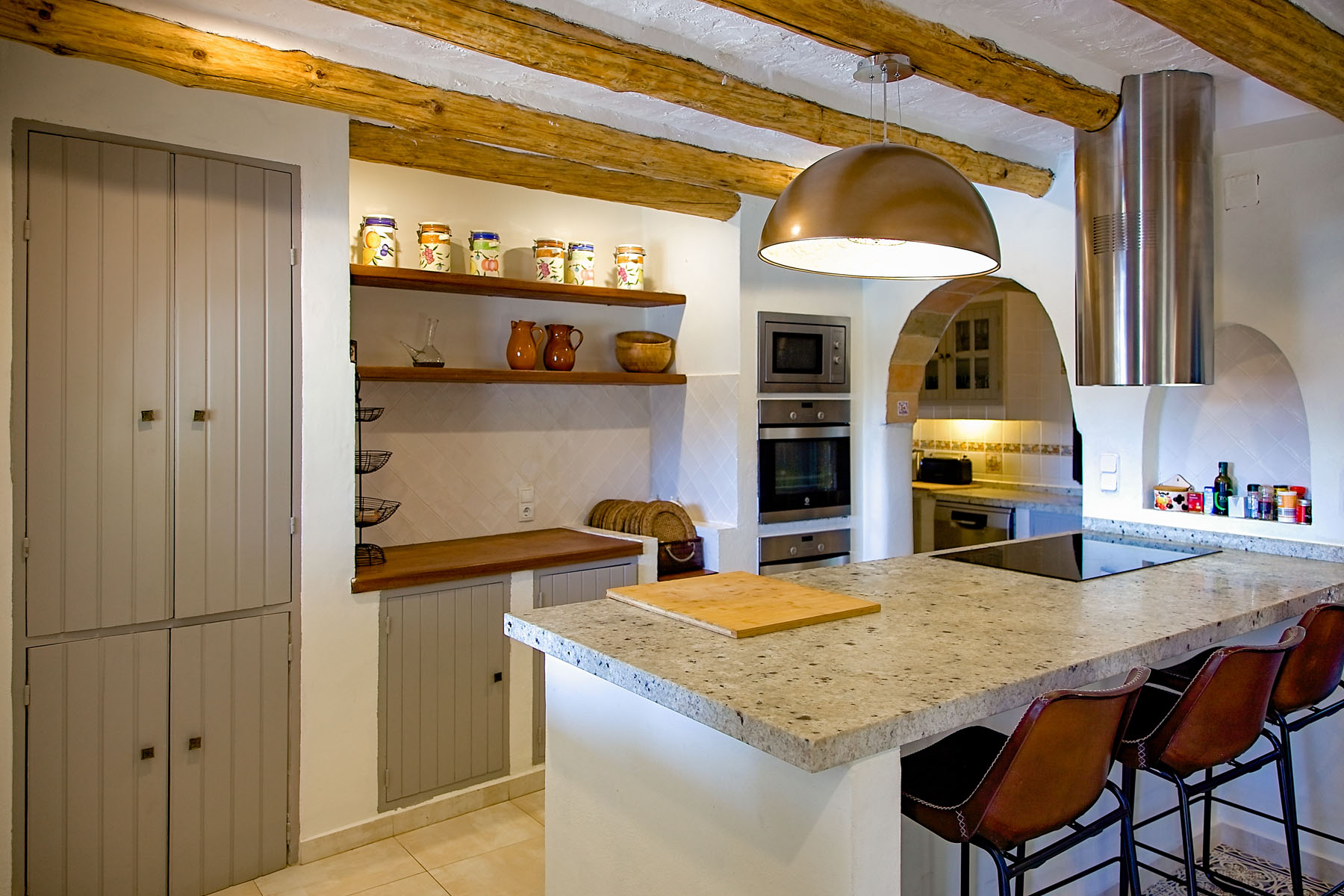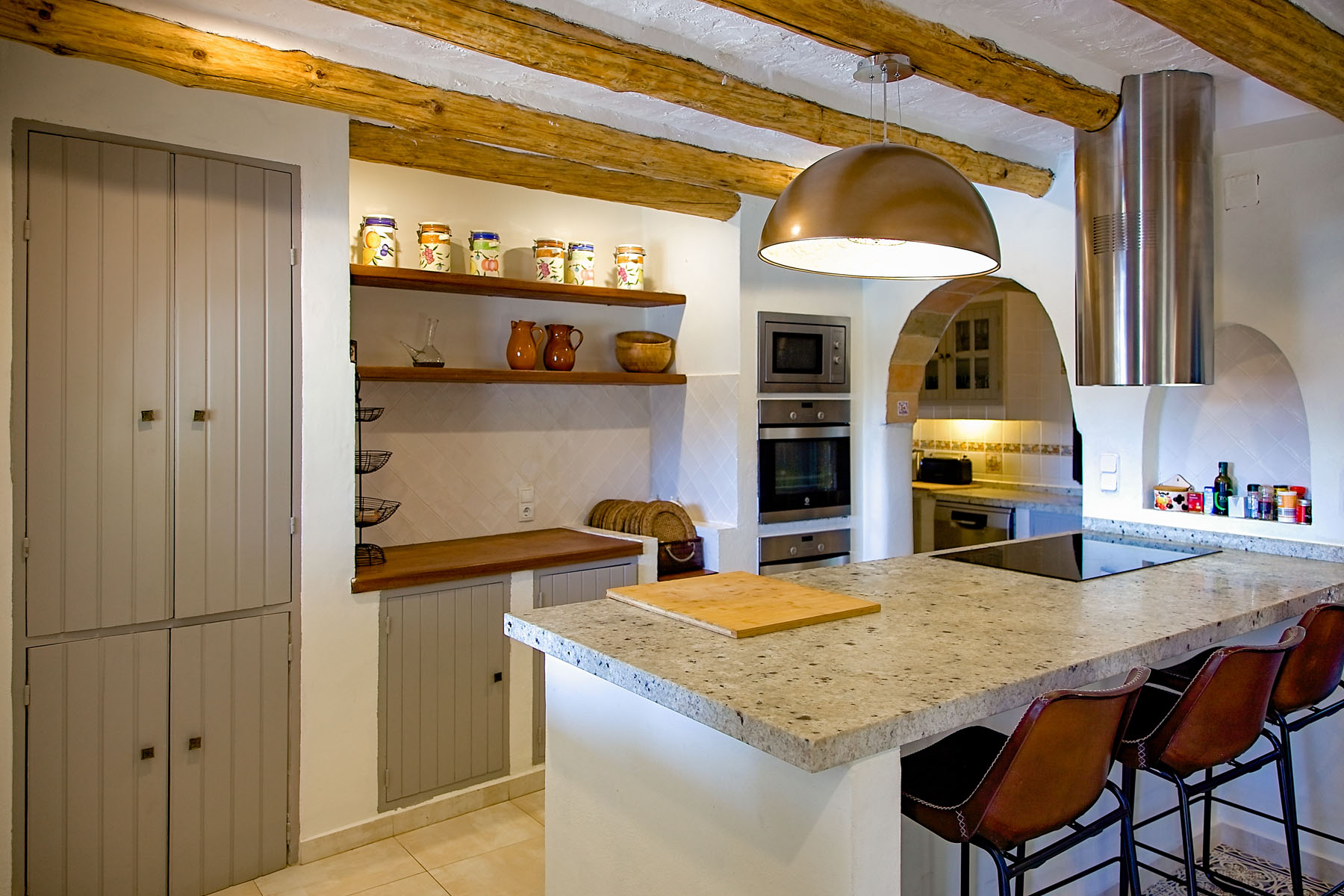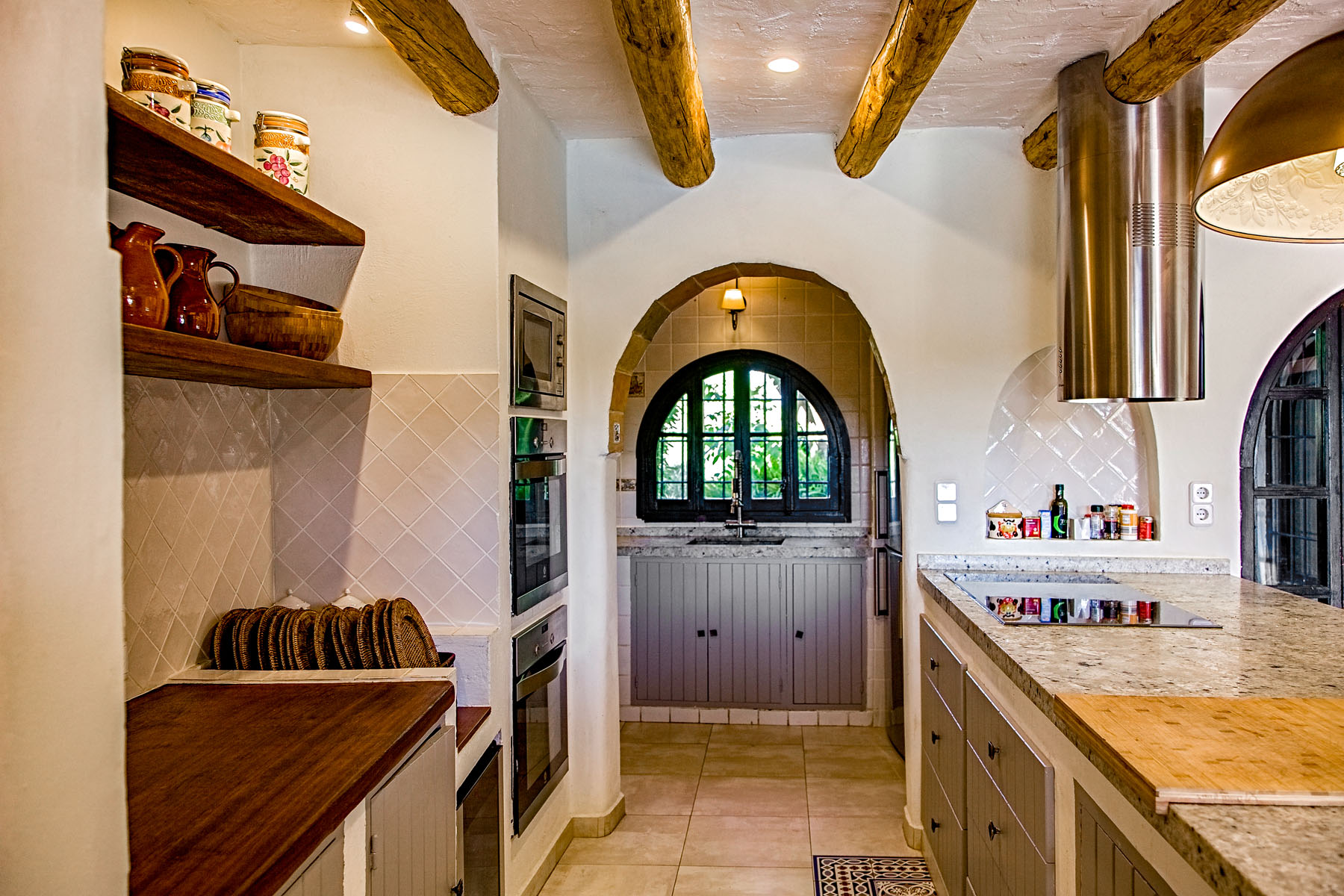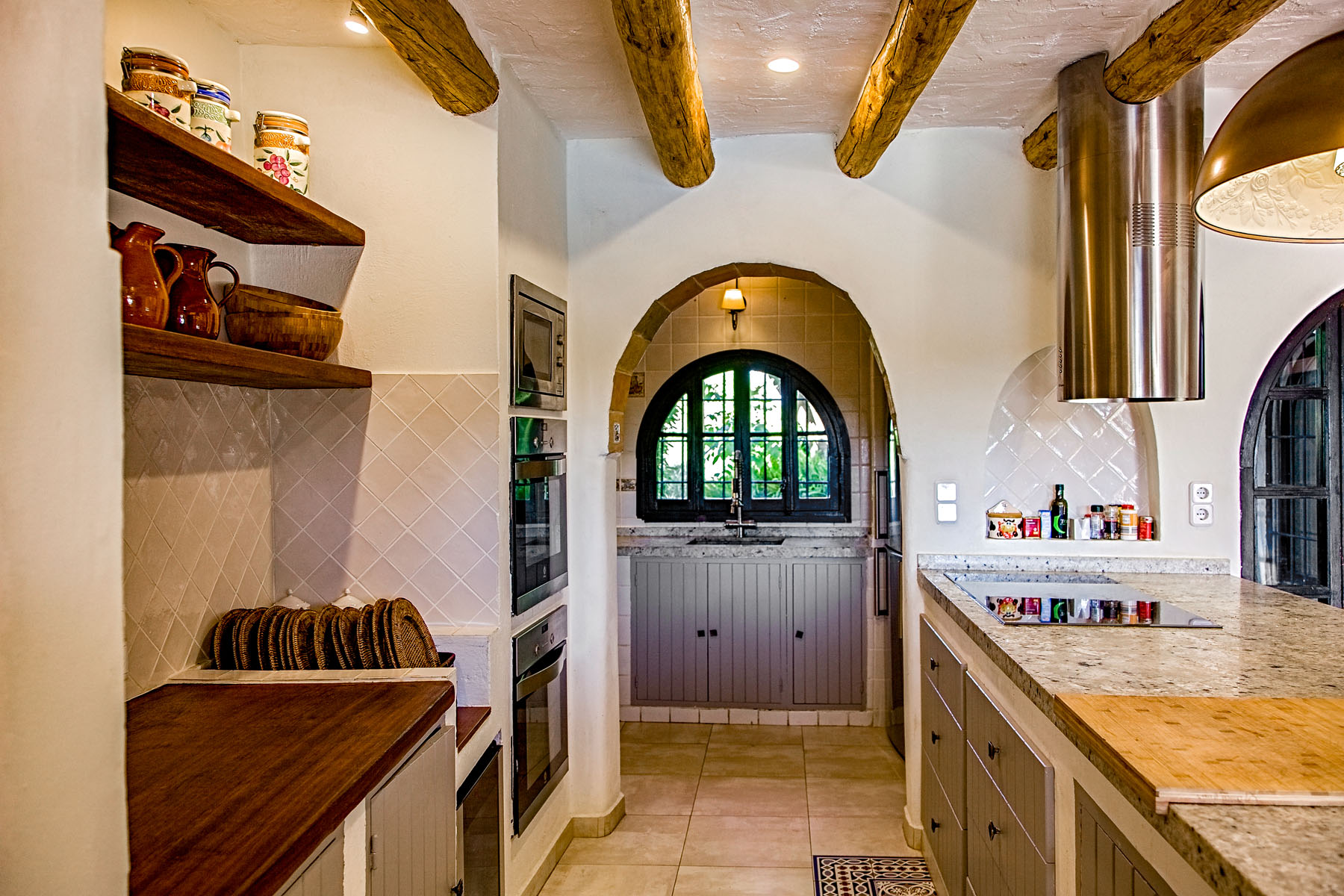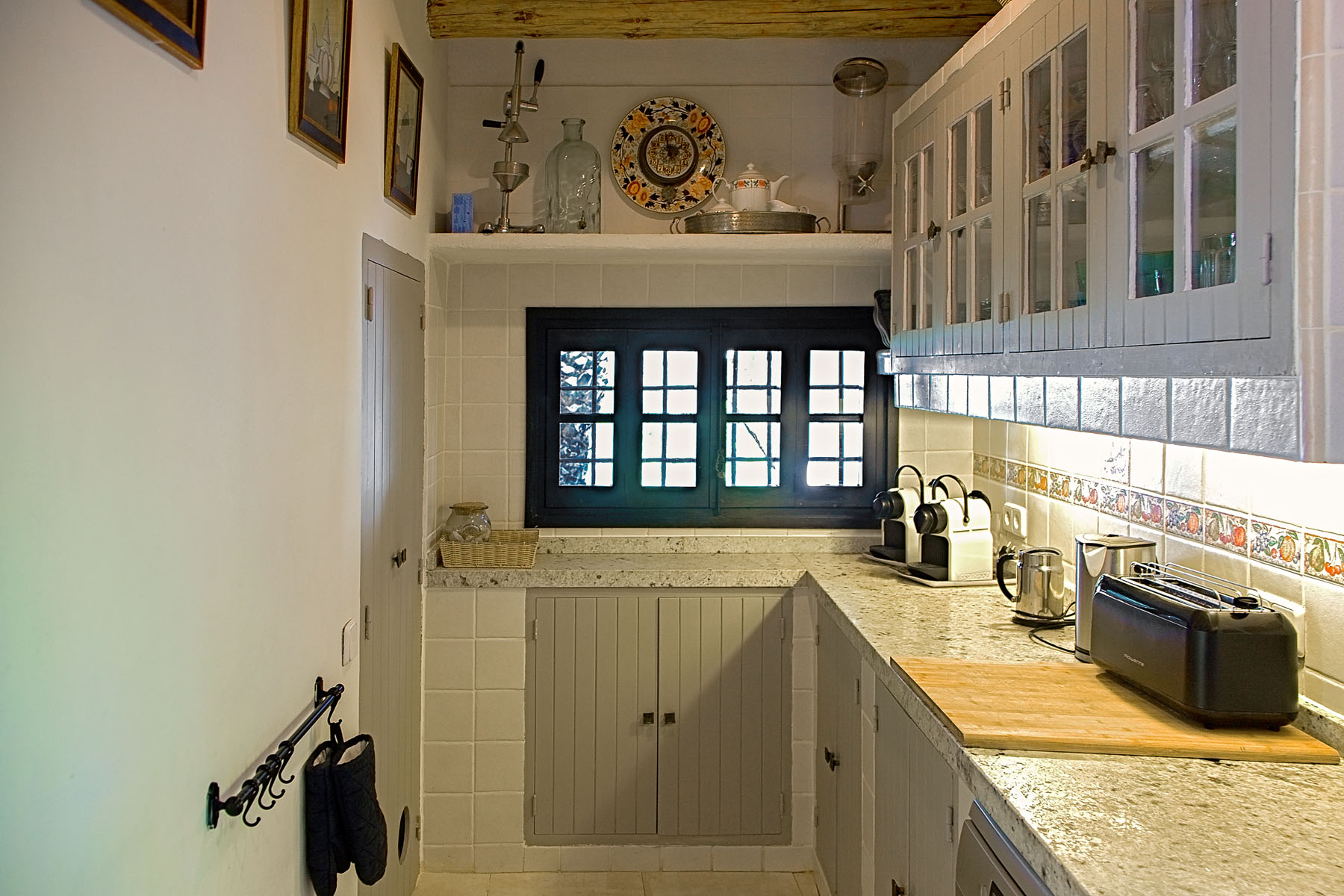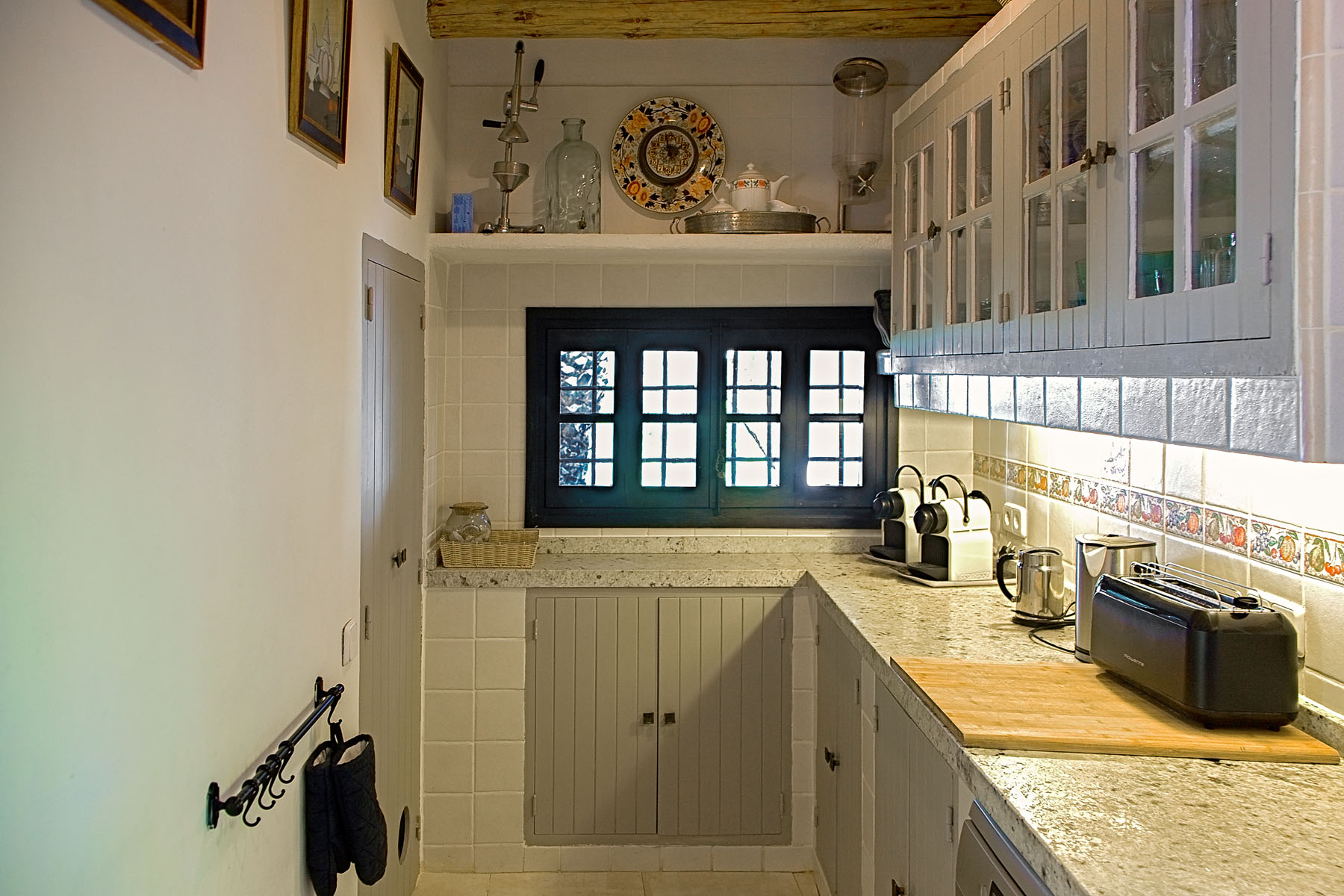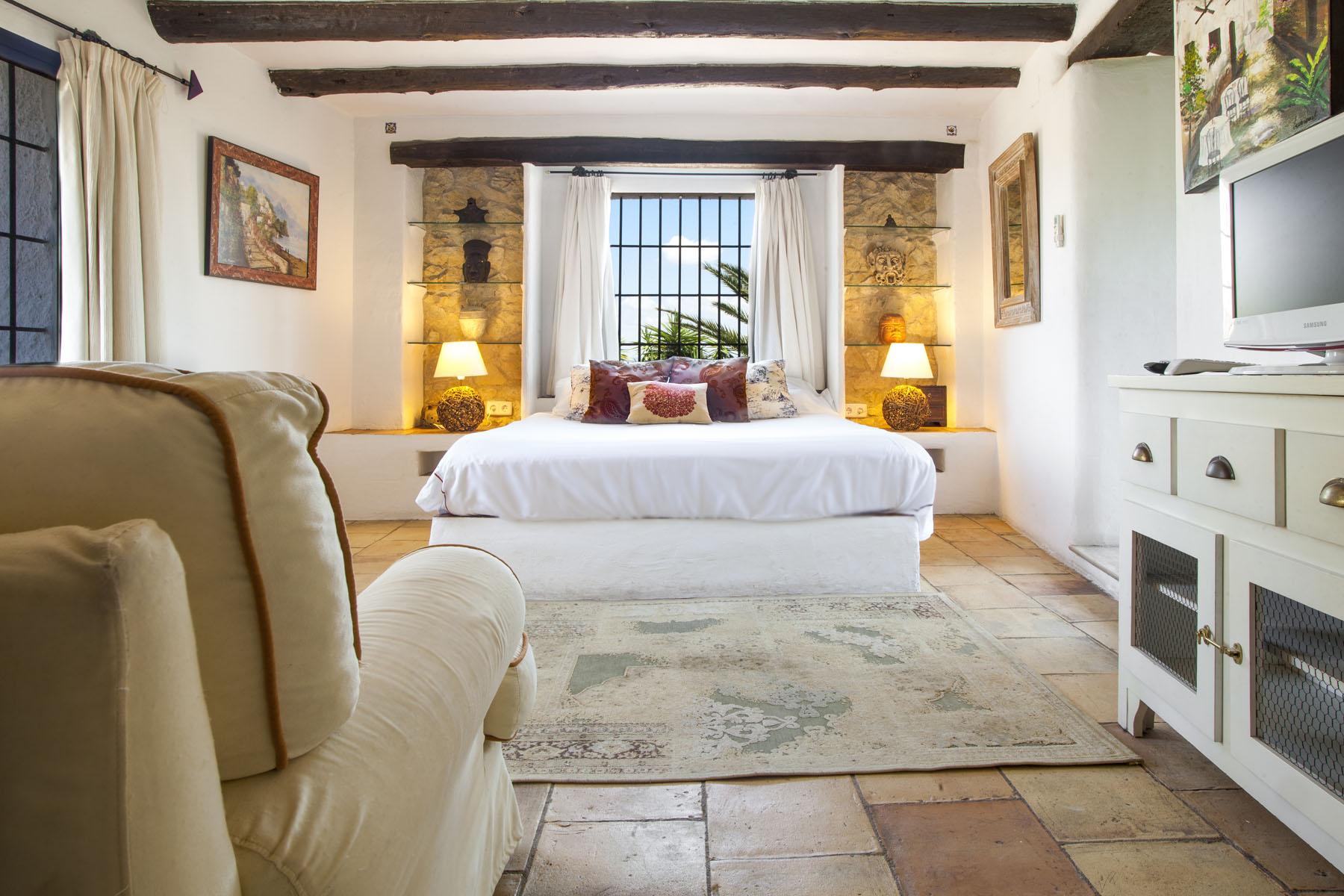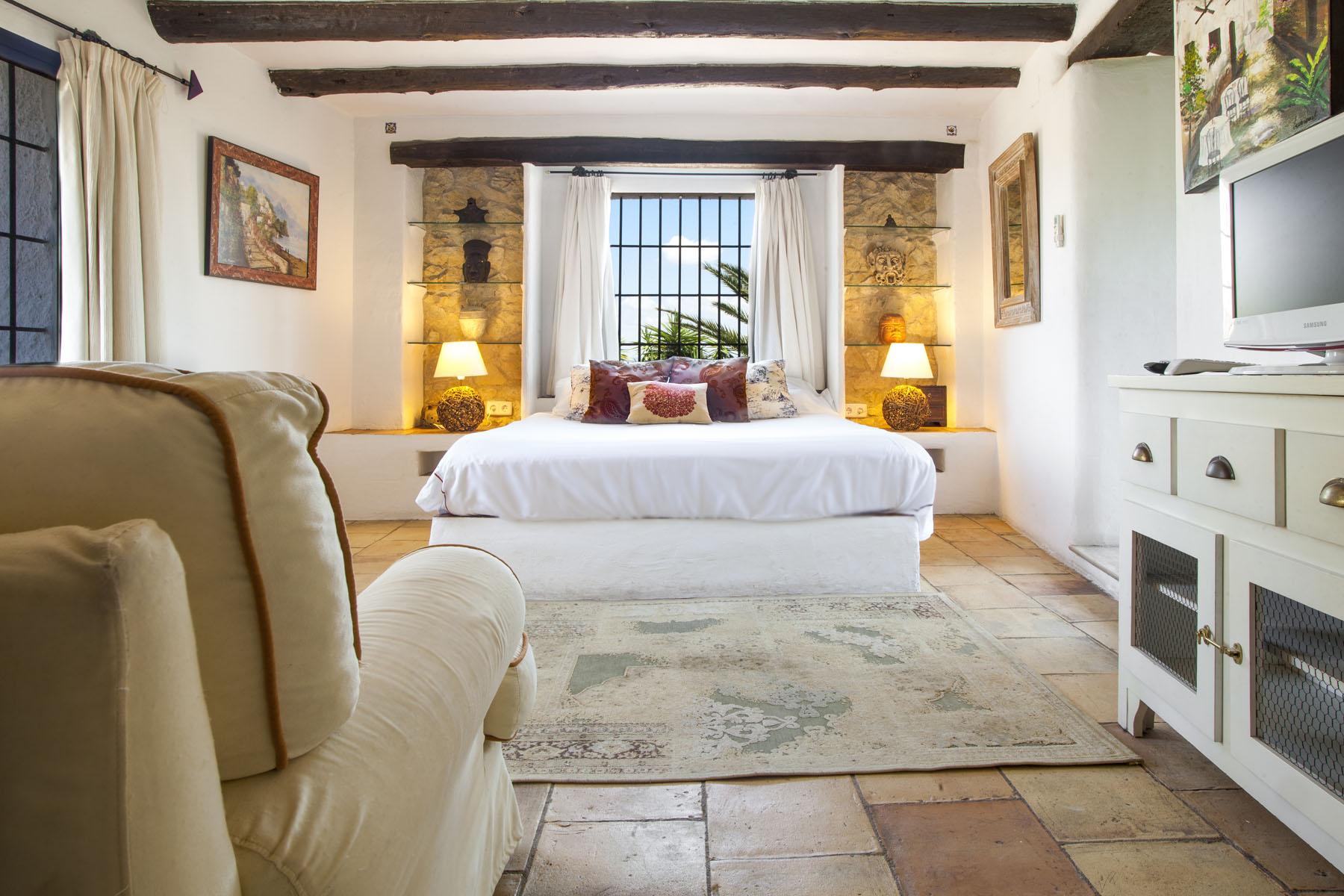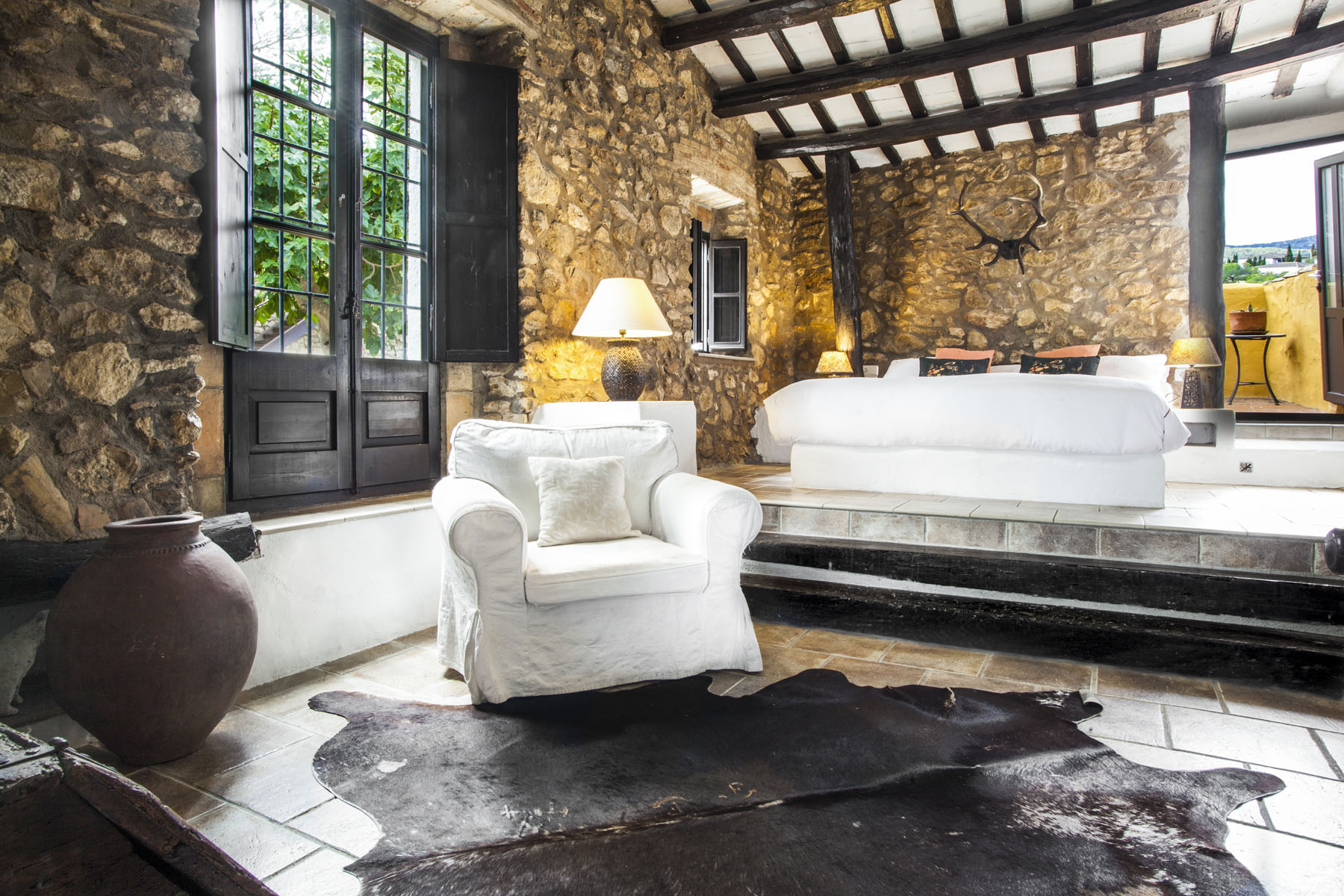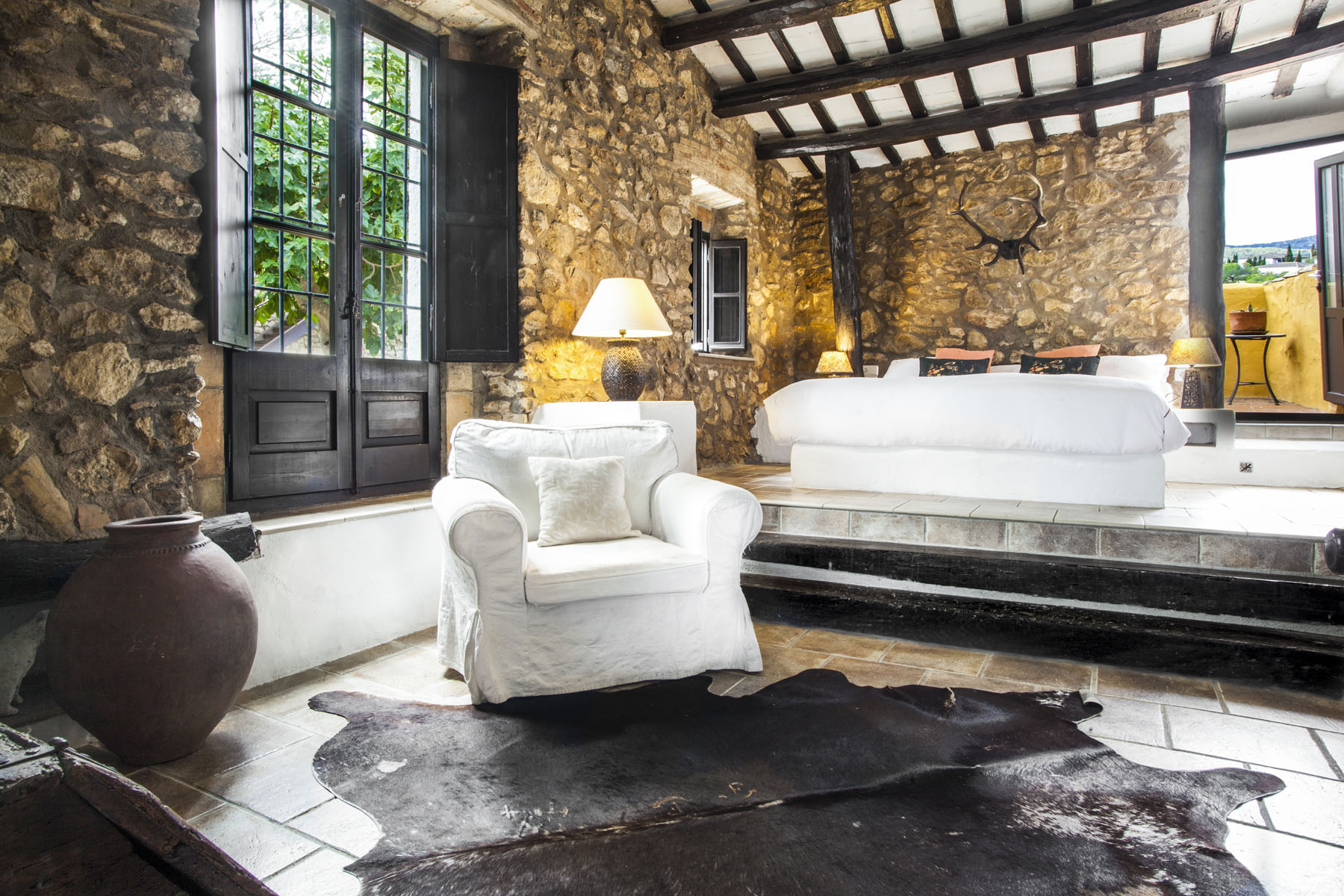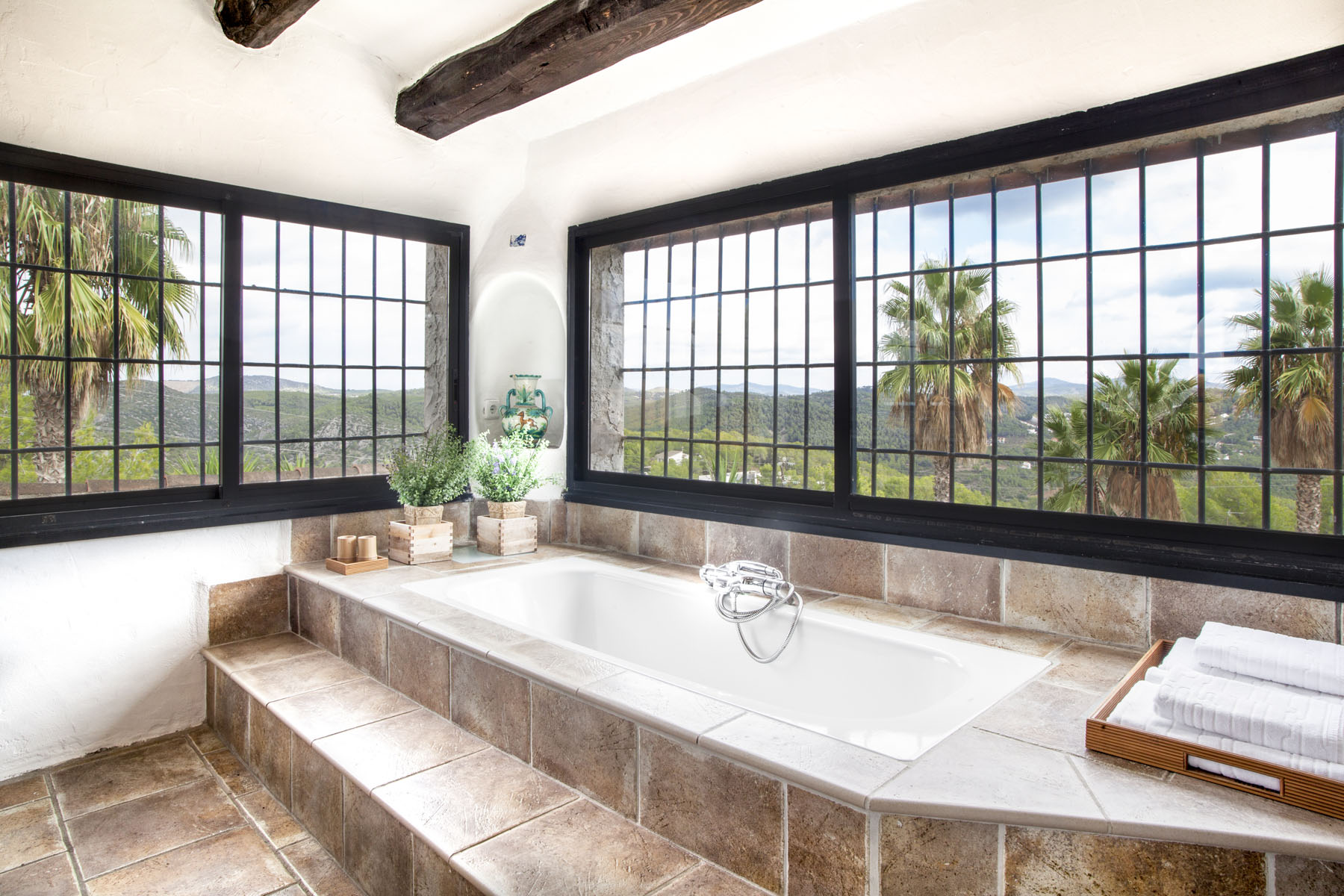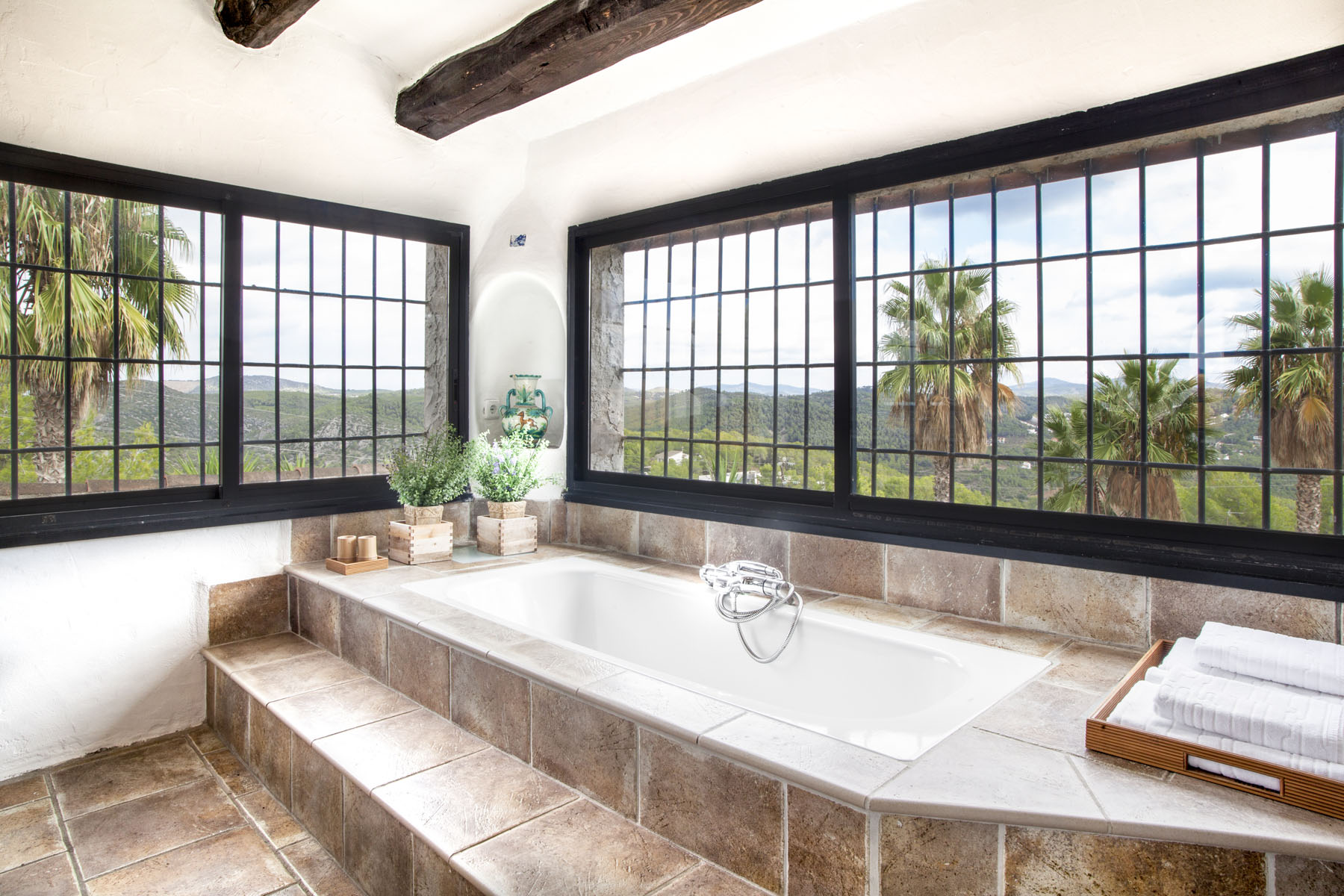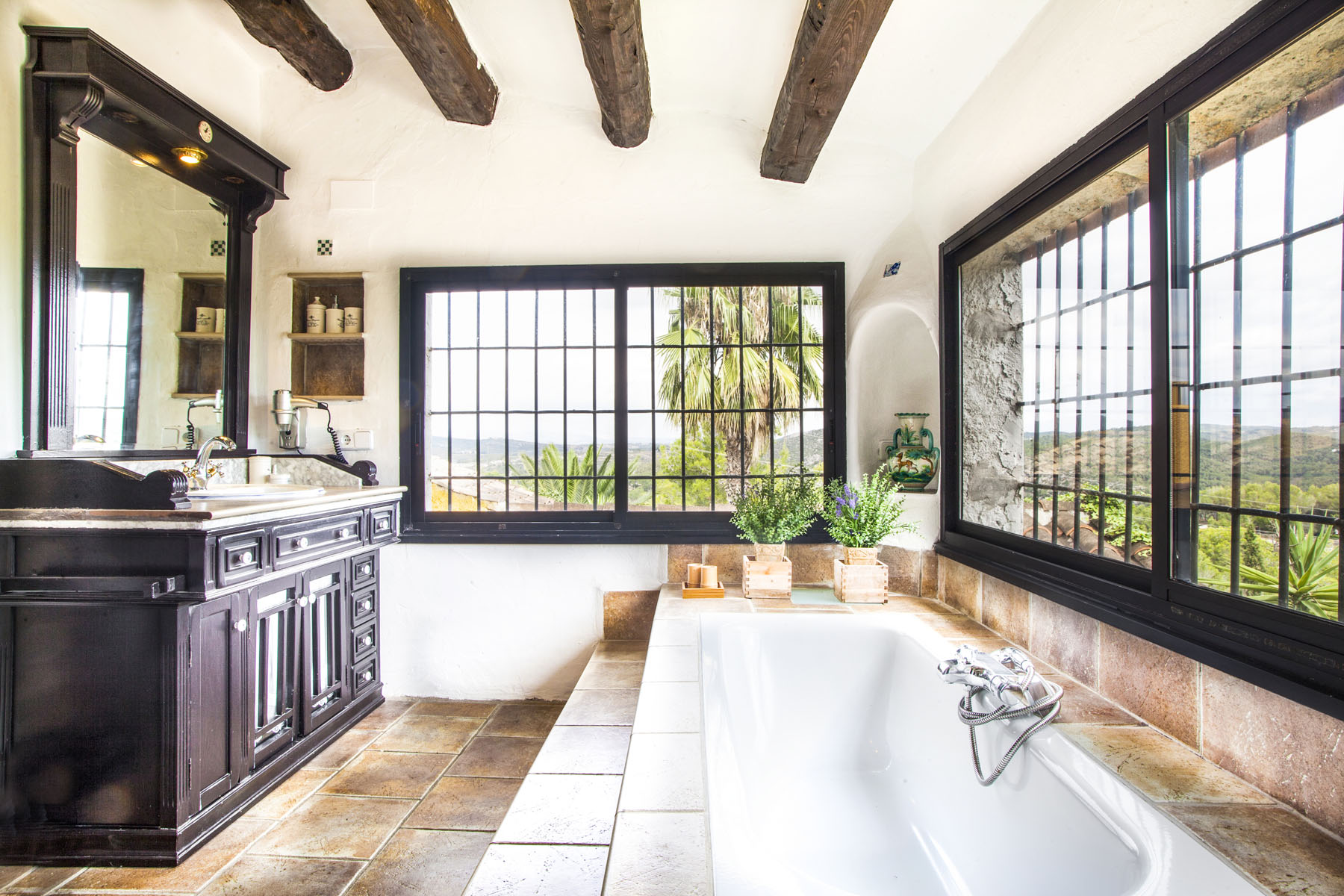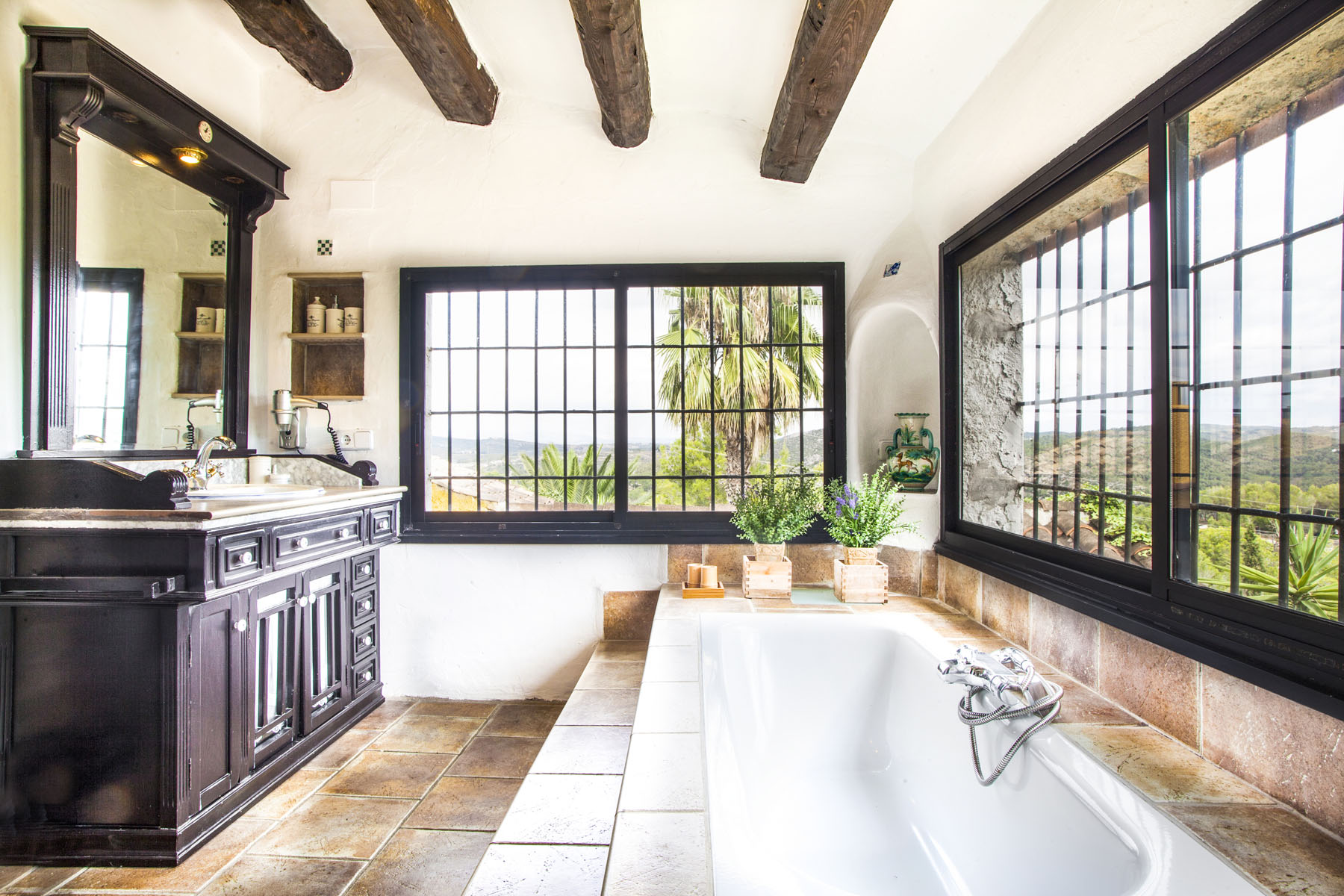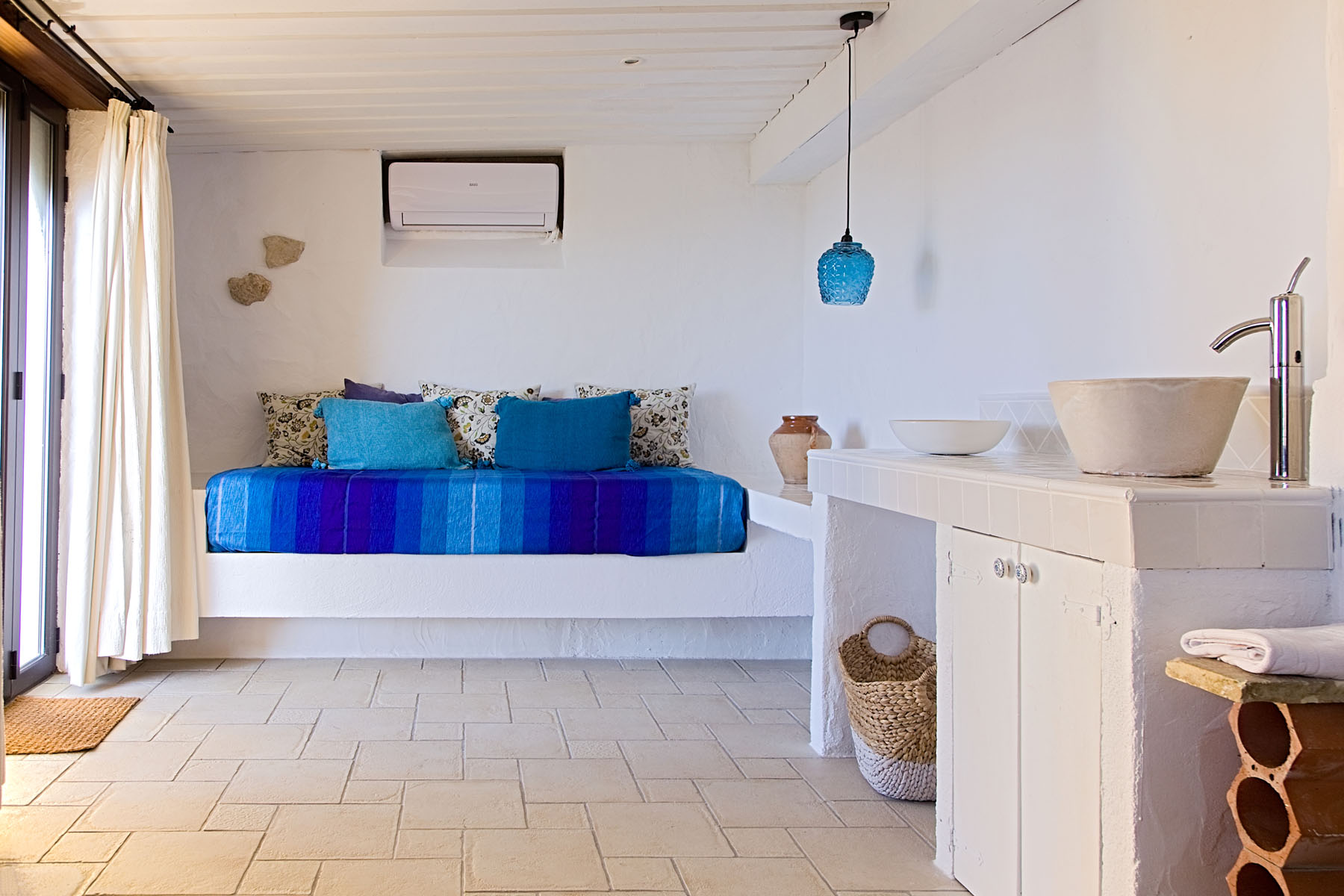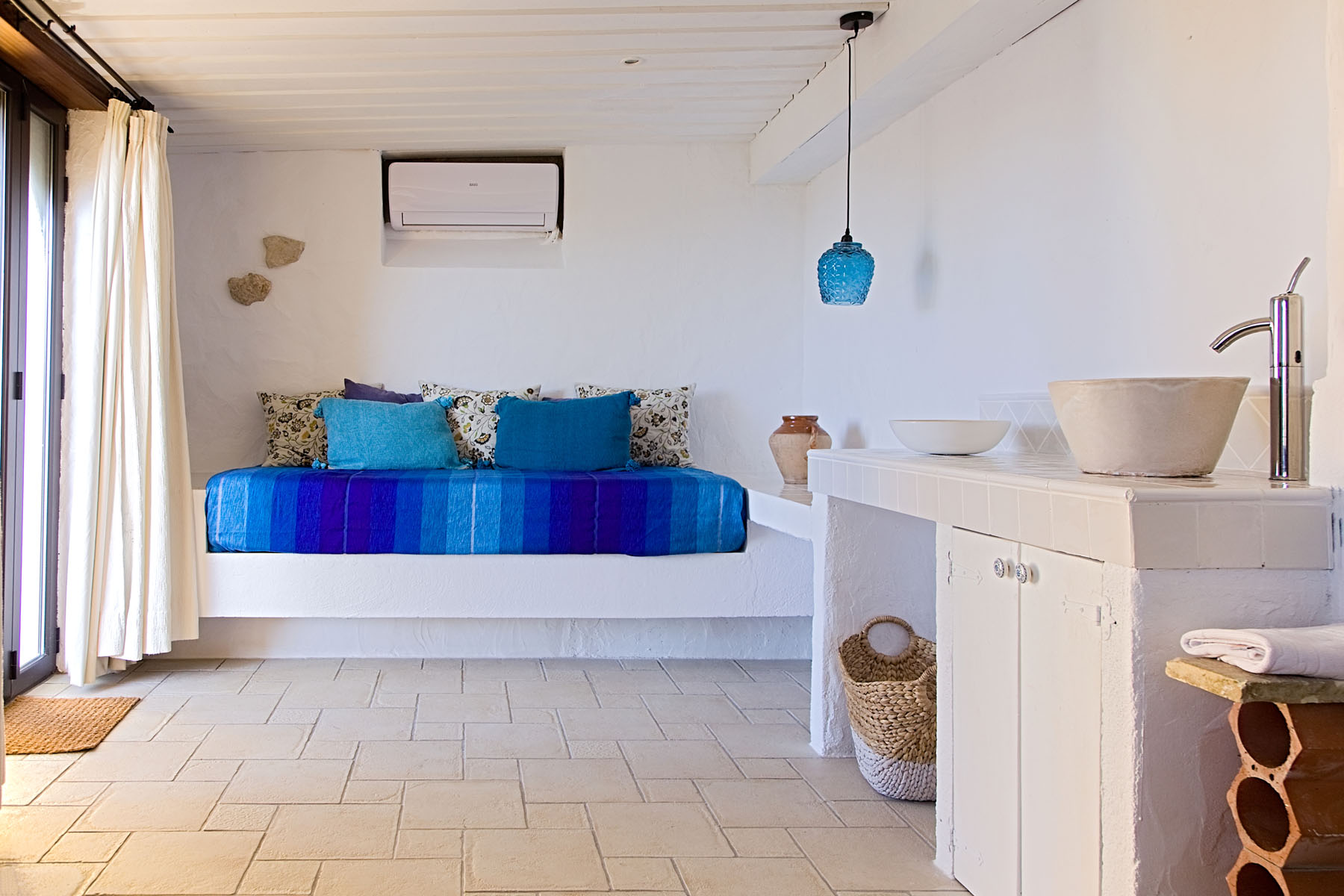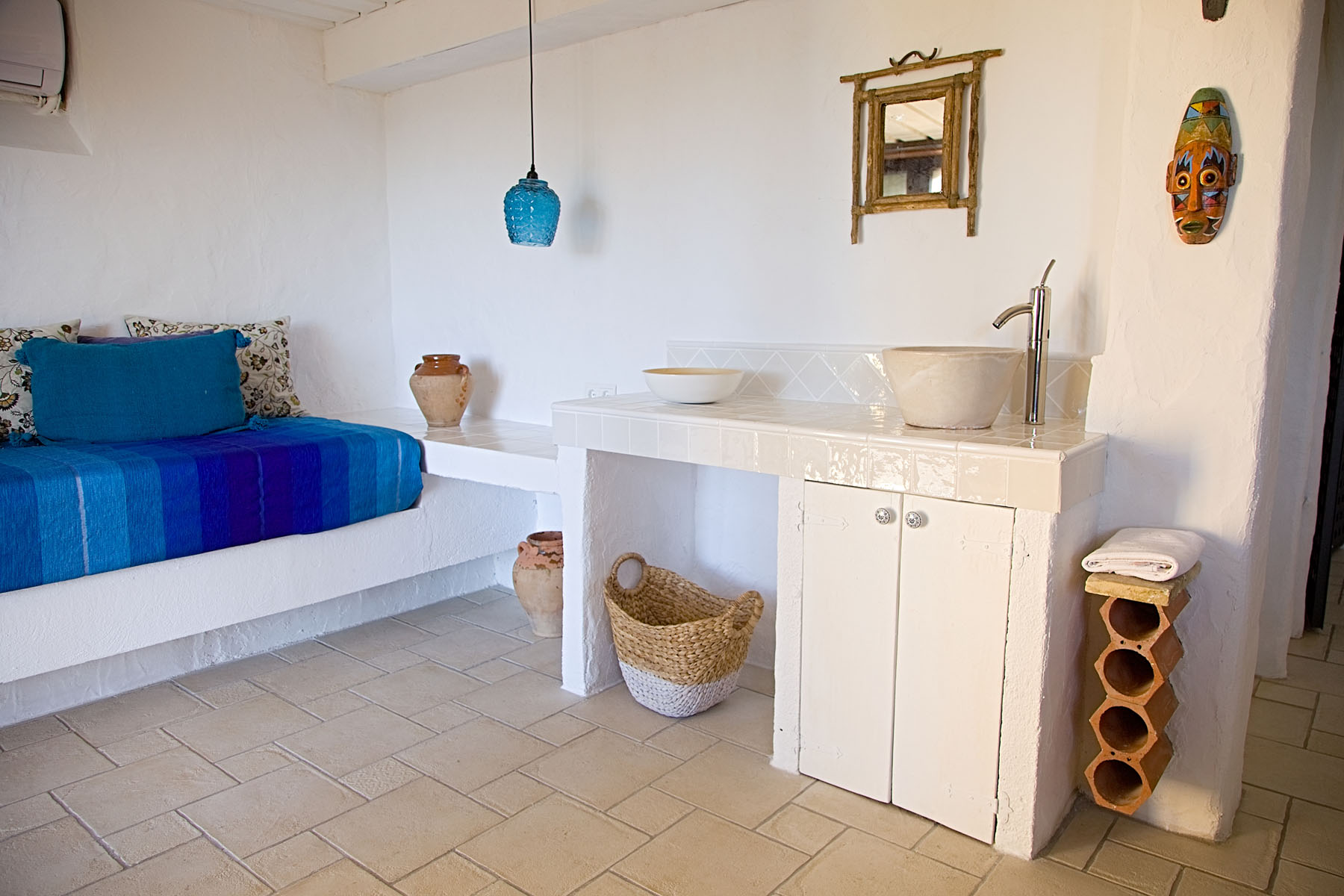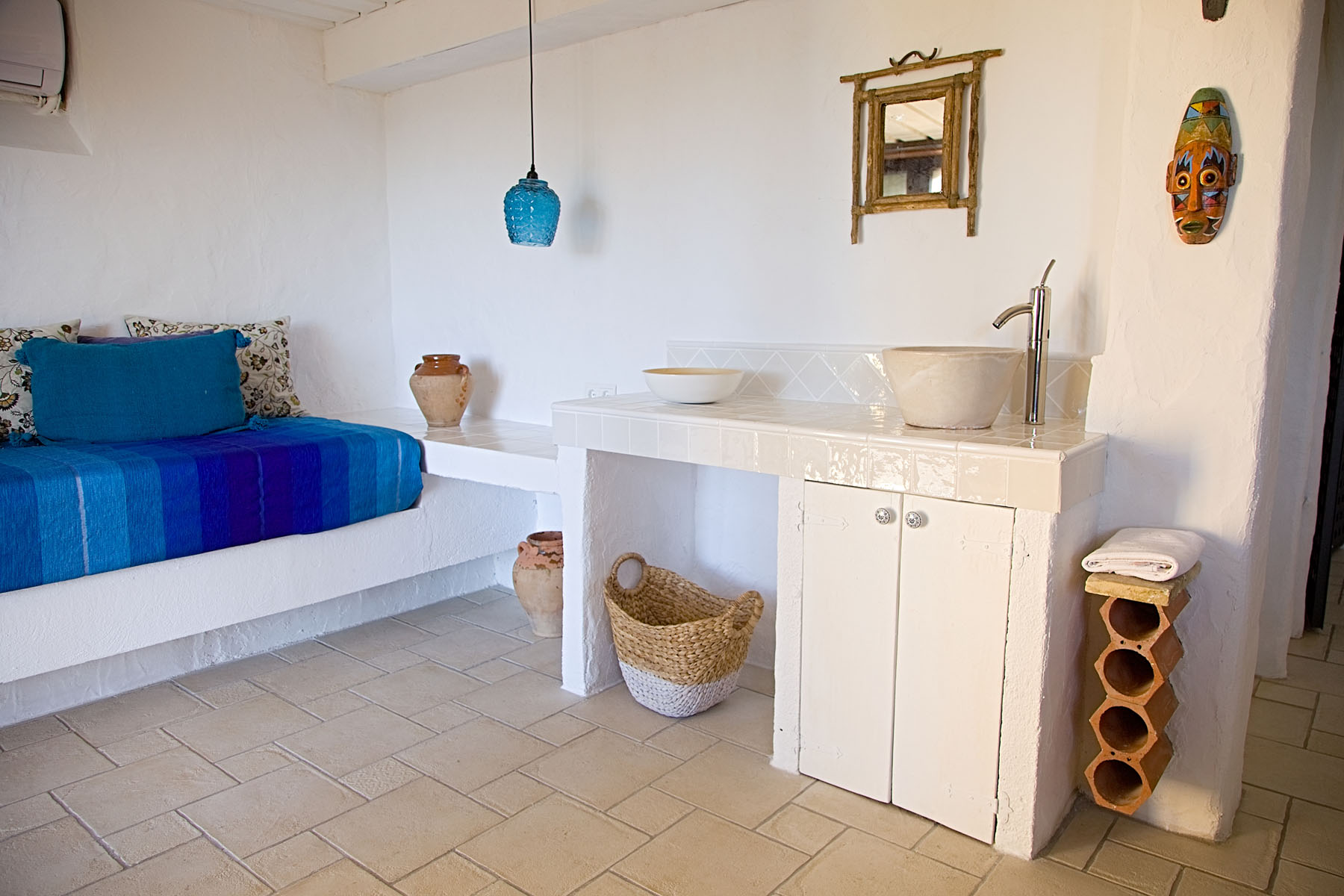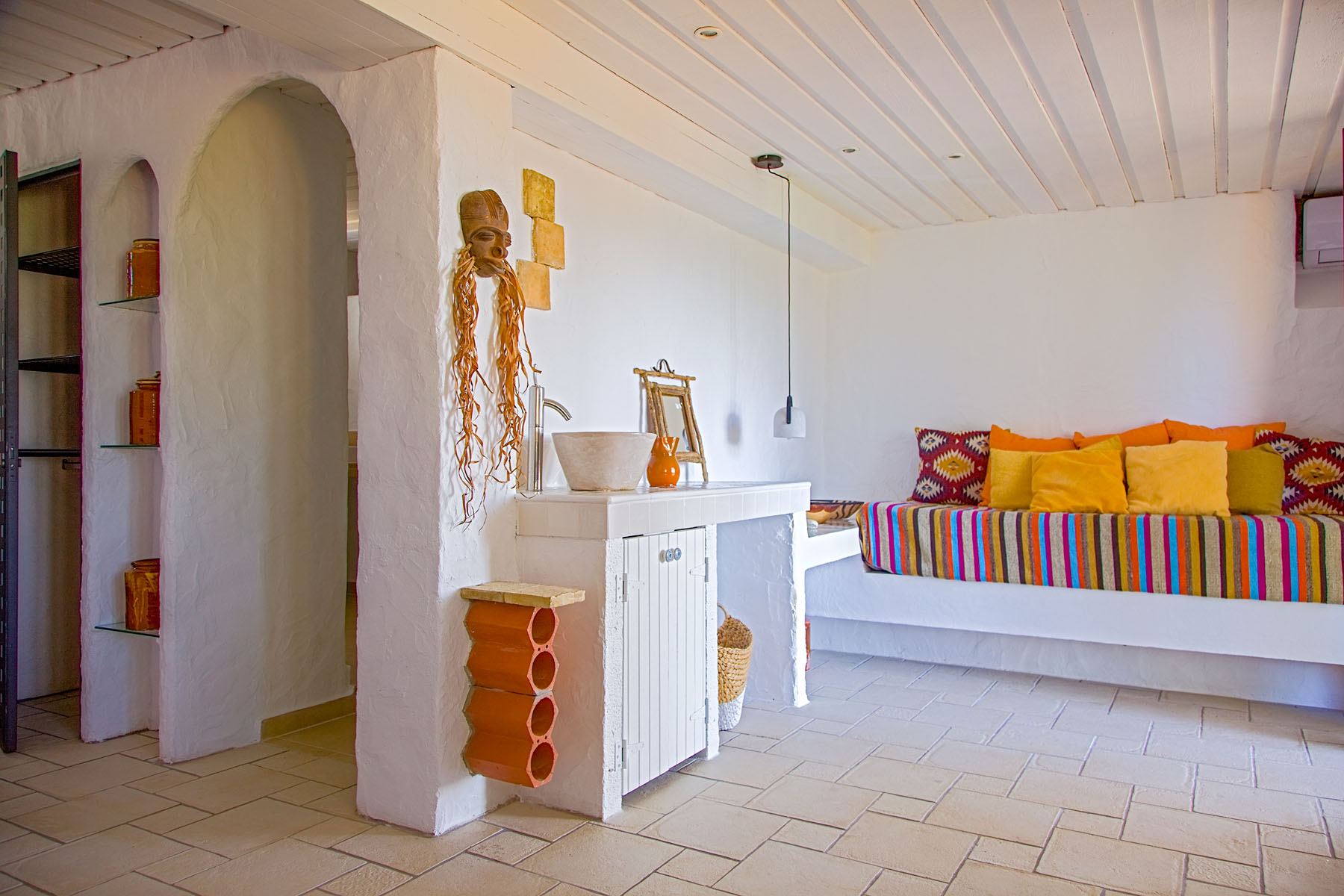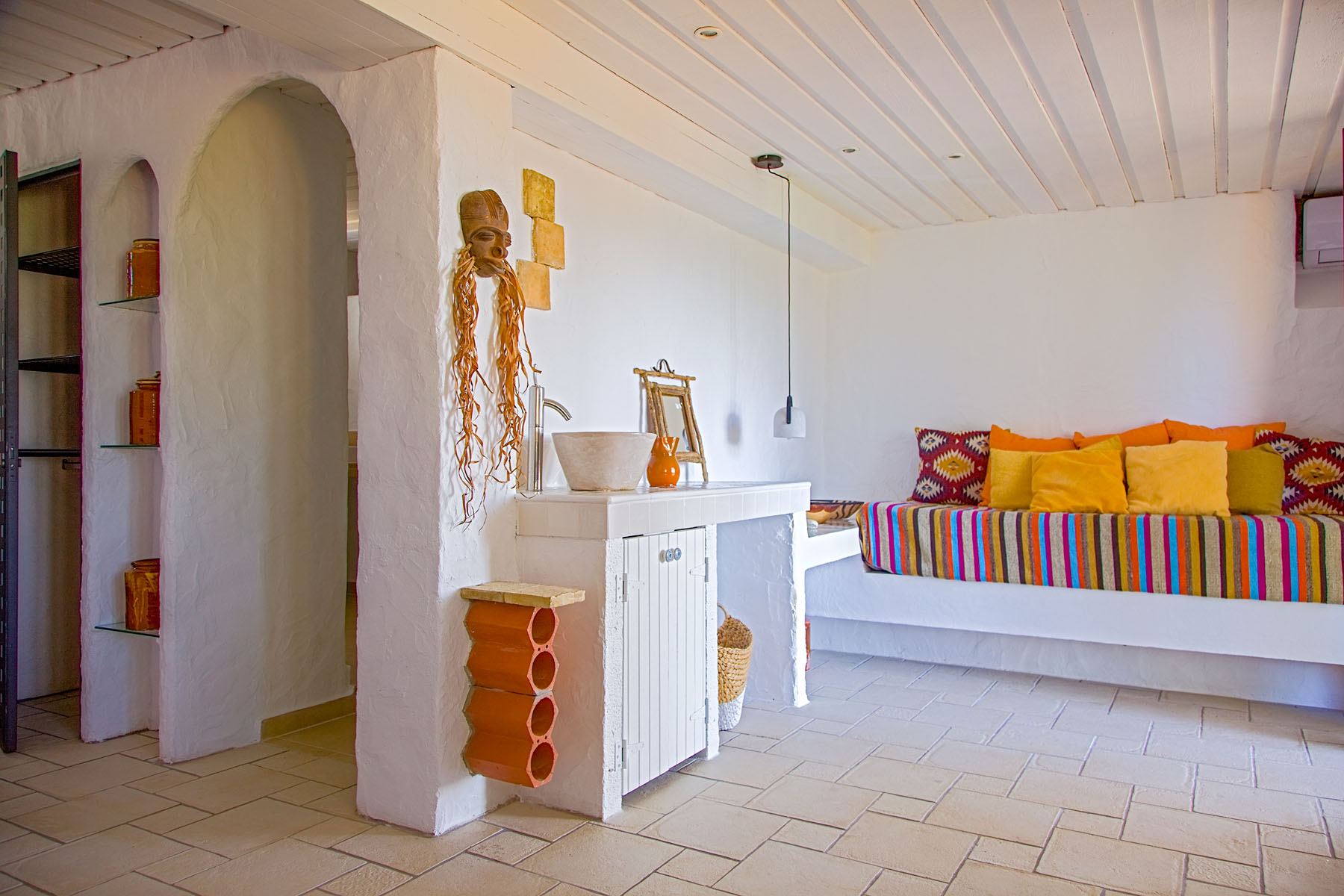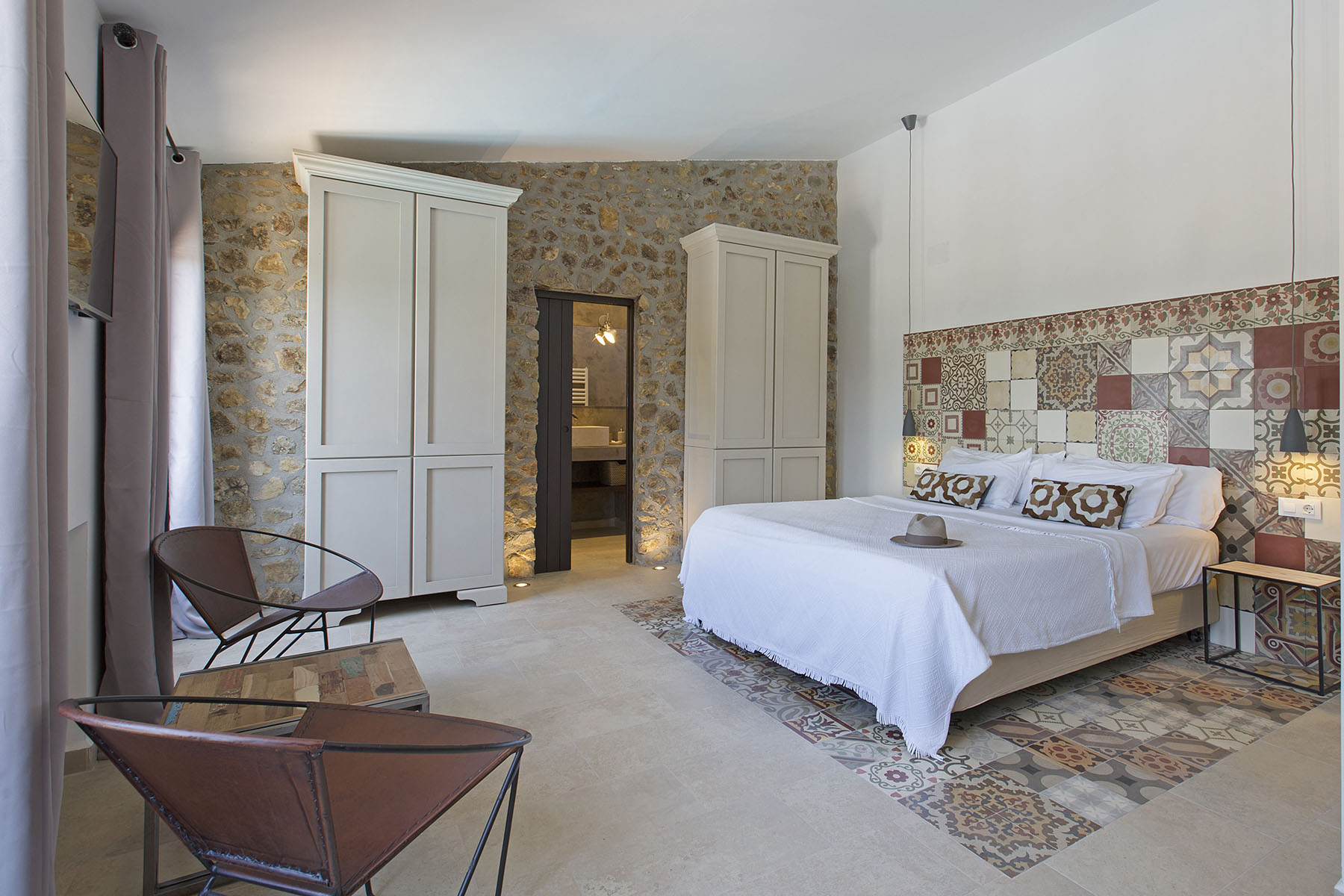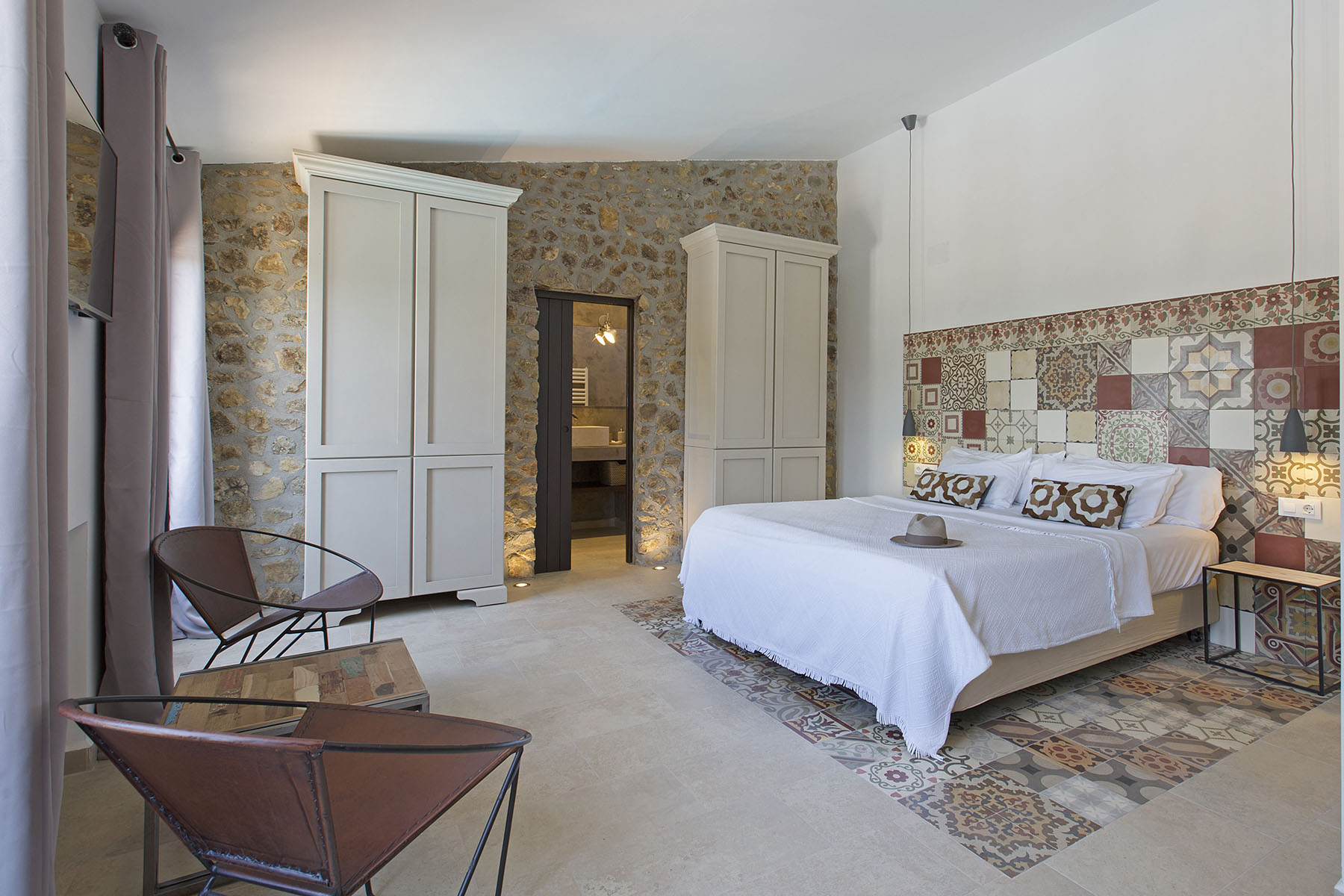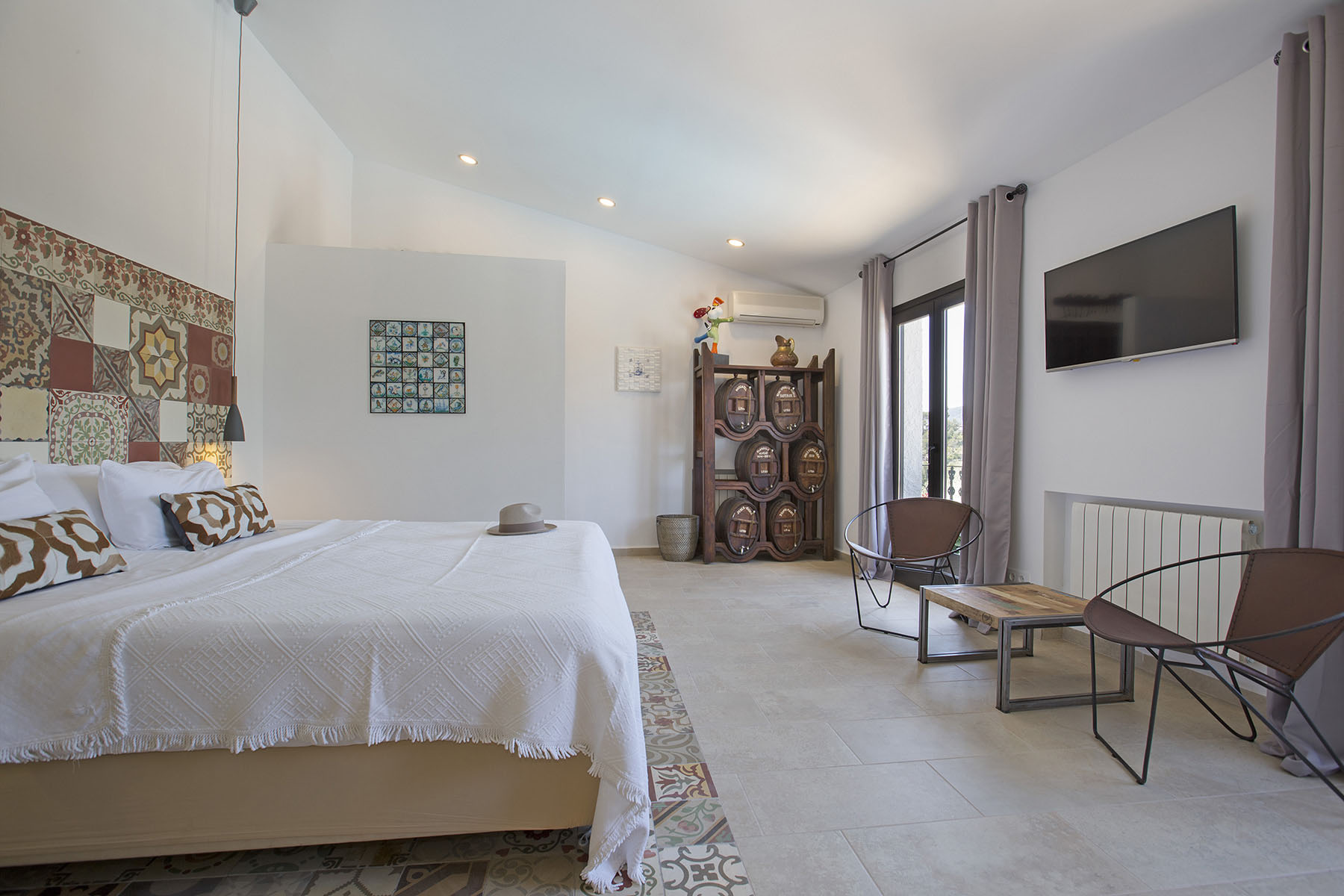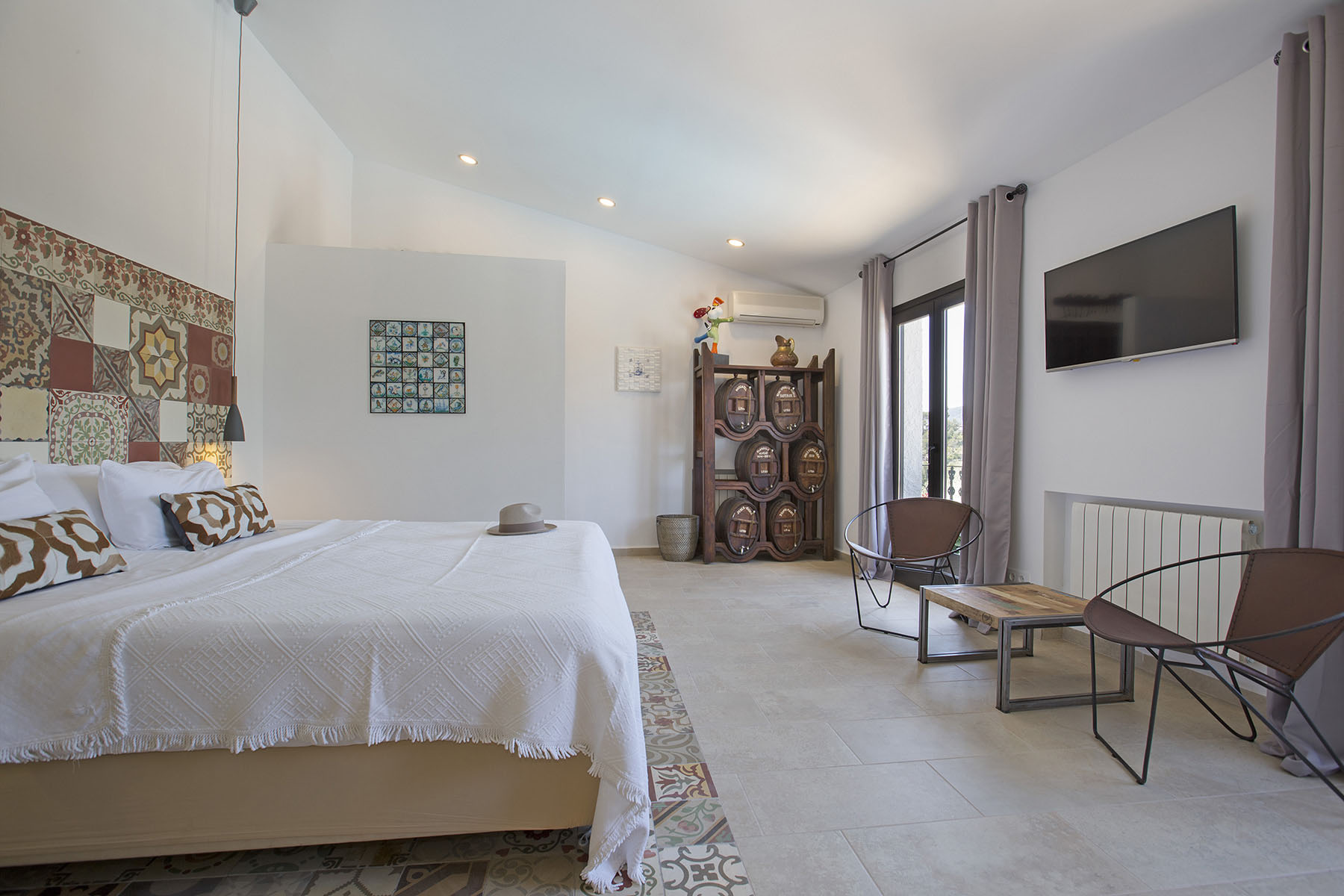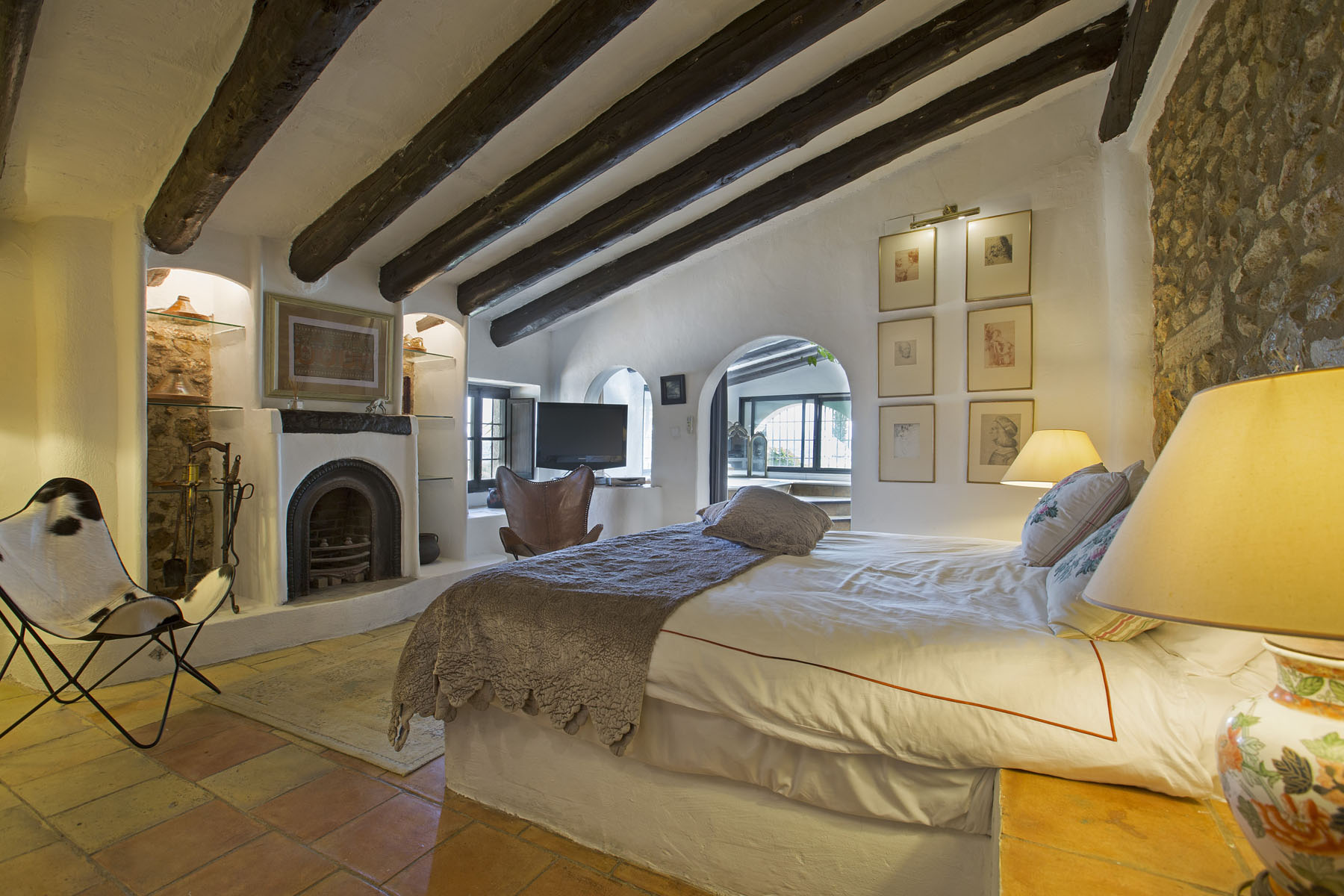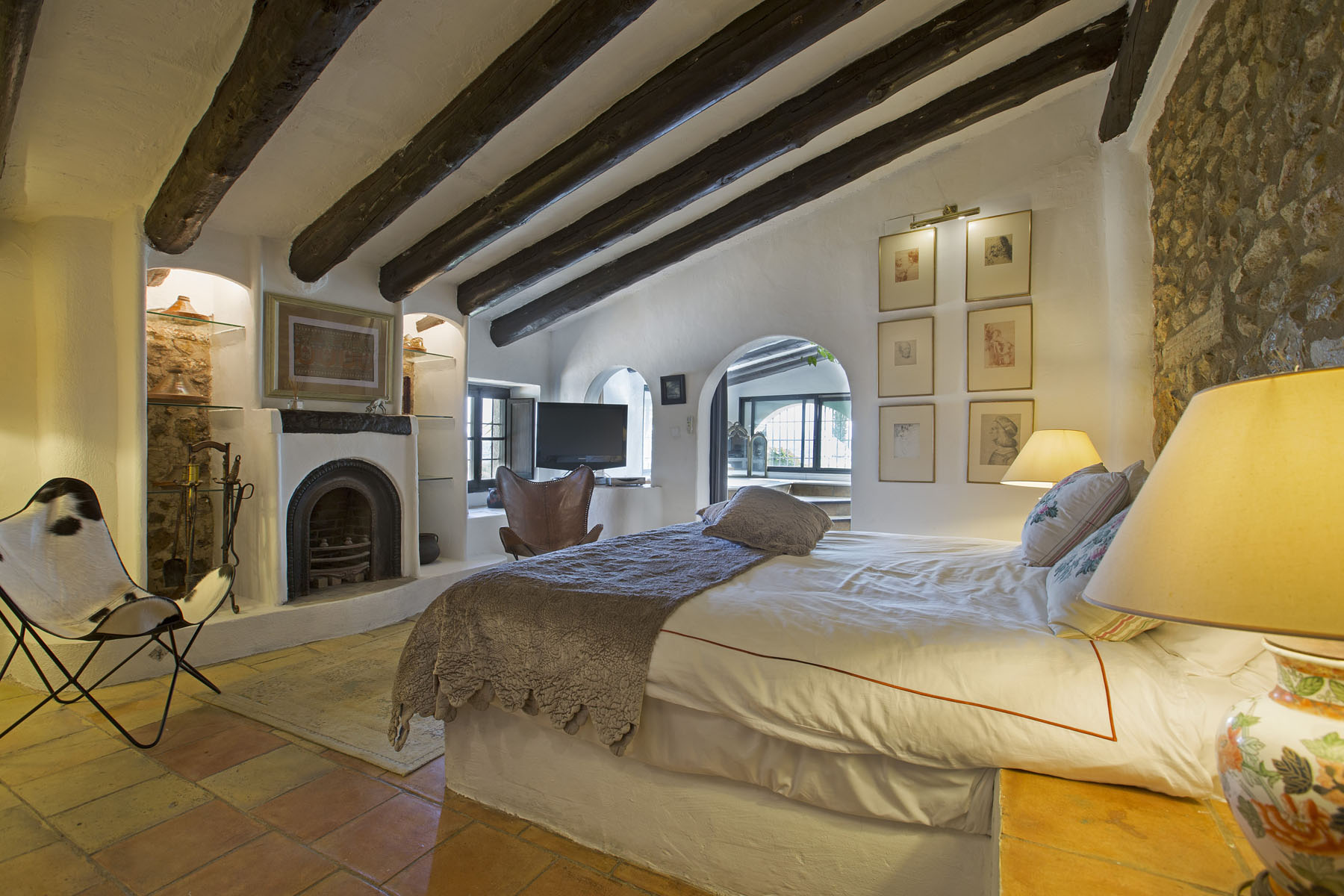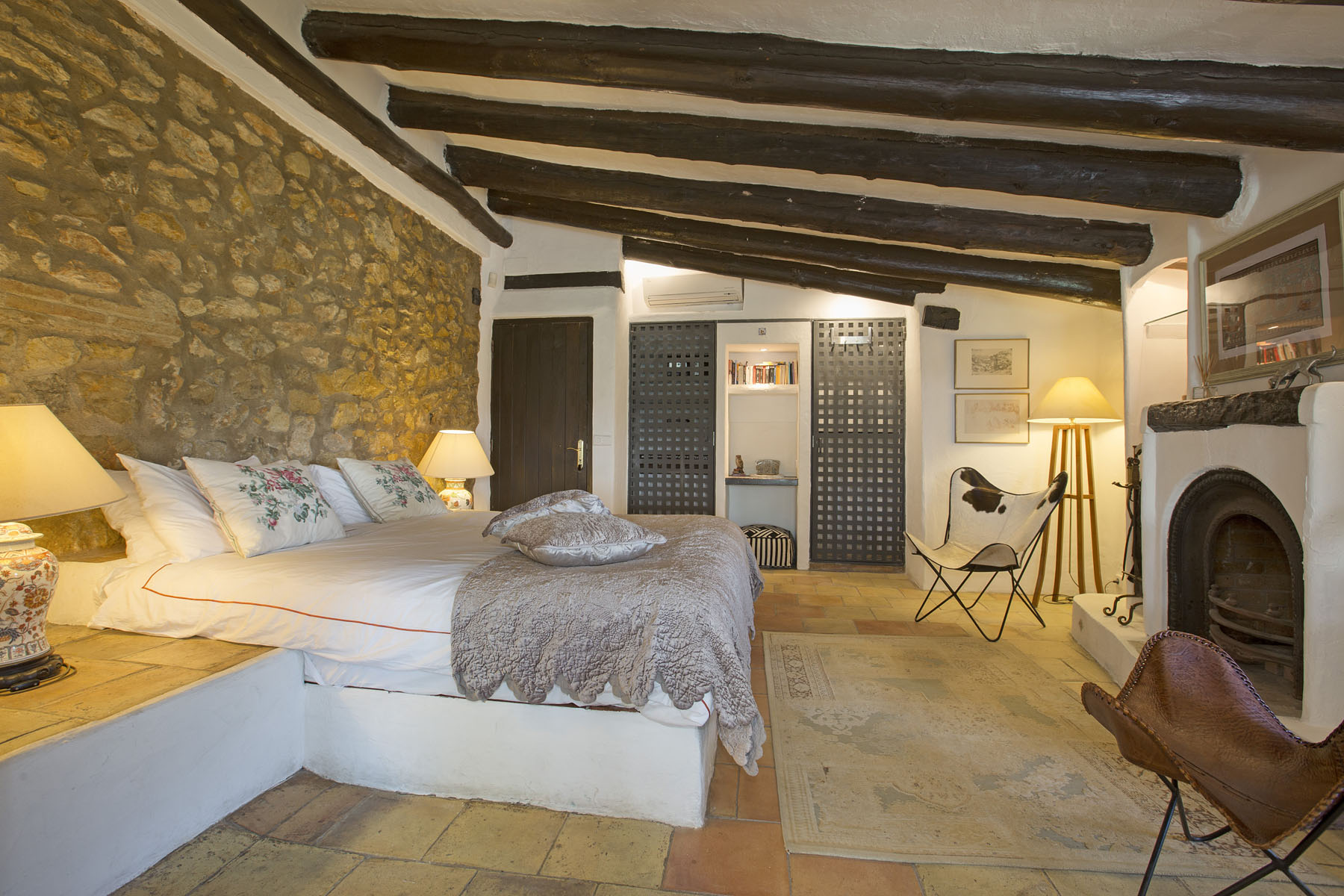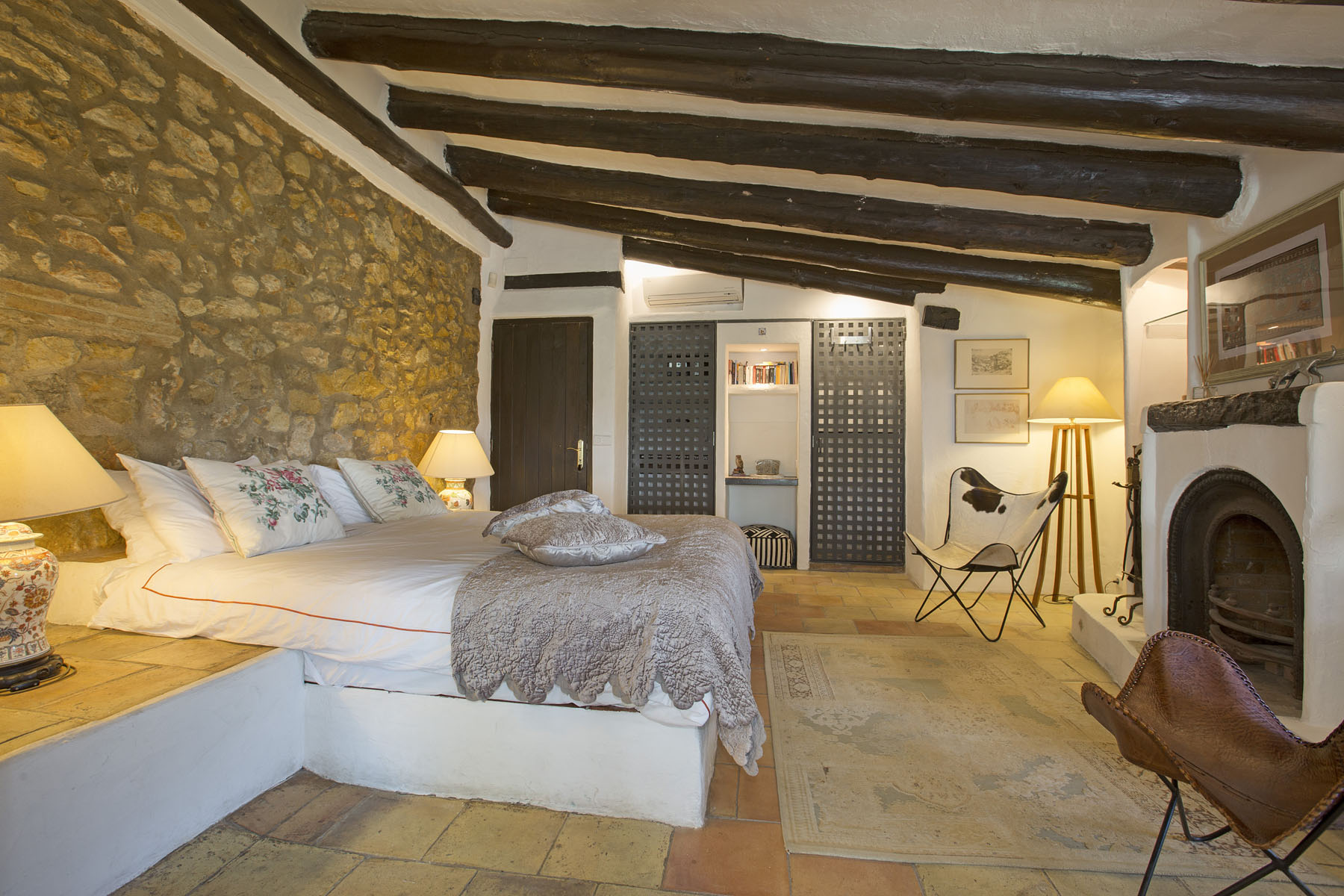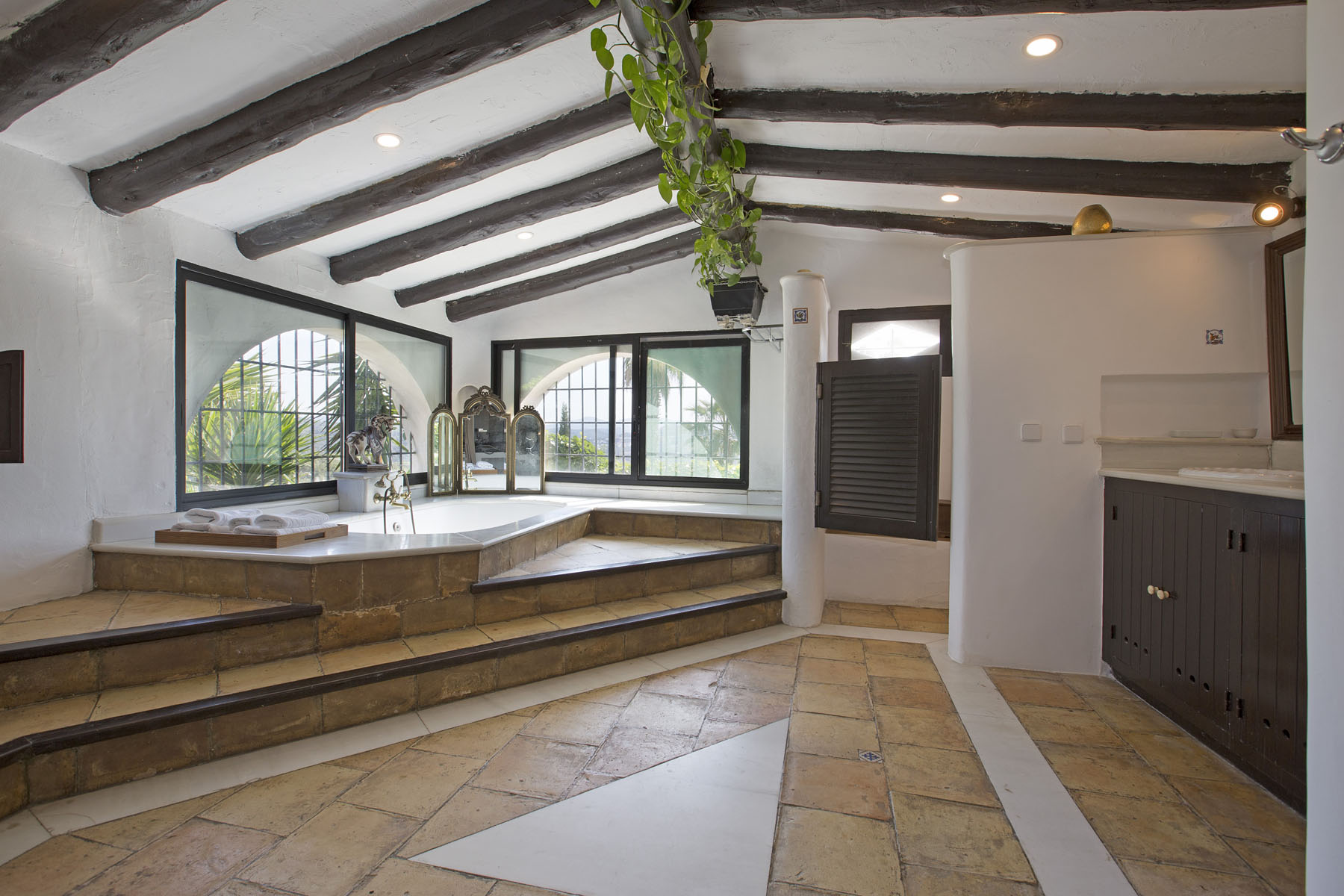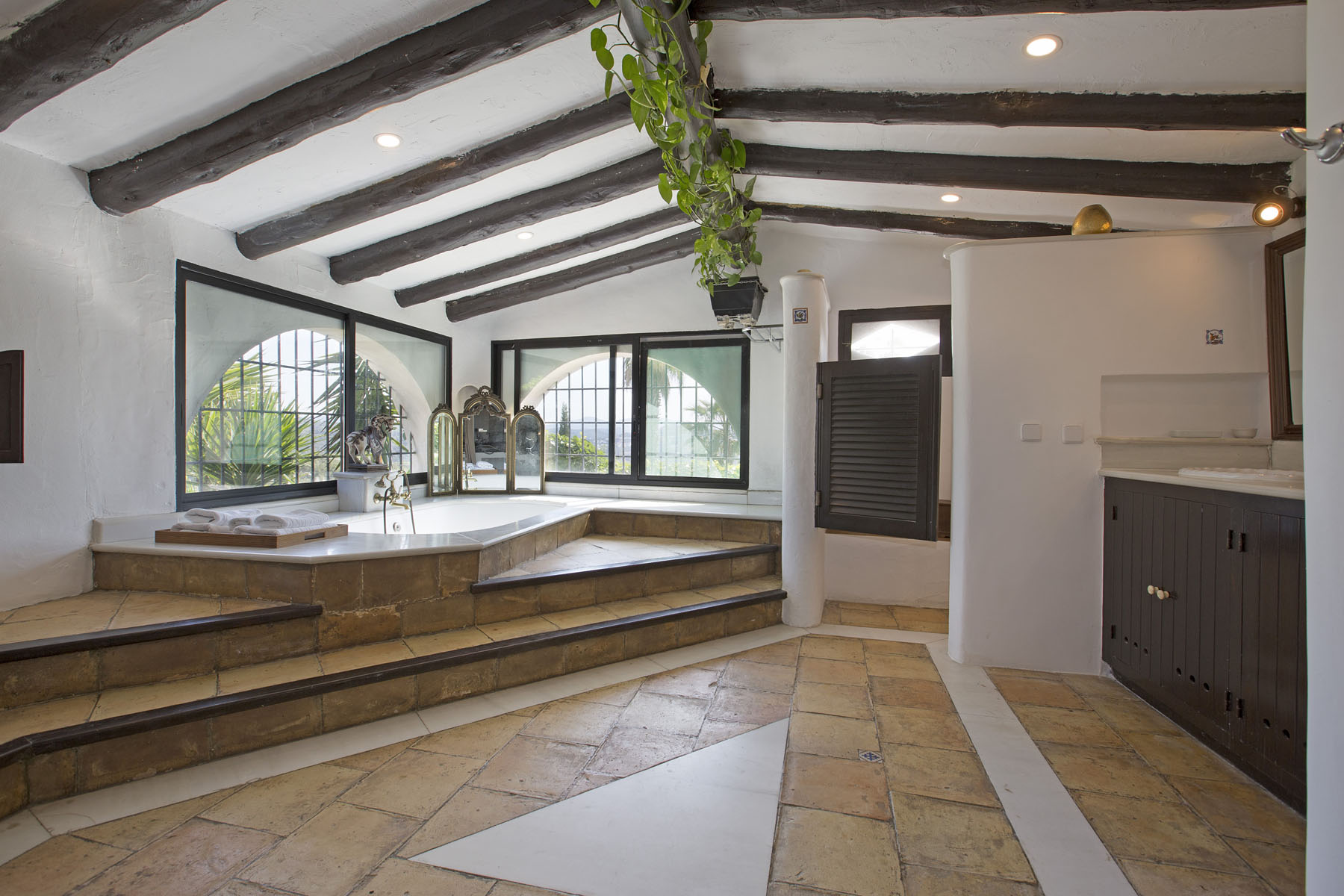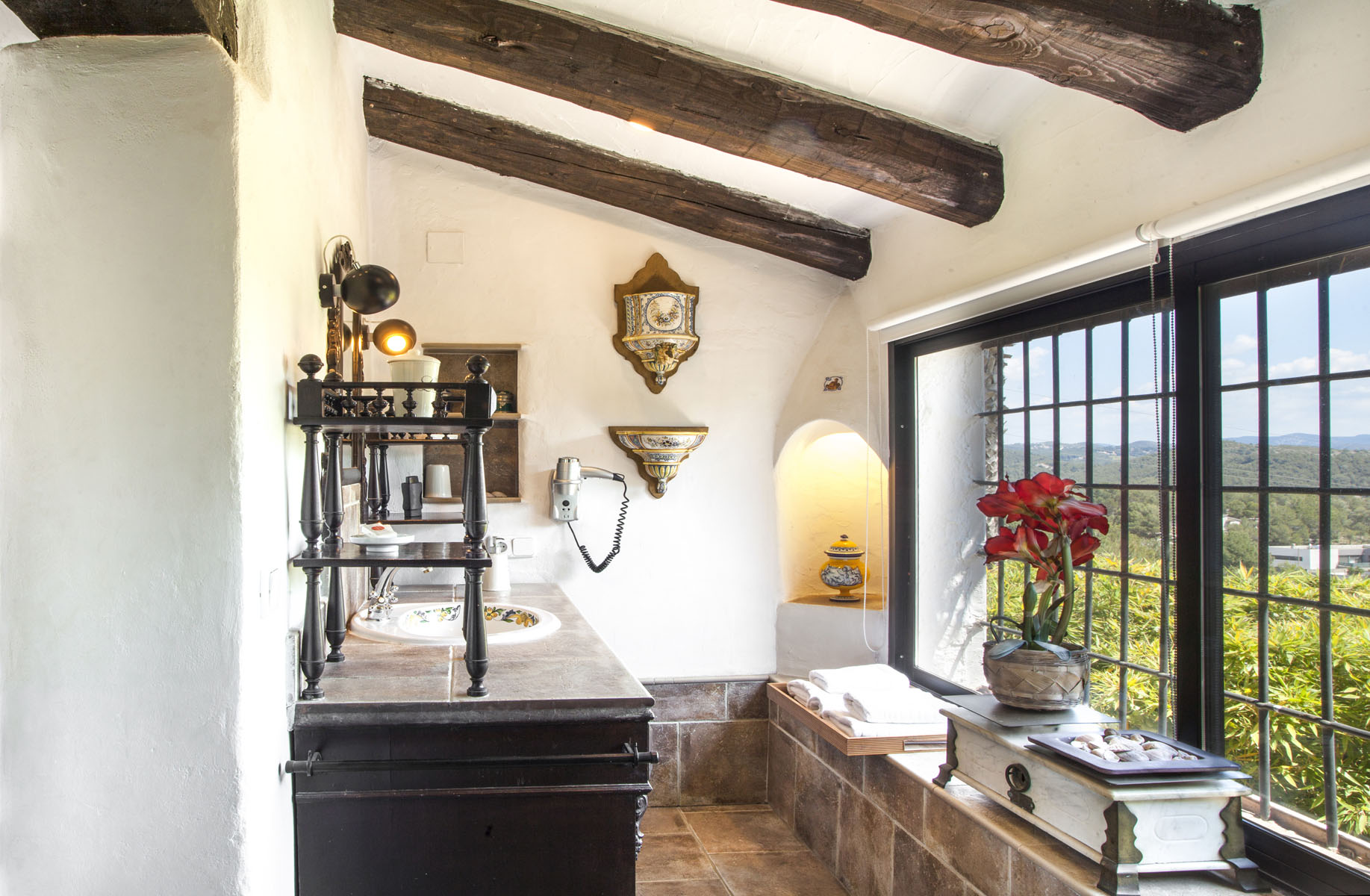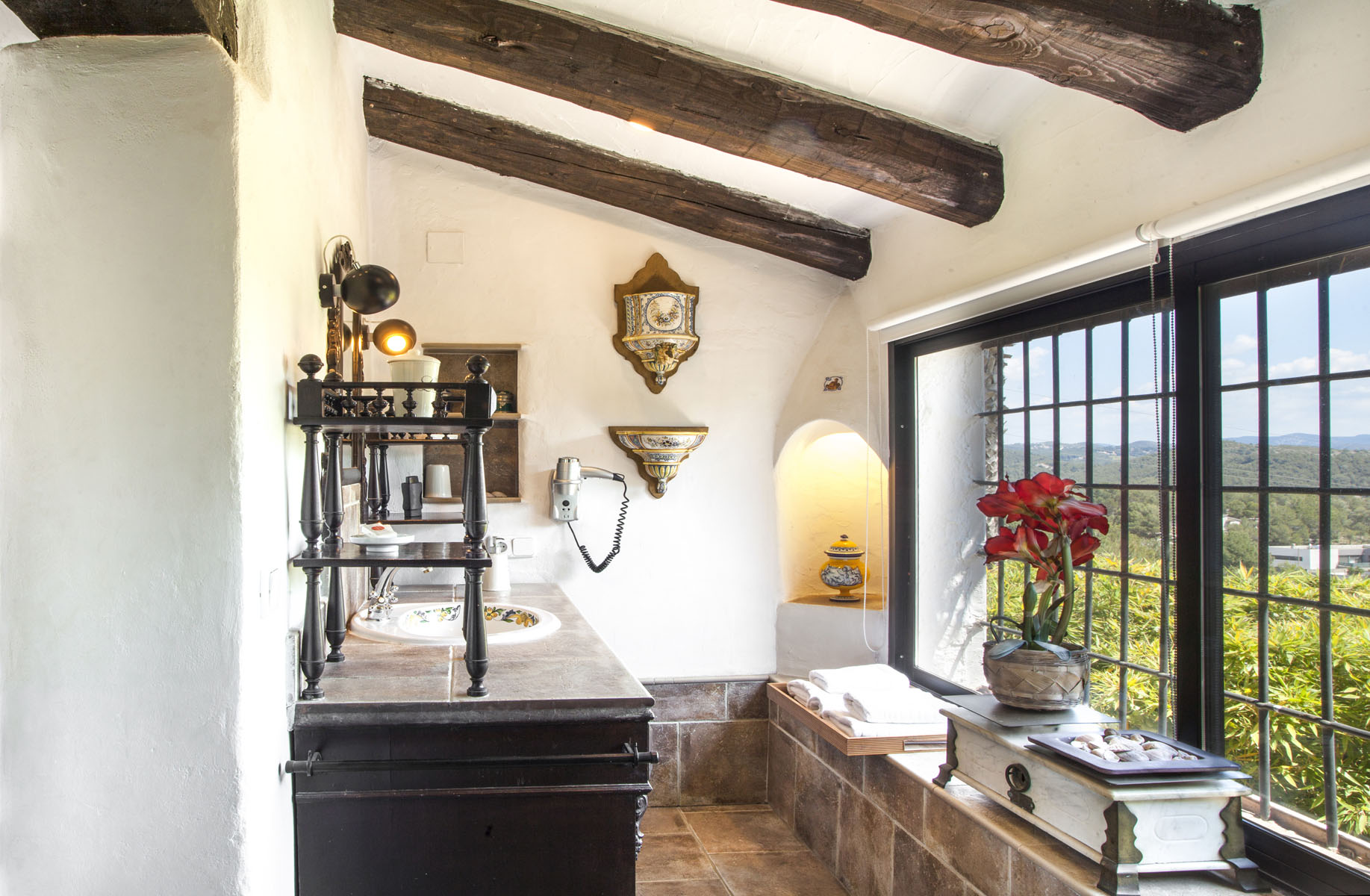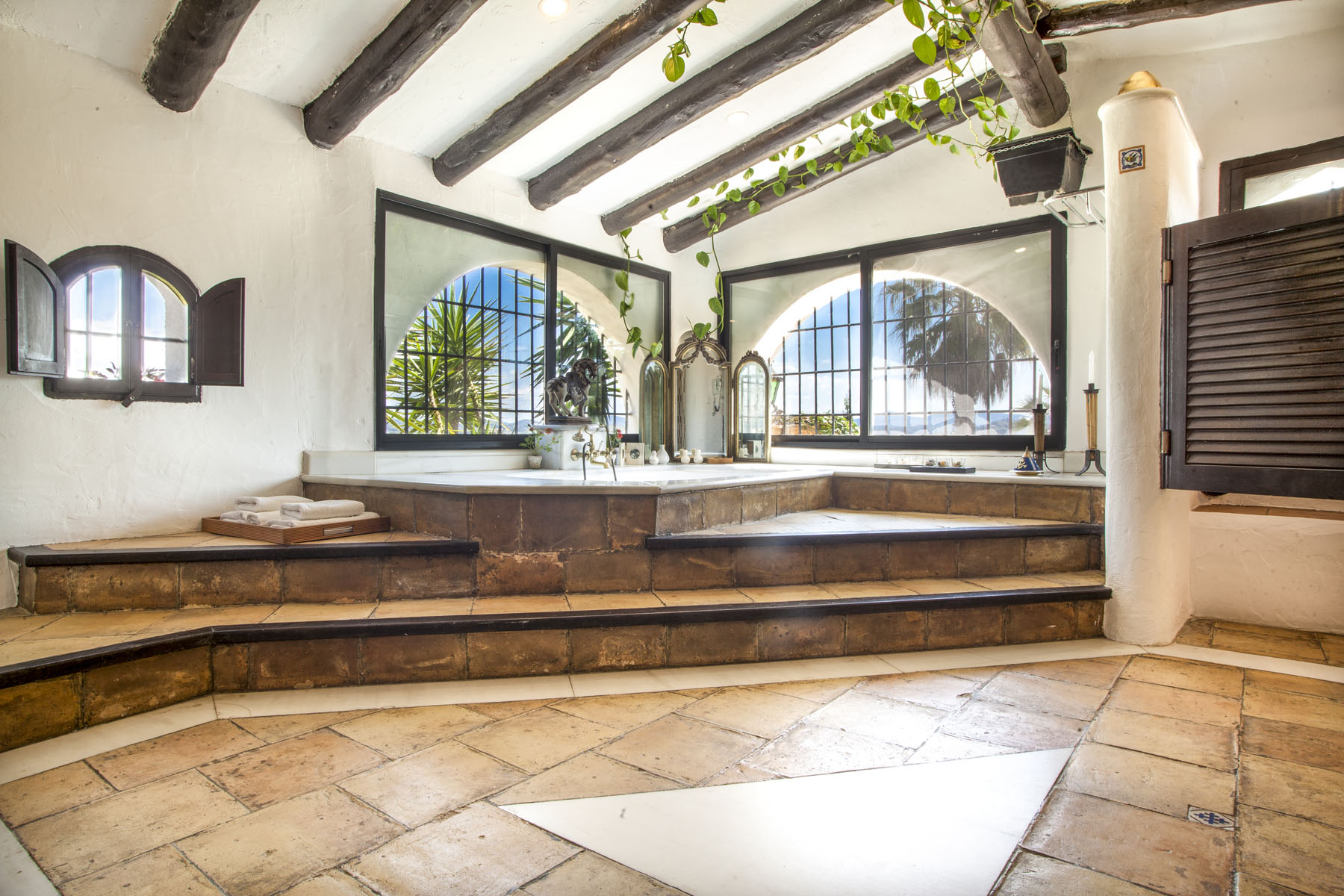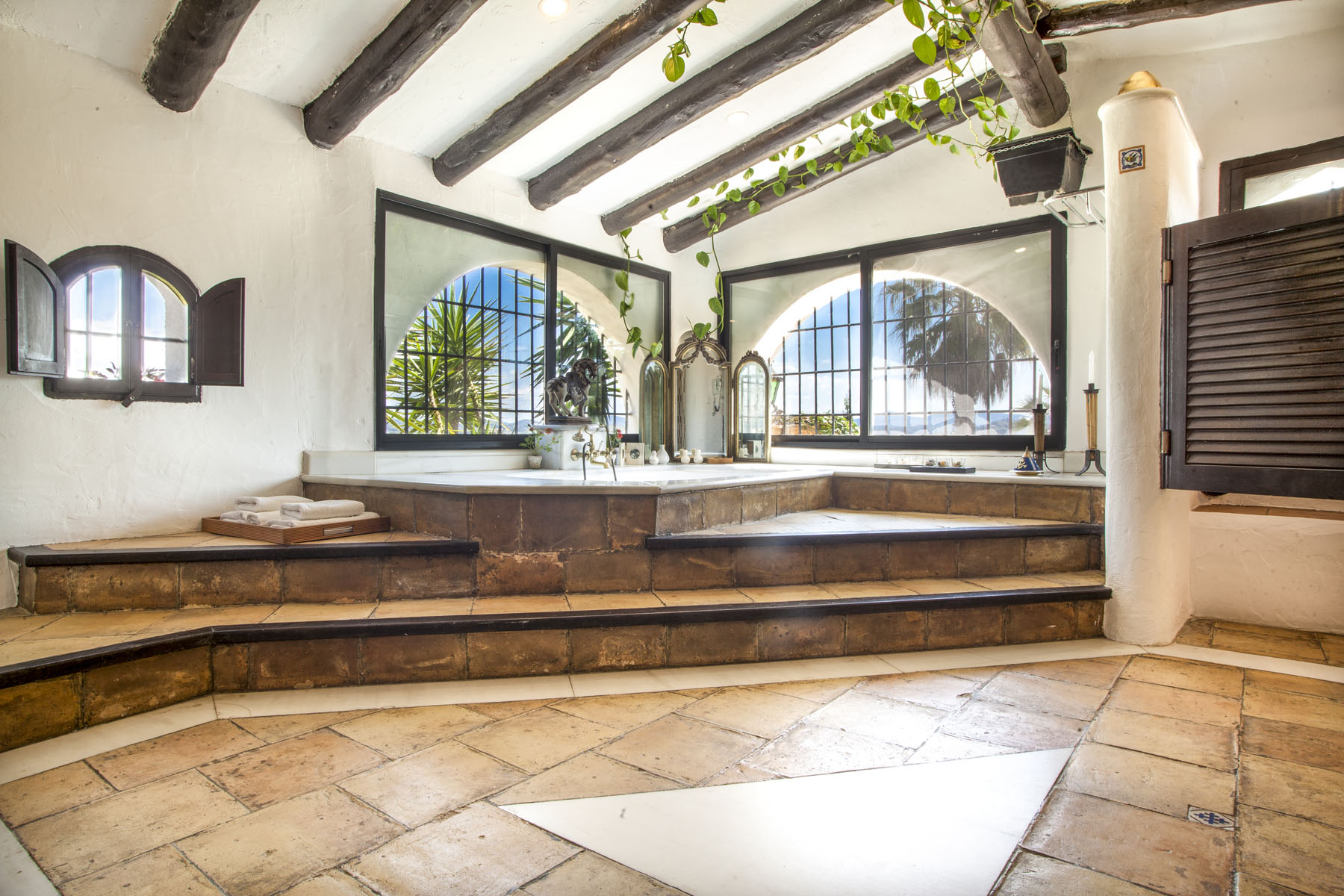 Suites
Villa on the private estate of 4500m2, 9 guest rooms, suitable for 20 (+4) people, 9 bathrooms, 650m2 living space, 250m2 terraces, large salt-water swimming pool, salt-water jacuzzi outdoor with state-of-the-art sun terrace and pool house.
Bed linen, towels and pool towels are included
Outside: large salt-water pool, salt-water Jacuzzi (seats 8), pool house, gardens, terraces, verandas, balconies, individually adjustable sunbeds, sauna, Turkish bath, barbecue, private parking.
Inside: wireless internet WiFi, air-conditioning in all bedrooms, kitchen and living room, (under floor) heating, several fireplaces, radio, SAT and local TV, safe in every bedroom, private bathroom with WC.
Laundry room: washing machine and dryer, baby cot (Euro 30,- / stay), iron and ironing board.
Authentic kitchen offers all modern conveniences such as a dishwasher, 2 big fridges with built-in freezers, grill, oven, Nespresso coffee machine, filter coffee machine, wine cooler, microwave and induction oven for cooking.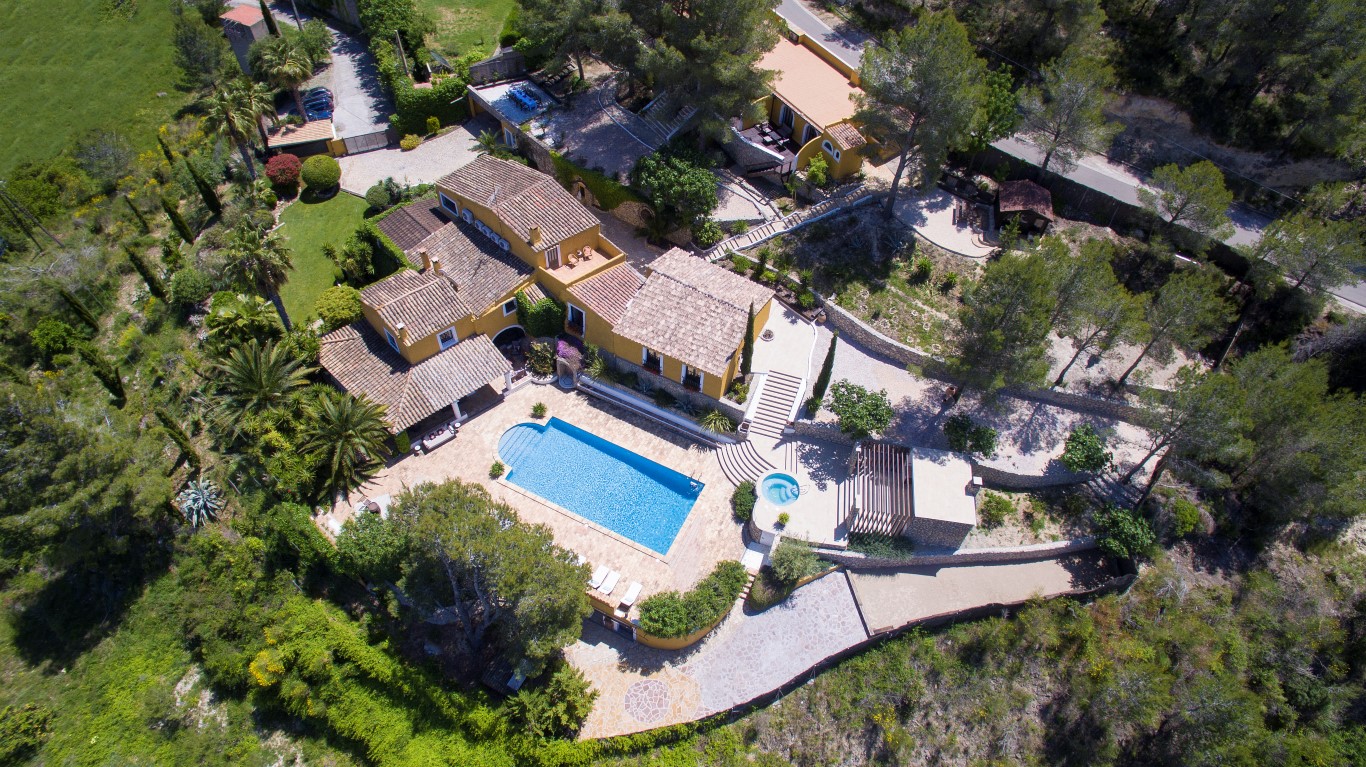 All suites in Masia Casanova are named after the superb grapes from Spain.
These charming suites are between 24m2 and 57m2 in size and are all decorated in individual style. Each guest room has besides its own bath, shower and toilet, hairdryer, multi-use spaces that allow for a peaceful individual moment.
All guest rooms have air conditioning and some have under floor heating (the A/C  is the bungalow is for heating and cooling) and a flatscreen TV's. The TV in the living/dining room features local and SAT TV.