BOOK DIRECT
No credit card fee 

No service fee 

No cleaning fee 

Welcome drink 

Best price guarantee
Rates
| | | | | | |
| --- | --- | --- | --- | --- | --- |
| Period | From | To | 1 week | Night | Min. stay |
| Low Season | 03 Jan 2022 | 09 Apr 2022 | €8900 | €1800 | 3 Nights |
| Mid Season | 09 Apr 2022 | 18 Jun 2022 | €10900 | €1900 | 3 Nights |
| High Season | 18 Jun 2022 | 03 Sept 2022 | €13500 | €2100 | 1 Week |
| Mid Season | 03 Sept 2022 | 01 Oct 2022 | €12500 | €1900 | 3 Nights |
| Low Season | 01 Oct 2022 | 17 Dec 2022 | €10500 | €1750 | 3 Nights |
| Christmas | 17 Dec 2022 | 02 Jan 2023 | €12500 | 2000 | 4 Nights |
| Low Season | 03 Jan 2023 | 07 Apr 2023 | €10500 | €1750 | 3 Nights |
| Mid Season | 08 Apr 2023 | 09 Jun 2023 | €12500 | €2000 | 3 Nights/4 Nights in June |
| High Season | 10 Jun 2023 | 02 Sept 2023 | €14500 | €2200 | 1 Week |
| Mid Season | 03 Sept 2023 | 30 Sept 2023 | €12500 | €2000 | 3 Nights |
| Low Season | 01 Oct  2023 | 15 Dec 2023 | €10500 | €1750 | 3 Nights |
| Mid Season | 16 Dec 2023 | 06 Jan 2024 | €12500 | €2000 | 4 Nights |
| Low Season | 07 Jan 2024 | 29 Mar 2024 | 10500 | 1750 | 3 Nights |
| Mid Season | 30 Mar 2024 | 14 Jun 2024 | 12500 | 2000 | 3 Nights/4 Nights in June |
| High Season | 15 Jun 2024 | 07 Sep 2024 | 14500 | 2200 | 1 Week |
| Mid Season | 08 Sep 2024 | 29 Sep 2024 | 12500 | 2000 | 3 Nights |
| Low Season | 30 Sep 2024 | 15 Dec 2024 | 10500 | 1750 | 3 Nights |
| Mid Season | 16 Dec 2024 | 06 Jan 2025 | 12500 | 2000 | 4 Nights |
For the use of the dry sauna a surcharge of Euro 250,–/stay will apply.
Originally 'La Masia Casanova', built in 1842, was a Spanish wine-producing estate. Today it is a luxurious villa with spacious annex 'Casitas' (suites with terrace) beautifully situated on a hillside in the middle of the Penedes wine region.
The authentic and peaceful ambiance of the Masia Casanova Sitges offers privacy and luxury to make your moments unforgettable. With its beautifully landscaped terraces, the Masia offers generous space for 20 to 24 guests in 9 large suites, a private salt-water pool with salt-water jacuzzi and a state-of-the-art shaded pool house, sauna, sunbathing and chill-out areas.
Whilst you stroll in the gardens of the property during sunset, you can peel a fresh orange from the numerous orange trees. Or you pick almonds overlooking the green-covered hills all the way to Montserrat. 'La Masia Casanova Sitges' is just a few minutes' drive from the lively town of Sitges with its vast beaches, historic center, cultural activities and nightlife.
Silence isn't empty, it's full of answers.
Key features
Luxury villa with 9 suites, each about 45m2
For up to 24 persons
Only 10 minutes drive to Sitges
Large salt water swimming pool and jacuzzi
Sauna and steam room
Privacy in a tropical garden with many terraces
Breathtaking views to Montserrat and Castel Olèrdola
Event capacity for up to 100 guests
Stunning rustic Villa set within 400 acrs of private grounds.
Reviews
October, 2019
Masia Casanova is a gorgeous villa with beautiful landscaping and all the amenities. It's a place to truly relax. The comfortable beds make you want to sleep in, the poolside lounge chairs are ideal to soak up the Mediterranean sun, the hot tub and saunas melt your tension away and a glass of local wine watching the fire in the outside lounge area is a perfect way to end your day. The owners couldn't be more accommodating. They are quick to respond to questions and/or concerns and go above and beyond. Thank you Remco and Robert for sharing your lovely home with us! We look forward to next year.
August, 2019
We were a group of 22 people, ranging in age from 2 to 78. We loved staying at the villa. The pool was fantastic, and we all used it. Had a private chef (Bruno Bonnier) prepare dinners, and he is amazing! The rooms are large and very comfortable. I highly recommend!
April, 2019
Absolutely stunning property! The pictures look amazing, however, it's even better in person. We had a group of three families with children ranging in age from 7-15. The grounds were spacious, with multiple garden and sitting areas to enjoy. The children loved the pool and were in it round the clock, while the adults sipped cava in the hot tub. The villa was gated, which enabled us to relax and not worry about children running off! There was also a sport court and cute little playground just a short walk from the villa. All of the bedrooms were HUGE, beautifully appointed, and en suite. The owners and Ana were wonderful and answered all questions promptly. We hired a private chef, Bruno Bonnier, for the week, and he was amazing! Reasonably priced and worth more than gold! The villa's location was perfectly placed within easy access to Barcelona, Sitges (wonderful beaches!), and the priorat wine region. We've rented villas all over the World, and this one is by far a favorite! Thank you for sharing such a special place!
September, 2018
Staying at Masia Casanova with family and friends for a couple of days, this was an absolutly amazing holiday. We enjoyed every minute of the sunny days at the pool and jacuzzi as well as peacefull evenings under the porch or at the lovely poolhouse with its fire place. Views offered by the estate located on a hill are stunning. Walking around the site and discovering the beautifull garden with its numerous peacefull hidden places is absolutely worthwile. So, when travelling with a group you will always find generous space to stay together, as well as your own private chill-out areas if you like to be for a while in a smaller group or even alone. Regarding the bedrooms/suites... all of them were amazing, individually furnished combining an adorable mixture of vintage style and modern design. They are airconditioned and have their own large private bath room; most of them offer both bath and shower. About 5 bedrooms ('Casitas') even have there own terrace or balcony. Living and dining room in the central building of the Masia are furnished colorful with loving attention to detail, and the beautiful kitchen offers all modern conveniences as well as a tremendous amount of equipment. The owners of the Masia were always available in case of any question and also provided great advises on bars and restaurants nearby in Sitges. Even a guided tour on a lovely vineyard near to the site has been arranged for us. We would like to thank the owners for making this holiday unforgettable for us. We would recommend this place very much and are definitely looking forward to a next stay.
Suites
Villa on the private estate of 4500m2, 9 guest rooms, suitable for 20 (+4) people, 9 bathrooms, 650m2 living space, 250m2 terraces, large salt-water swimming pool, salt-water jacuzzi outdoor with state-of-the-art sun terrace and pool house.
Bed linen, towels and pool towels are included
Outside: large salt-water pool, salt-water Jacuzzi (seats 8), pool house, gardens, terraces, verandas, balconies, individually adjustable sunbeds, sauna, Turkish bath, barbecue, private parking.
Inside: wireless internet WiFi, air-conditioning in all bedrooms, kitchen and living room, (under floor) heating, several fireplaces, radio, SAT and local TV, safe in every bedroom, private bathroom with WC.
Laundry room: washing machine and dryer, baby cot (Euro 30,- / stay), iron and ironing board.
Authentic kitchen offers all modern conveniences such as a dishwasher, 2 big fridges with built-in freezers, grill, oven, Nespresso coffee machine, filter coffee machine, wine cooler, microwave and induction oven for cooking.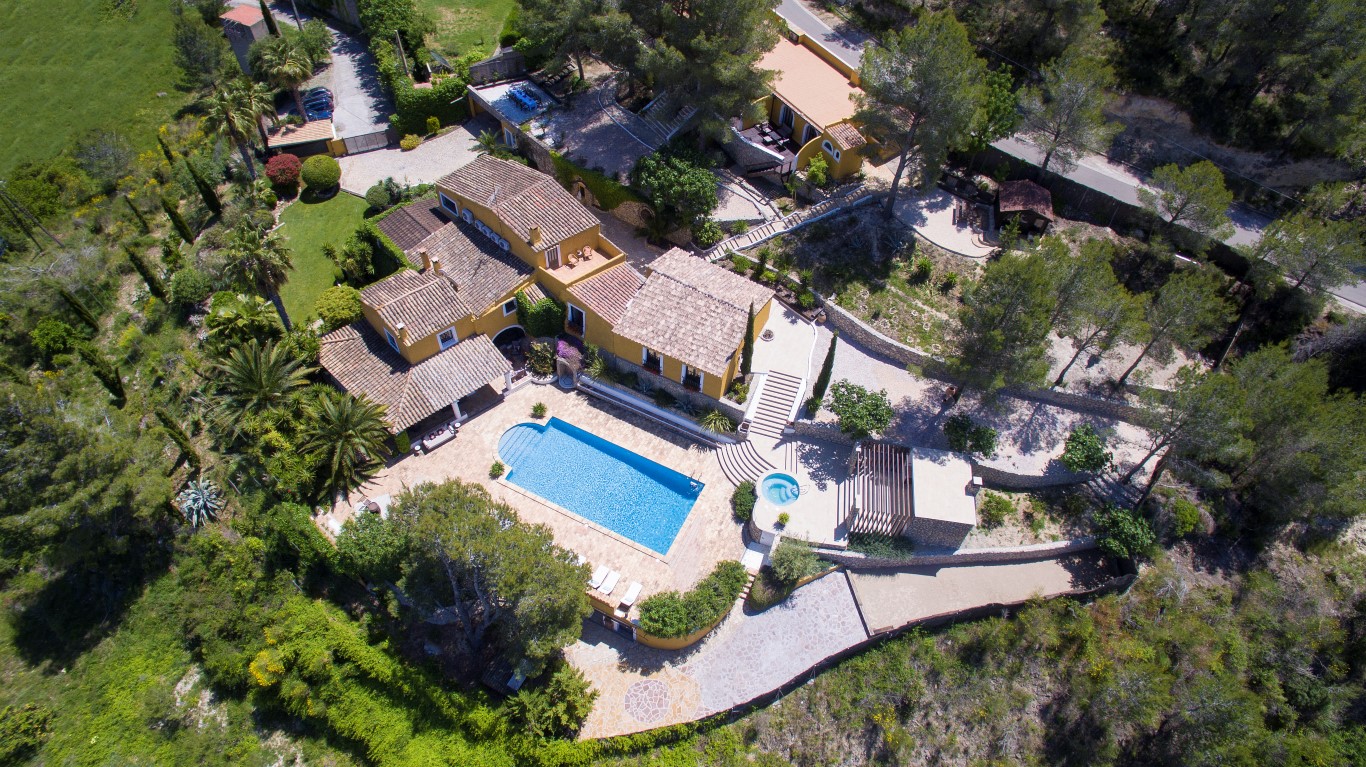 All suites in Masia Casanova are named after the superb grapes from Spain.
These charming suites are between 24m2 and 57m2 in size and are all decorated in individual style. Each guest room has besides its own bath, shower and toilet, hairdryer, multi-use spaces that allow for a peaceful individual moment.
All guest rooms have air conditioning and some have under floor heating (the A/C  is the bungalow is for heating and cooling) and a flatscreen TV's. The TV in the living/dining room features local and SAT TV.