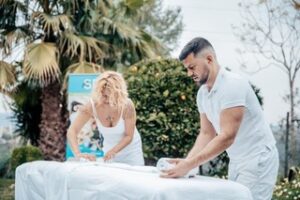 Massage Precios/Price
Local: 30min: Euro 20,–
Mix: 45min: Euro 30,–
Full: 60min: Euro 50,–
Facial 60min: Euro 45,– 90min: Euro 75,–
PersonalTrainer 30min: Euro 25,– 60min: Euro 40,–
Yoga 30min: Euro 25,– 60min: Euro 40,– 30min: Euro 25,–
Meditation 60min: Euro 40,–
Self knowledge 90min: Euro 65,–
Massage
"We perform relax massage, sport massage and stretching massage ,with"
eastern and western techniques.
Facial
Oxygenating facial treatment or treatment with vitamin e, with high quality and effective vegan products.
PersonalTrainer
Personal training for maintenance and also to complete physical objectives.
Yoga
Individual or group sessions. Asanas, breaths, spiritual meditations .
Meditation
Meditation with Tibetan bowls, possibility of doing it in a group or individually.
Self knowledge
Personal study that teaches us talents and learnings to carry out in
this material life.